Family time and the holiday season are practically synonymous. We've partnered with
JCPenney
to share how actress Dania Ramirez uses her family's blended cultures to keep the holiday spirit alive.
Being Latino in the United States usually means you're bound not only to your Latino culture, but your American culture as well. And when it comes to the holidays, that includes a superpacked calendar (Thanksgiving, Noche Buena, Christmas Day, Día de Los Reyes), a house filled with family from all over, and the smell of Grandma's famous pasteles.
As the matriarch in a Latino home, the holidays also mean transforming your home into a hub that spreads holiday joy through the outfits you plan, the gifts you give, the foods you prepare, and the way you decorate. This certainly holds true for Dominican Republic-born actress Dania Ramirez, a mother to three children, who has to juggle all of the above while infusing American and Latino cultures seamlessly to make sure her family is embracing and enjoying the best of both worlds. From style and decor to shopping and giving to those less fortunate, here's how Dania does it all — with the help of one-stop shop JCPenney for all her holiday needs.
Dania married director Bev Land in 2013. Land was born and raised in Columbus, GA, so his core holiday traditions and celebrations were very different than what Dania was used to. "We have different customs, different cultures," she explains. "In Dominican Republic, you don't get gifts on Christmas Eve; you get them on the Day of the Three Kings, which is Jan. 6." Dania says these differences forced her to figure out a way to blend both cultures, which includes opening gifts on Christmas Day, having her children write letters to Santa Claus, and partying it up on Noche Buena.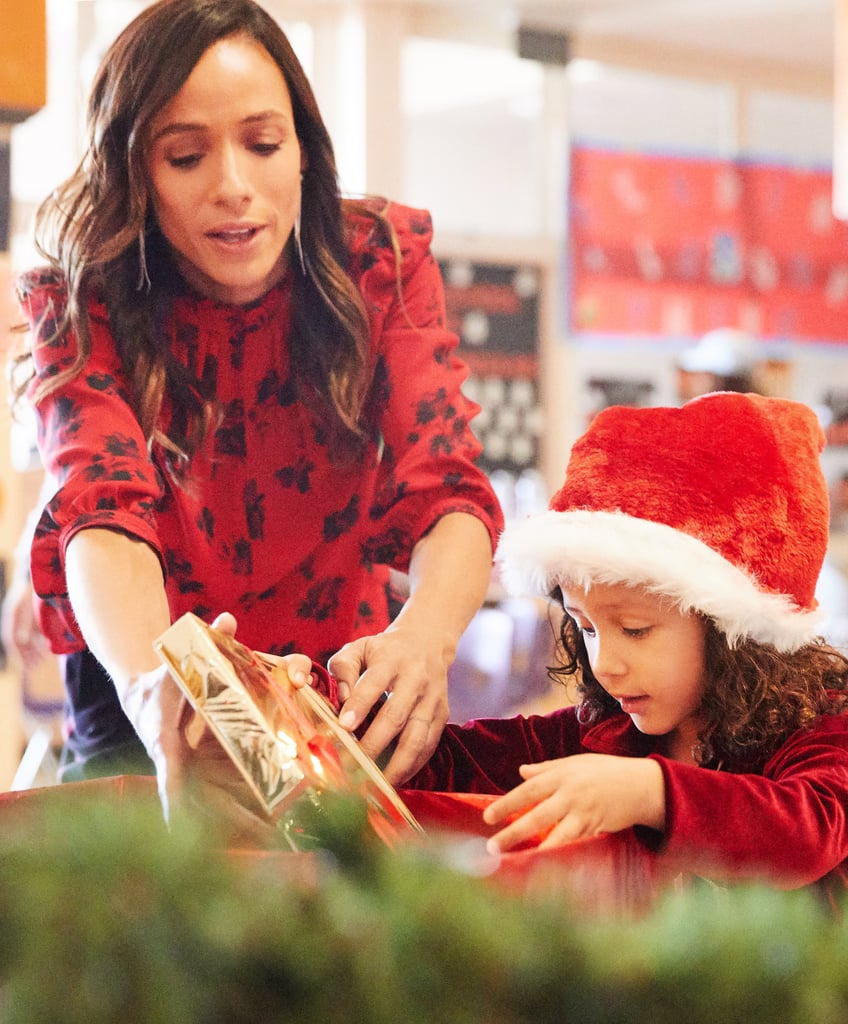 Ask any Latino what it's like dressing up for the holidays. In general, and especially during the holidays, Latina moms look for stylish options not only for personal style but their families as well. Mami will be seen decked out with a gorgeous dress and tons of makeup, and she'll make sure her kids follow suit. And most times, you're just staying home! But when it comes to dressing herself and her family over the holiday season, Dania relies on a fun, more laid-back approach, since throughout the year she's dressed to the nines for red carpet events.
"There's nothing better than a onesie," she explains. "Cute matching onesies, especially the ones that have buttons by the butt and you can just unbutton them and pull them down so you don't have to take the whole thing off. It's a family favorite!"
Surprising, since this is coming from someone who is constantly in fashion-forward attire or seen flaunting her best red lip, but being comfortable is everything for Dania when she's spending time with her husband and kids. "When I'm home with the family, it's time to not dress up, wear onesies, and hang out."
Shopping for Christmas gifts can potentially be daunting for the always-busy actress. She seeks out a place like JCPenney where she can find everything on her list for less than she ever imagined. Finding those amazing gifts at surprising prices makes it easy for her to shine.
"Holiday season stresses me out," Dania says. "The whole pressure of having to get someone the perfect gift for this one day is super stressful for me. So what I do is throughout the year, I just kind of pay attention to the things they really like or want, and then I write it down in my notes. And then when it comes to Christmas, I know exactly what to get them."
And it's not only having to seek out that perfect gift that proves difficult for the 37-year-old mom. "I'm not good at wrapping gifts, and neither is my husband. But it's not about how neatly they're wrapped; it's about the fact that we cared enough to wrap them," she says, laughing.
One of Dania and her family's holiday traditions is heavily influenced by her Latin culture, and it's one that she says brings lots of holiday cheer. "I play music all day long. There's nothing better. We really connect like that." Dania notes that music provides the festive vibe she enjoys most. Christmas is also the time she and her family spend the most time together, since being an actress doesn't allot her multiple days off as it does during the holiday season, so this is their chance to come together for all-day family fun.
"We cook together, we hang out together, we dance together, we get creative together, [and] we make ornaments, so on Christmas Eve when we're looking at the tree, we're looking at ourselves, something we've created."
She's also found a way to make decorating together a bit more personal and unique. "We make ornaments," Dania says. "We get glitter and empty ornaments, and we tape Polaroids on the ornaments and put them on the tree."
Dania has also made giving back an important aspect of her holiday traditions.
"The kids and I started this last year. We paired up with a company to go to the Boys & Girls Club and donated some toys to kids that didn't have the privilege of having any, so it's important for us every year to do some kind of donation and give back," she explains. "I think by including them in this, they're always going to grow up with the mentality that it's not all about them. That [on] Christmas you're also giving and making somebody else feel happy and making a change in their life."
Credits: Photography: Dan Busta