The Best Mexican-Inspired Cocktails and Appetizers From 7 Latinx Mixologists and Chefs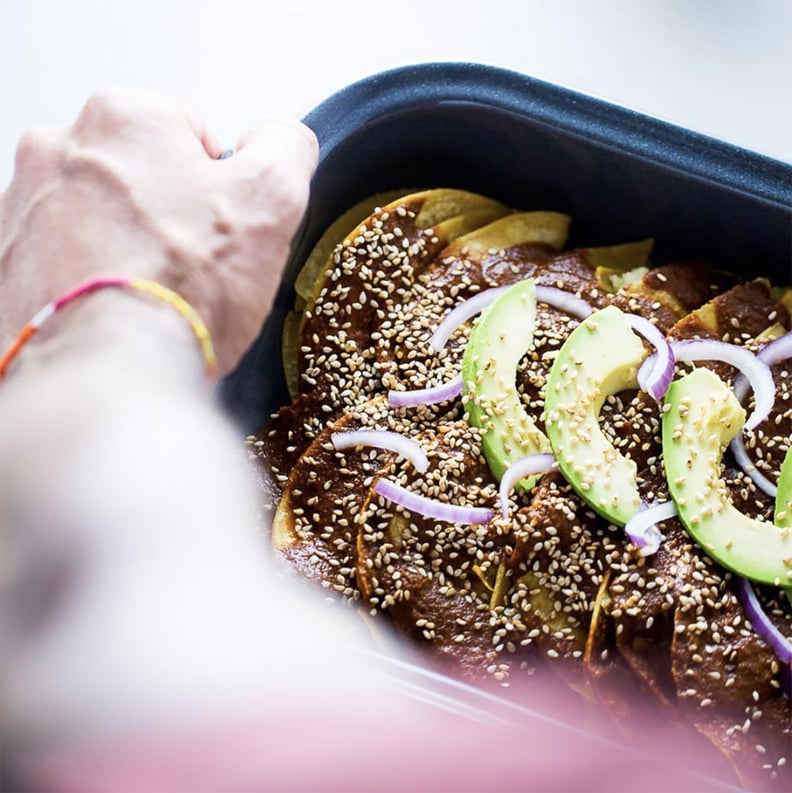 Although Cinco de Mayo is a regional holiday that commemorates the Battle of Puebla, and many Mexicans and Mexican Americans don't celebrate it, in some cities this day has evolved to be a celebration of Mexican culture in the US — and the perfect excuse to drink Mexican-inspired cocktails and appetizers. Whether you're going to host your own Cinco de Mayo fiesta or you need a reason to make a cocktail with a Mexican twist, take inspiration from these Instagram chefs and mixologists to make sure you do it right.
Vegan Mole Enchiladas
Plant-based recipe expert Ale Graff suggests her killer vegan mole enchiladas. " It is a typical Mexican dish where a corn tortilla is filled and then bathed with mole sauce," she explains on her Instagram feed. "They are finished with sesame seeds, sliced onion, Mexican crema, and queso fresco."
Strawberry Frosé Margarita
To re-create this strawberry frosé margarita you only need sweet strawberries blended with rosé wine, tequila, lime juice, and orange liqueur. Easy!
Chard Tacos With Mango Habanero Salsa
Make your vegan friends happy with this chard tacos with mango habanero salsa recipe from this Mexican chef who is a total hero of vegan Mexican classic and modern recipes. He makes the tortillas with Swiss chard, and for the filling, mixes 1 carrot, 1 green squash, 1 red bell pepper, 2 cups of mushrooms, 1/3 cup pecans, 1/4 cup chives, 1 lime, 1/2 a tablespoon of agave, salt, pepper, a pinch of cumin, 1/3 cup cilantro, and garlic.
For the salsa you'll need 2 juicy mangos, half a lime, salt, agave, 1 avocado, and the star, habanero chili pepper, which will determine the level of spiciness of the salsa. Up to you!
Moon Child Margarita
This is what you need to make Lulu Ayala's Moon Child margarita: Siempre Tequila Plata infused with butterfly pea flower, orange liqueur, fresh grapefruit, rosé-infused agave syrup, fresh pressed watermelon, and fresh pressed lime.
Tacos al Pastor
This Mexican-Korean chef has original — and always spicy — tips, and offers spins on classic cocktails and mouth-watering recipes like these tacos al pastor.
Texas Tipsy Tea
Now, this is the ultimate triple threat: tipsy Texas tea. To make this unexpected and super-refreshing afternoon drink, you'll just need to add fresh lemon juice, tequila blanco, and Texas tea to a glass or pitcher filled with ice.
Chile de Arbol Salsa
For those of you who like serious spiciness, check out this chile de arbol salsa. This kind of chili is, as chef Yvette Marquez explains on her blog, six times spicier than your average jalapeño.