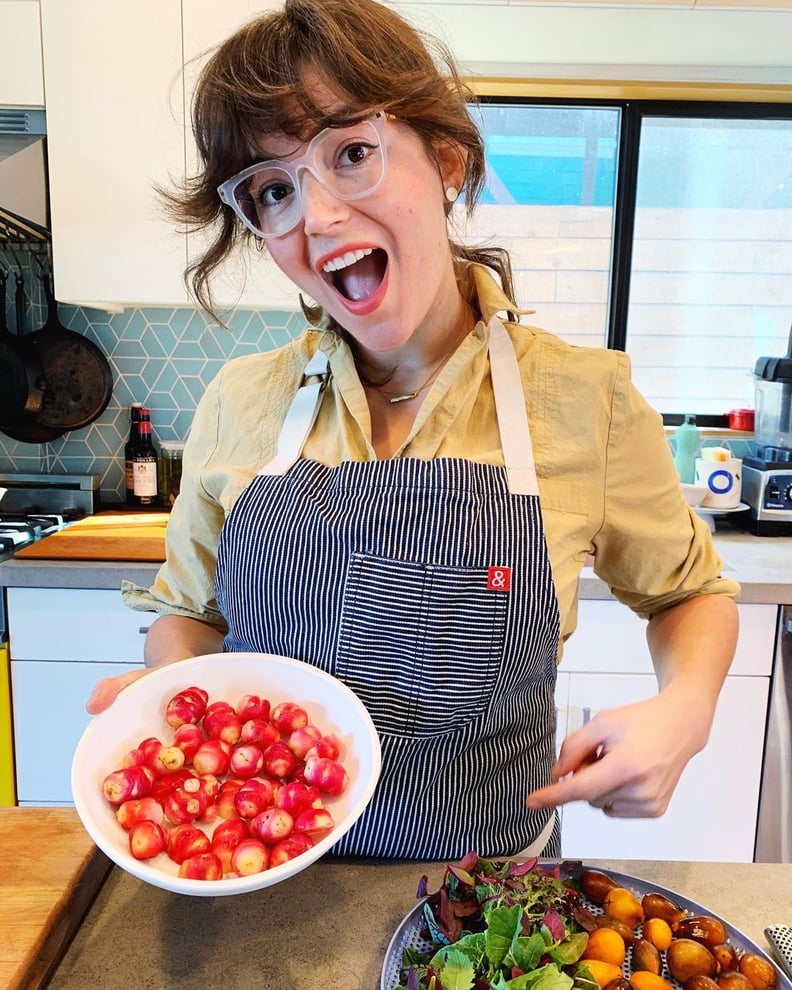 Courtesy of Hedley & Bennett
Courtesy of Hedley & Bennett
Behind Martha Stewart's and Kamala Harris's favorite aprons is badass entrepreneur, cook, and author Ellen Bennett, the CEO and founder of Insta-famous kitchen apparel brand Hedley & Bennett. Besides featuring the cutest kitchen apparel, this chef's Instagram is a great place to find tons of easy and quick recipes. And we mean extra quick. Most of her recipe videos are not even 30 seconds long. Everything from simple-but-not-boring ensaladas, to chicken tinga, and even mole!
But before we dive deep into chiles and salsa, her inspiring story might help you find motivation in the kitchen today and dare to try something new. She grew up in LA and was raised by her Mexican single mother. Before her recipes and aprons became a trending topic, Bennett worked as a line cook in her hometown's best restaurants, where she noticed most of the apparel the pros were wearing back in the kitchen were very low quality and didn't last. After much researching and daydreaming, she convinced her boss to make an order of 40 aprons with her "apron company," which at that point didn't exist. She didn't even have sewers and it was just a business idea, a dream. But it worked!
After succeeding with the project and turning her brand into a multimillion dollar company, Bennett is now helping other people make their entrepreneurial dreams come true with her first book, Dream First, Details Later: How to Quit Overthinking and Make It Happen ($27).
"I wanted to write this book for all those people starting out really at square one and help them understand that, yeah, it's scary and you might make tons of mistakes but believing in what you are doing, pushing through that fear, and just being relentless in your pursuits can result in success."
We asked her to share her all-time favorite Mexican recipes so you too can learn how to prepare them in a matter of seconds. Keep scrolling to discover all the details and tips, and we promise they're doable and ultra quick!
Speedy Salsa
There is no shame in buying salsa at the store, but when you want to kick things up a notch, the chef recommends trying this one at home. "This speedy salsa recipe couldn't be much quicker, and honestly, it has five times more flavor."
All you have to do is pan sear two tomatoes, two poblano peppers, and one garlic clove. Then, deseed the poblano peppers, peel the garlic cloves and put everything in the blender. The final touch is adding the salt to taste, one tablespoon of vinegar, and mixing it well. And that's it!
Chiles Rellenos
Bennett loves this recipe for stuffed chiles because it doesn't require a ton of ingredients or expertise. "It's delicious and super easy, plus it'll be one little scary thing you can do in the kitchen and add a notch to your confidence belt. (you'll know what I mean when you read the book!)"
Picadillo
Picadillo is an absolute staple in any Mexican kitchen. Although the details and ingredients vary a lot by region, the main one is the ground meat — beef, in this case."My friend's mom and then my own abuelita taught me how to make picadillo, and it's also one of the first dishes I ever learned to make."
Mexican Beef Stew
Do you want to know the special touch in this recipe? "An added squeeze of lime at the very end really does add some great flavor," Bennett says. "I think many people either forget to do it, or don't think will have an impact. But don't skip the lime!"
Speedy Esquites
Esquites are one of the main snacks or quick comfort food go-tos you can find in Mexican street cuisine. "When I make this, it instantly reminds me of my abuelita's house and how it was made when I was a kid," she said. "You can customize to make it spicier or more cheesy based on what you are in the mood for."
When you buy it on the street, it usually comes in a cup or bowl, and they vary a lot from one region to another. You can swap the mayonnaise for milk, add chiles or no chiles, and same with cilantro. The key is making them your own!