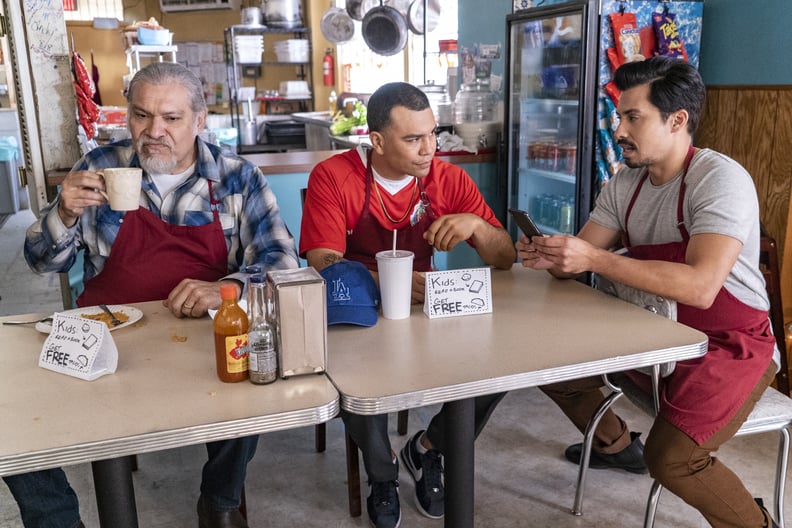 If you figured out a way to beat Netflix's algorithm and find its hidden gems, then you probably binge-watched Gentefied in one sitting. The show will give you all sorts of feelings when you realize that maybe for the first time ever, Latinx are being portrayed as everything we are that doesn't fit the stereotype.
There's an artist, a chef, a business owner, a college graduate, and a reporter. Even the Latinx LGBTQ community is represented. It's a human story filled with a lot of heart and a lot of humor, following a group of cousins who scramble to save their grandfather's taco shop — while still pursuing their own dreams — as gentrification shakes up their LA neighborhood.
Another important aspect of Gentefied is how it includes different generations into the narrative. "One of the most important things about this show is the multigenerational aspect, which is so ingrained in the Latino experience and, I imagine, the immigrant experience," America Ferrera, who serves as an executive producer and also has a cameo in the series, said in an interview.
"Our families and our lives are multigenerational. We live with our tías and our abuelos, and there is a deep commitment and honoring of the many generations whose decisions have completely impacted the lives of the younger generation," she added.
What may be the most shocking for non-Latinx viewers is the atypical father figure that they're not used to seeing in Hollywood or other TV shows, but hits so close to home to us, who've lived this reality.
"I love everything about the show, but my favorite parts are watching the older generation, and to get to see a Latino paternal father figure who yes, in some ways, fits the stereotype of hardworking, immigrant, trying to leave a legacy for his kids, macho in some respects, and then in other ways is deeply loving, and caring, and hilarious, and sarcastic, and biting in all the ways that we know our parents to be," America told Mario Lopez on Access Hollywood.
America goes on to say that Hollywood, film, and TV know our parents, grandparents, or any adult authority figure in a Latinx household as "bumbling fools who speak broken English," and they're usually cast as the help, so being able to create representation of the people who raised us is "so moving."
I totally see her point. My dad, for example, is extremely hardworking, and everything he's done, one way or another, has been so my siblings and I could have a better life. Whenever we tried to mock his accent, he'd say, "This is the accent that has opened new doors for you." And he was right. It was his accent that closed many business deals that furthered his career and subsequently provided a more comfortable life for us; it was his accent that booked our family vacations, that helped me move to NYC, open a bank account, and ask all the right questions when looking for an apartment or requesting any basic service.
He's always been there. Like America said, our dads — or paternal figures — are deeply loving, and they'd do anything for you without thinking twice. My dad is extremely involved in my life, and while it bothered me as a teenager, I understand it and encourage it as an adult. Even when ultimately I make the decisions that will shape my life, my dad is who I call to consult, because I know I can always count on him.