How This Venezuelan Immigrant Found Community in Real Estate
How This Venezuelan Entrepreneur Fosters Community in Miami Real Estate
For Stefania Mogollon, working in real estate is about more than selling homes: it's about community. When the Miami-based real estate agent first left her home in Caracas, Venezuela, she landed in New York City, intending to stay for only six months. When she decided she wanted to stay longer, she began looking for an apartment. "I very quickly realized how hard it is to find a place, especially as an immigrant and a young person with no records of anything in the United States," she says. "It was pretty much impossible."
Eventually, Mogollon was able to find an apartment with the help of her friends, but the challenges of her hunt inspired her to pursue a career in real estate. "I've been in sales since I was 15, so I love to deal with customers. I love to help them," she says. Mogollon knew she could provide a valuable point of view for other people in similar situations. "As an immigrant, I've been through it," she says. "[So I thought] maybe with my knowledge, I can help them to get that 'American Dream' house, or a place to start a life here as an immigrant." The chance to help someone find their space in a community — or build their own — fueled her.
Now, Mogollon lives in Miami and specializes in high-end real estate in South Florida, specifically Brickell/Downtown Miami, Coral Gables, and the Miami Beach area. Keep reading to hear more about Mogollon's experience adjusting to life in the United States, what she loves most about working in real estate, and her advice for navigating one of the biggest milestones in life: buying a home.
POPSUGAR: What is something you love about working in real estate?
Stefania Mogollon: The main thing is helping people. Not only with an essential situation, which is a roof over their head, but through their life's milestones. I get to see people grow, and it's very, very rewarding. I'm not just selling walls, floors, and a ceiling. I'm selling a space where you're going to create memories, and you're going to grow as a family.
PS: Can you walk me through what it was like starting your own business?
SM: I had incredible mentors in Queens, New York. They guided me through the beginning, but it was very hard financially because the first year as a real estate agent, you make way less than minimum wage. It's really hard to keep afloat, but in the end, it's just about perseverance, planning, building a cushion, and trying to not lose focus.
I wasn't aware of how hard it is to build a business, especially in real estate. This is a business about relationships, connections, and building trust. It's not just about selling houses — the house is just a product. It's more about answering the question "how much value can you add to your community, to your people? How much are you able to educate them?" The more you give, the more you'll get out.
"I'm not just selling walls, floors, and a ceiling. I'm selling a space where you're going to create memories, and you're going to grow as a family."
PS: Do you have any tips for other immigrant entrepreneurs hoping to launch their own businesses?
SM: Believe in yourself. As immigrants, many of us have experienced struggle, so we're prepared to fight for what we want. Really look towards people who have already done, or are doing, what you want to accomplish for inspiration or mentorship. It's easy to stay in your same circle or bubble, but open yourself up to meeting more people, too. The more uncomfortable you are, the better. And when you feel scared? Go for it. Open yourself up, open your circle up, and the opportunities will flow.
PS: You lived in New York for around seven years before moving to Miami. How have you created a community for yourself in Miami?
SM: I loved New York. It taught me a lot, but after a few years, I realized that I wasn't happy. I decided to make the jump and move down to Miami, and I love it. Creating my community has been very easy here. I live in Brickell, so everything is very walkable. People have time to stop and talk to you. And I'm someone who likes to approach people on the street. I like to talk to everyone — restaurant owners, the people in the lobby, familiar faces — so I started creating groups. I also have a dog, which helps tremendously. You just have to find what you love and then thrive with it. You can't try to fit in an environment that you don't really feel that you can connect with. Once I did that, everything fell into place.
PS: What does being a good neighbor mean to you?
SM: When I was in New York, it took five years for my neighbor to say hello. That was so surprising to me, because in Latin America, you're so used to knocking on the neighbor's door for coffee, or to drop off food, and talking.
To me, being a good neighbor is acknowledging there are people living around you, not just random strangers. These people are directly in your environment. So if you can be part of their lives somehow, and them yours, then it's easier to create a community and solve problems and help each other. It's trying to break the ice with the neighbors, introduce yourself, and not being afraid of what they think. If they don't say hi back to you, try again. Try to be there for them.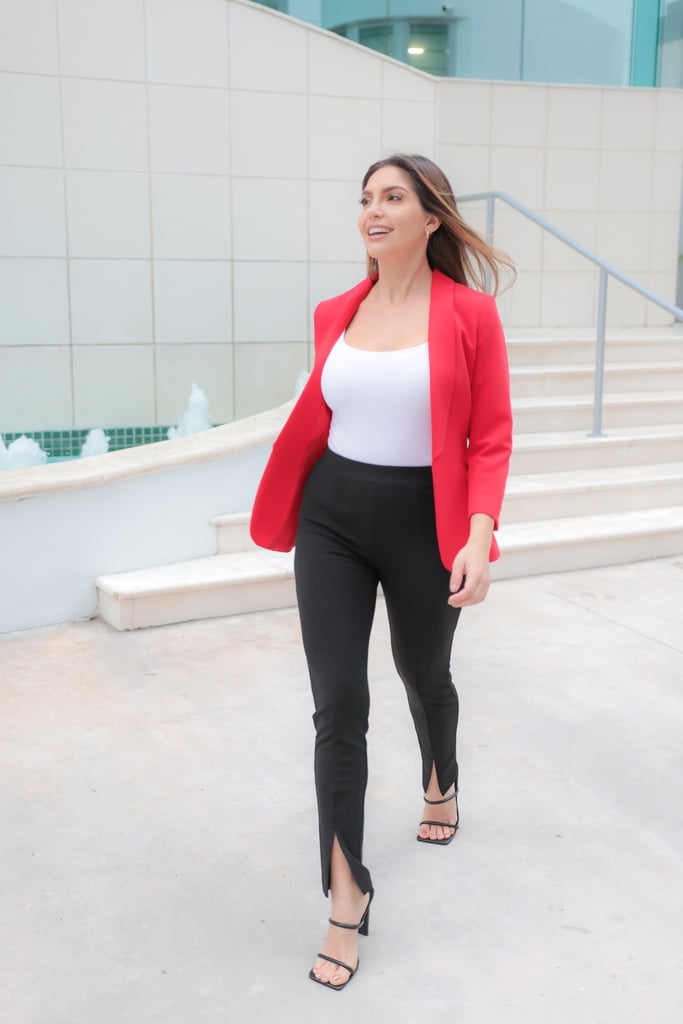 PS: What advice would you give someone who wants to buy a home?
SM: First, save as much as you can. It's better to limit yourself spending-wise now and have a roof over your head than to go for the immediate pleasure of big or impulsive purchases. Think of the long-term pleasure, not the immediate pleasure. Prepare for the down payment and the closing costs that are often forgotten about.
Second, work on your credit score. It's a sensitive subject, but it is important. If you don't have lines of credit, open what you can, and try to pay off the balance every month. Also, try to keep your overall card usage under 30 percent of the credit limit. Work to keep your credit in good standing.
Lastly, know what you're able to spend monthly on mortgage or rent. People tend to think, "Oh, I want to [own a] $500,000 or $300,000 apartment," but that's not how it works. It doesn't come down to the total price. You have to account for taxes, maintenance, insurance, etc. When you know your monthly budget, you can really know your highest possible offer.
PS: Do you have any money-saving tips for people looking to improve their budgeting skills?

SM: Take your monthly budget and divide it into "must" (bills, housing, etc.), "nice to have" (going out to eat or something like that), and "I really wish" (something big, like a brand-new car). From there, you can budget out your income. My big tip though is: do not limit yourself 100 percent. You want to live life. You can still see your friends, go out, and get drinks with a budget. It's about finding that balance so the budget can be sustainable.
PS: What do you think aspiring homeowners should be focusing on during their searches?
SM: What are your dealbreakers? To me, buying a home is like dating. You have a list of everything that you want in the person, in your partner. In reality? They're going to have two or three things on your list.
I usually sit down with my buyers and we go through a consultation and they bring me everything they want. From there, I tell them to narrow it down to three to five musts. We're not going to see properties that don't have these things. For some, the musts are the number of bedrooms, number of baths, location, and a big kitchen or a big backyard — it's up to you. My job is to bring you to reality. Within your reality, within your budget, what are the five musts we can work with? Everything else is extra.
PS: What is something that you think is necessary for every renter or buyer to have?
SM: In life, you need to be prepared for the worst. Not in the way of dwelling on the negatives, but to understand the risks that come with life. You can get laid off, you can get into an accident, your apartment could flood, etc. By preparing for the worst, you can enjoy the good times. And to me, being prepared means having insurance. I recently had a client whose neighbor's apartment caught fire on their move-in day. It was an accident that ended up damaging not only the apartment with the fire, but also apartments several floors below due to the sprinkler system being activated. Having insurance to cover the items that were damaged or lost can help make a situation like that a little easier.
Credits: Images courtesy of Stefania Mogollon