6 Fresh (and Delicious!) Ways to Enjoy Tequila This Summer
Advertiser Content From
Astral Tequila
There's no better way to celebrate the warmth and fun of summer than with a cold, refreshing cocktail. Make a batch of margaritas for a night with friends, sip on a Paloma during brunch, or play around with fresh fruits for a specialty drink that just might become your go-to for the season. While all liquors deserve their time in the spotlight, summer is undeniably the season for tequila. Its versatility, multidimensional flavor, and ability to effortlessly layer into countless cocktails (whether sweet, citrusy, smoky, or spicy) make it a classic choice for anyone looking to say chinchín.

Before we dive into simple ways to shake up your ways of enjoying the smooth spirit, let's take a brief look at what makes tequila, well, tequila. Made from the hearts of the agave plant, it's a spirit that's native to México. The Blue Weber agave plant used must come from one of five states in México — Guanajuato, Jalisco, Michoachan, Nayarit, or Tamaulipas — to be labeled as tequila.
The most popular styles of tequila are blanco (silver unaged tequila), reposado, añejo, and extra añejo (has been aged in new oak or used whiskey casks). All of these require the blue agave to mature anywhere from seven to 10 years before the jimadors remove the leaves and send them off to a distillery for the actual production. The process of tequila production is lengthy, but the time, care, and attention that goes into each bottle is what makes it so exquisite.
Right now, we're partial to the new kid on the block: Astral Tequila. The smooth silver tequila is made from 100 percent blue agave and is known for its notes of crisp citrus, clover honey, and bright white pepper —it's the perfect choice for both tequila enthusiasts and first-time drinkers. And since we're suckers for all things astrology, the brand's star-sign-themed cocktails are seriously speaking our language.
Keep reading for six fresh ways to serve and enjoy the renowned spirit this summer season. ¡Salud!
Spice Things Up For a Girls' Night
If your go-to is the classic margarita but you want a different way to enjoy it, add some jalapeño to the mix. Before pouring your lime juice, simple syrup, and tequila into the cocktail shaker, muddle a couple slices of a jalapeño pepper. After shaking the cocktail, double-strain it over ice into your glass of choice. Want an additional tangy kick? Coat the rim of your glass with some Tajin (or any other spice blend you love).
Say Goodbye to Vodka Soda For Your Next House Party
If you're in a bar (even your home bar), you'll inevitably hear countless orders for a vodka soda. But why not swap that out for tequila? (Hello, Astral's Stellar Margarita.) The crisp fizz of the club soda provides the perfect balance for the smooth kick of the spirit, especially with a squeeze of fresh lemon or lime. If you want to emphasize tequila's naturally citrus notes, have some orange bitters and orange peels ready to go on your bar.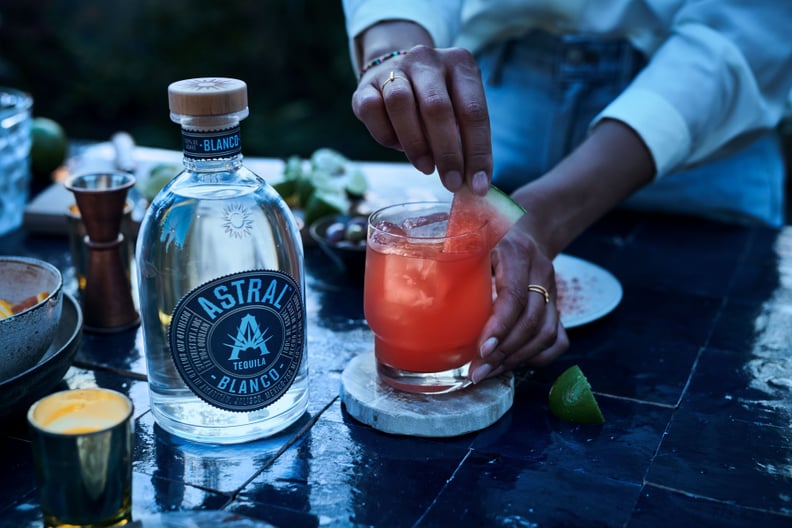 Add a Splash of Sugar While Poolside
If you're looking for a sweeter pour, make a tequila-based drink that bees will be envious of. Add a shot of tequila (1.5 ounces), two to three ounces of fresh lemonade, a spoonful of honey, and a dash of your favorite bitters to a glass, then stir. This refreshing take on a lemonade just might become a top poolside pick.
Lean Into Seasonal Flavors For a Garden Party
In-season fruits are constantly shifting — so why not let those fresh options guide your mixer choices for outdoor gatherings? Muddle strawberries, raspberries, blackberries, or even peaches into your favorite tequila-based drink (let's not pretend a watermelon margarita doesn't sound like heaven) for a seasonal twist on crowd-pleasing classics.
Try a Frozen Treat for the Hottest Days
It might not have crossed your mind to turn your favorite spirit into a savory yet sweet dessert. Make your favorite margarita into a popsicle by whisking together roughly half a cup of tequila with lime juice (3/4 cup), orange juice or triple sec (one to two cups), and honey or agave nectar (two tablespoons) and pouring into a popsicle mold. Once your popsicles are frozen, drizzle some honey and sprinkle on some Tajin, another favorite spice blend, or flaky sea salt for a truly delicious respite from a scorching summer day.
Go Smoky While Hanging by the Fire Pit
If you wish your tequila could achieve a similar smokiness as its cousin mezcal, add some smoked herbs to your glass. Palomas (typically made with tequila, lime juice, and grapefruit soda) are the perfect choice for an addition of smoked thyme. Before mixing your glass, place a sprig of thyme on a surface that can safely withhold flames. Set the sprig on fire and place your empty glass upside down over the smoking herb for one to two minutes, letting the herbal smoke fill it. Once the time has passed, lift up the glass and pour water on the sprig to extinguish any remaining flame. Add your ice of choice to the newly smoked glass; pour in your tequila, lime juice, and grapefruit soda; lightly stir; and enjoy at your next BBQ or around the fire pit.