This Is What You Can Do This Holiday to Spread Love and Positivity in Your Community
Have you done your morning meditation? Journaling? Sun salutations or stretching? Just like taking extra care of yourself can help you push through this demanding time, there are many ways in which you can make someone in your community feel better today. Even from my front stoop in Brooklyn, I've seen so many acts of kindness that filled me with hope and motivated me to start practicing some of them myself — and here's what you can do, too.
Check In on Your Elderly Neighbors
You don't have to look too far to find someone who needs help in your closest community. For example, do you have an older neighbor in your building? Checking in on them by knocking on their door, calling to make sure they have enough food and medicine, offering to help with their groceries, or just asking how they're feeling. It will surely make an enormous impact on their mood — and yours!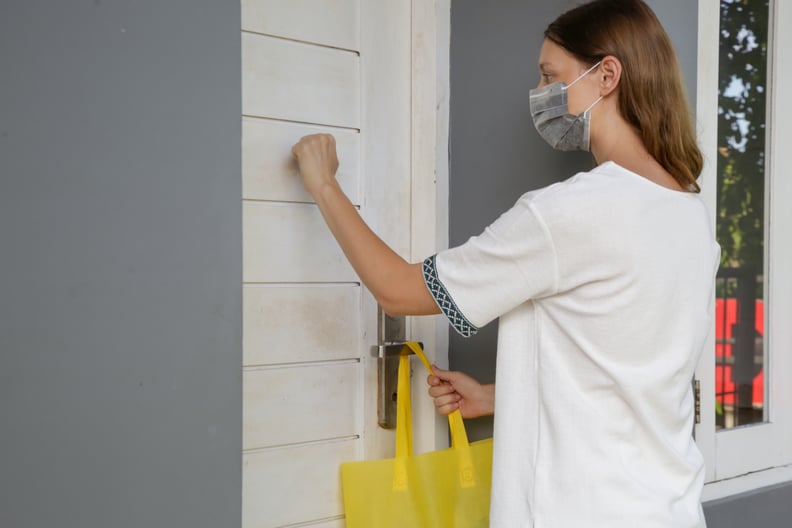 Volunteer in Your Community
If you don't know anyone in this situation directly, you can reach out to nonprofits, like the New York City-based Citymeals on Wheels. It has different initiatives to help our abuelitos feel less isolated during this time, and it's way easier than you'd think. One of its programs just requires you to write a sweet card or letter that it'll deliver to elderly neighbors who are, in most cases, homebound and have no one to talk to. It also has a program to deliver medicine and meals on foot safely. Wearing masks and taking all the necessary precautions, volunteers drop off a bag with lunches and dinners for the week by people's doors to maintain a safe distance while doing a great thing. There are many local and national organizations that deliver food to homebound seniors, so check out what's going on in your community.
Donate to Your Local Pantry
Another easy and anonymous way of giving that's becoming more and more popular is communal fridges. You can usually find them outside of a store or a bar — you can find a map here — and people can drop off food for neighbors who are experiencing food insecurity. I've seen moms with little kids leaving groceries in the fridge on their way to day care, cyclists stopping by to deposit milk and bread as they pedal to work or on their morning rounds to get out of the house for a bit. The best thing is that it's open for anyone, any time, no questions asked. My neighborhood is covered in signs that ask, "Are you hungry?" and refer people to different food pantries in Brooklyn that provide meals every day — sometimes, even handing out lunch bags on the street for whoever needs it. Consider volunteering or donating to your local pantry, or with Feeding America, City Harvest, or your favorite food bank to make sure they can continue to deliver meals through the pandemic.
Support Local Shops and Businesses
Besides food insecurity, small businesses have been hit the hardest. Here are some tips on how you can take part in helping them survive this crisis: avoid gigantic online platforms and order your books and gifts at independent bookstores (they're the cultural heart of every neighborhood!); buy your yarn and needles for your newfound love for knitting on your local craft or yarn shop; skip the line at the big chain supermarket and opt for the family-owned grocery store on the corner. And when you do shop small, share it on Instagram! A little word of mouth goes a long way, and people in your network surely want to help the community as much as you do.
Also, do you remember that bar where you met your ex? The restaurant where you celebrated your promotion or the one you took your parents to last time they were visiting? Those are the places that make you want to live in your community and that make it unique. If you can afford it, donate to the many Go Fund Me campaigns that your favorite bars and restaurants may have started to stay afloat until they're allowed to go back to business as usual, or order from them whenever you can.
Just like my favorite self-help author Deepak Chopra says: "The gifts of caring, attention, affection, appreciation, and love are some of the most precious gifts you can give, and they don't cost you anything." Now more than ever people need a helping hand, so go put on your mask and find something to do for another person today.