Juntos We Shine Podcast Interview With Regina Merson
Regina Merson Sees the Beauty in Every Woman and Encourages Them to Embrace the Reinas They Are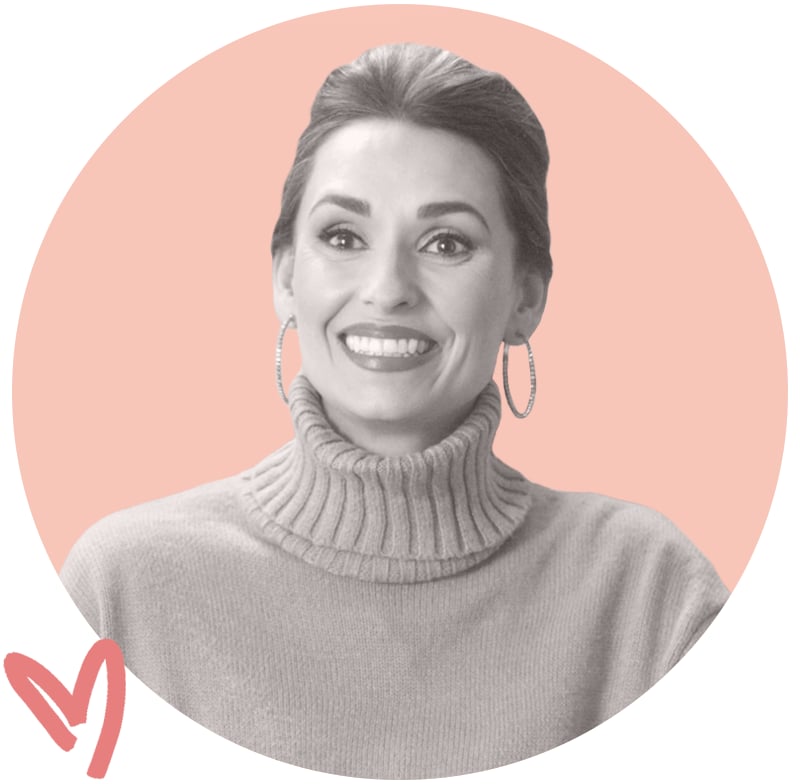 As her name suggests, Regina Merson is a true queen — through her makeup line, Reina Rebelde, she wants Latinxs (and anyone who loves makeup) to feel that way, too. "Reina, which means queen, is a term of endearment among Latinas, and we use it to elevate each other," Regina said. "It also reveals how we feel about ourselves and what motivates us to have such extensive beauty rituals that are very rooted in our heritage and in the women we idolize growing up — our mothers, grandmothers, aunts and so forth. Meanwhile, 'Rebelde' speaks to that side of us that is unapologetic about who we are, our push to break boundaries and construct the life we deserve."
Reina Rebelde is all about upending the narrative that we're only allowed to be one-dimensional women and celebrates all of our dualities without compromise or apology. "This notion definitely stems from the pressure I felt as a Latina to conform to one approved way of being and how downright confusing and frustrating it was," Regina said.
Regina was an attorney for more than six years, and much to her surprise, it never moved her — she didn't feel happy or motivated in what she did. When she turned 30, she came to the realization that she was on the wrong life path. "I mourned this realization for a couple of years and felt completely paralyzed by the weight of all of its implications — disappointing my family, the fear of not knowing what would be next for me, and frustration about having changed my mind about a career that I had worked so hard to achieve," she said.
However, she soon realized that she had every right to change her mind, and she started exploring what she naturally gravitated toward: makeup. "Celebrating these dualities, embracing my contradictions, and always remembering that I have the right to change my mind — about my lipstick or my life — is nothing short of empowering."
Keep reading to find out the products she swears by that keep her grounded and connected to her passion and heritage.
"I've always been certain that makeup was the source of power that made it possible for women to be vulnerable and feminine, yet fiercely independent and outspoken, and navigate all these parts of themselves so seamlessly," Regina said, admitting she's a makeup junkie. For someone who loves makeup, and now has her own line, the best way to keep everything tidy and in sight, while taking up the least space possible, is with the Sorbus Rotating Makeup Organizer. It also comes with a detachable magnifier mirror to keep that lipstick line in check.
Regina decided to pursue her passion after going through her makeup collection of more than 20 brands and realizing their formulas weren't saturated enough and the shades didn't match her skin tone — the brands just didn't speak to her. She wondered if other Latinas felt the same way, and so she launched Reina Rebelde. She became "La Jefa," and has commemorated it with a bold lip color stick with that same name to encourage other women to become the bosses of their own lives.
"I hope Latinas feel more represented and included in the beauty industry, on shelves, and beyond," Regina said. "My number one goal has always been to make Latinas feel respected for who they are and for their millions of amazing contributions, and beauty is a small but powerful way to accomplish that."
"I'm really proud of my roots, they informed so much of who I am today, and I infused aspects of that in every touchpoint of Reina Rebelde, from the branding to the shades and the names," Regina said. A great example is the 4 Play Wet Dry Eye Color in Azteca, with four stunning shades in rose shimmer, red copper, gold pearl, and Aztec chocolate, which were inspired by Regina's regal ancestors.
"Additionally, we collaborate with people from the community, connect women with each other through beauty, and try to showcase all of the amazing contributions Latinx are making to society through the brand," Regina added. "Collaboration and support is fundamental to my heritage, and through these efforts we strive to be a positive counterpoint to the ongoing negative discourse about Latinx that has exploded in the past years."
"Beauty is one of the ways that the community is able to keep our amazing cultural traditions alive. It's infused with so much sentimentality and strongly ties us to the other women in our lives," Regina said. "We all recall the many women that passed along all their beauty traditions and best practices, told us how to perfect that wing, and reminded us how our abuelita did it decades ago."
Today, Regina carries her beauty traditions by rocking a solid winged liner and a bold lip — she said it's "timeless and powerful." She achieves that look thanks to the Rebel Eye Definer in Zapatista, which makes her feel like the true reina she is.
It's easy to feel inspired to take control of your life after reading about Regina; get a closer look at her and her work through her podcast episode of Juntos We Shine, a collaboration between POPSUGAR and Univision, presented by Target and hosted by Karina Banda. The podcast series is dedicated to showcasing the stories of remarkable everyday women and men who are committed to making a difference in their communities, and after listening to stories from people like Regina, you'll definitely feel inspired to take action and follow the path you're meant to be on.