Juntos We Shine Podcast Talent Elizabeth Acevedo Interview
Elizabeth Acevedo Brings Latina Issues to the Forefront and Empowers Her Community to Take Action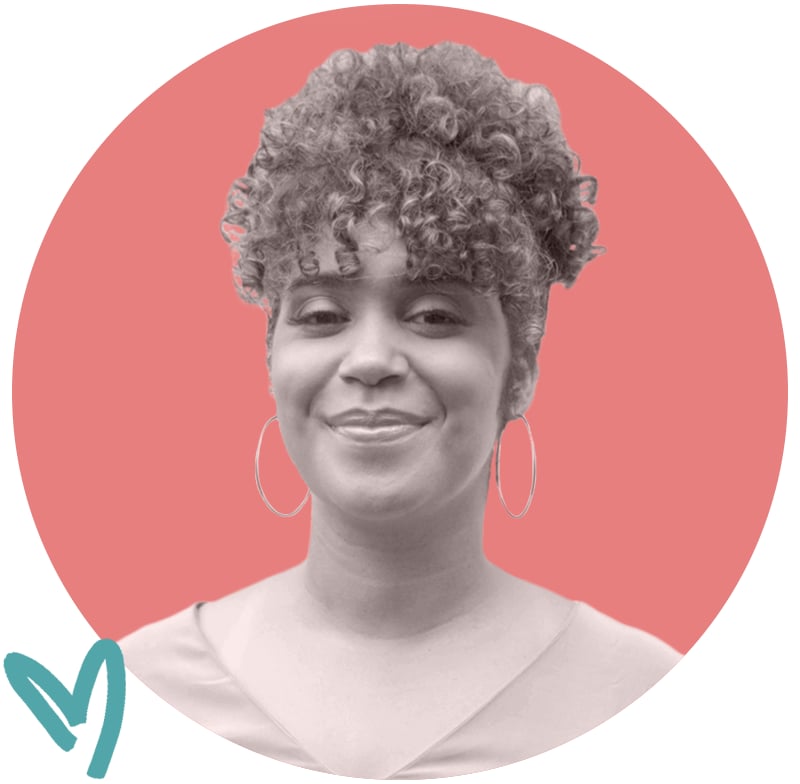 Elizabeth Acevedo comes from a family of storytellers — her mother loved to talk about her childhood in the Dominican Republic. It instilled a sense of community and belonging in Elizabeth, who considers herself a Dominican above all. "I cannot pin down what I love most about my heritage to only one thing," she told POPSUGAR. "I love that I come from colorful people, joyous people, people who feel deeply and laugh wildly. I love that I come from a culture of resilience and deep kindness."
But as a writer, award-winning slam poet, and daughter of Dominican immigrants, Elizabeth could rarely find literature in which she could see her community represented. So she wrote the book herself.
Not only did she write it, but Elizabeth's debut novel, The Poet X, also took home the UK's most prestigious prize for children's literature, the Carnegie Medal, making her the first woman of color to win the award. Through the book's Dominican central character, Xiomara, Elizabeth encourages girls and women to learn to inhabit and love their own skin.
In her writing and in her life, Elizabeth is vocal about Latinx issues like violence against women of color, societal pressures around beauty, and immigration — she's constantly working to change the conversation about and within the Latinx community. To help her continue fighting for the community and remind her where she came from and where she's going, Elizabeth has a few favorite things that she relies on. Keep reading to find out Elizabeth's essentials that keep her moving and motivated.
Elizabeth's newly released second novel, With the Fire on High, tells the story of Emoni Santiago, a girl with talent, pride, and a drive to feed the soul that keeps her fire burning bright. "I bring my heritage into the things I write about," Elizabeth said. "I want to write about people and communities I didn't often see in literature while I was growing up but that I believe have fascinating stories to tell."
The only place where Emoni really feels like herself is in the kitchen, where she adds a magical touch to everything she cooks. She has big dreams of becoming a chef, although she thinks it's not worth it. But despite the rules she thinks she has to play by, her talent will let her break free.
Elizabeth has a system for organizing her thoughts, and she writes them down in her Piccadilly's Blank Sketchbook, no matter the shape or form they come in. "I usually have a running list of different ideas I want to pursue," she said. "Either characters I'm curious about or premises I think could work. Whenever I'm done with the current project I'm working on, I look at that list and begin experimenting with the character or premise that most calls to me."
When writing and developing her ideas, Elizabeth uses her Zebra Mildliner's Dual-Tip Creative Markers to get creative and organized in a colorful way as she continues to map out ways of changing the conversation around Latinx culture. "I wanted to tell good stories to, about, and for my people," she said.
"I never expected that desire to communicate with my community would be a catalyst for changing the conversation around an entire community. I think it helps me continue to do the work if I never let myself get too caught up in my own hype."
Nothing like starting your morning with a cafecito Dominicano to feel inspired, and it tastes even better in the Hola Bonita Floral Mug by Opalhouse. Nevertheless, it's easy for Elizabeth to find inspiration in pretty much everything. "I'll hear someone speak and a unique phrase they use will inspire a poem," she said. "I'll see someone make a particular kind of gesture with their hand and I'll think about lending that gesture to a character I'm working on. Often I return to my memories as sources of inspiration; what are the things that happen to me that felt so specific to me at the time but perhaps have a universal resonance?"
It's easy to feel inspired to take action after reading about Elizabeth — get a closer look at her and her work through her podcast episode of Juntos We Shine, a collaboration between POPSUGAR and Univision, presented by Target and hosted by Andrea Chediak. The podcast series is dedicated to showcasing the stories of remarkable everyday women and men who are committed to making a difference in their communities, and after listening to stories from people like Elizabeth, you'll definitely feel inspired to leave the world a better place.
Credits: Photographer: Chelsea Kyle; Art Director: Samara Grossman; Prop Stylist: Chelsea Volpe; Producer: Cassie Doyle