In a reggaeton world ruled largely by men and sexist lyrics, a Colombian queen is changing the rules of the game. After breaking records with her smash hit collaboration with Nicky Minaj, "Tusa", Karol G just released her much-anticipated debut album, KG0516. On its first week, the record has gone straight to #1 Spotify's Global Top Album Debuts and #1 on Billboard's Top Latin Albums, making it the top-performing release for a female artist in its first week on the chart since 2017.
To celebrate the launch and in collaboration with Spotify, she created Tusa Airlines, an interactive experience where her fans can literally board on her new album and virtually fly around the world with her new songs as the soundtrack. We talked to the reggaeton reina ahead of the 2021 Latin American Music Awards — where she was the most nominated artist tied with J Balvin — about the role of women in this industry, being creative in pandemic times, and much more.
Winning Spotify's Most-Streamed Latin Female Artist Award
In 2020 she won Spotify's award for most-streamed Latin female artist over superstars like Billie Eilish and Ariana Grande, a title she feels grateful for but still can't wrap her head around. "It's something that as hard as I try, I can't fully grasp," she told POPSUGAR. "I wake up at home with my family, my people, and I have a regular day where I always dedicate a lot of time to my career and my job. But I'm so focused on how to do better, be better, that I think other people notice that success more than I do. I feel very happy and grateful about it, because I see the numbers, and I think, 'Wow, it's happening, it's real,' as much as I can't actually touch it."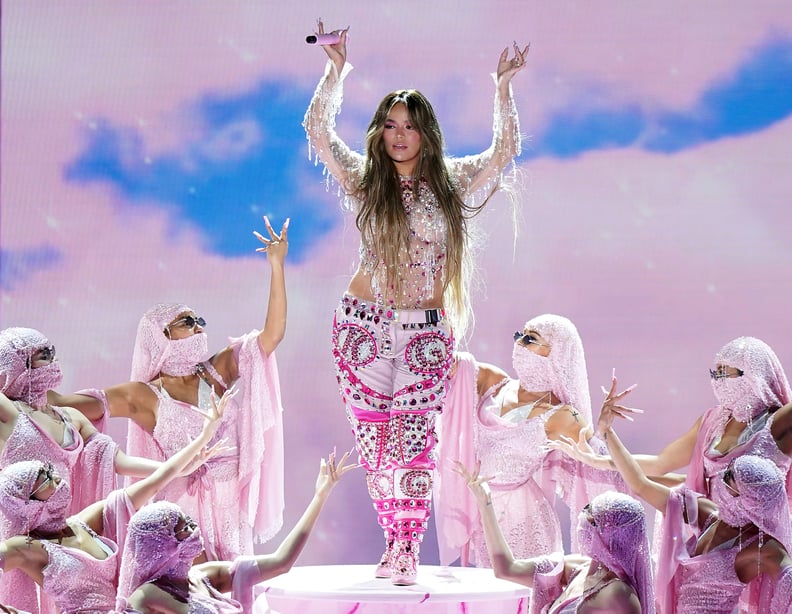 Her Spotify wins and Bad Bunny being the most streamed artist on the planet with more than eight billion streams is another sign of the unprecedented success Latin music and reggaeton, in particular, is having right now. In her opinion, this is just a result of Latinx's resilient and lively contagious way of living. "Latinos are hardworking, thriving, with a will for self-improvement, extroverted, enthusiastic, and friendly. I feel like people all over the world are vibrating with our sabor."
How to Make It Singing in Spanish
Singing only in Spanish hasn't stopped Karol G from making it to the top five of global charts over and over again. If you ask her, it's all about love. "It is a mystery even to me! Sometimes the songs we think will be the most successful don't connect with the audience and vice versa. When you do something with so much love, not thinking if it's going to work or not, but honestly expressing a feeling whatever it is, success is a consequence."
"The mujeres I see today are focused, hardworking, strong, ready, and committed. With that attitude, we are going to change this reality."
It's no secret this particular music genre has historically been run and represented mostly by men, but things are indeed a-changing. "I see a clear and positive change right now," she said. "There are many things that still have to change in our culture, like the way women are seen in the industry. But the mujeres I see today are focused, hardworking, strong, ready, and committed. And with that attitude, we are going to change this reality."
Using the Pandemic Pause to get Creative
"This time is all I needed to create KG0516," she said of the pause she took to delicately pick and choose every single detail of her long-awaited debut album. "This is a 360 album that has all of me. My soul is expressing a different feeling in every song, and I couldn't have done it without this time. It is all I thought about for a year. Maybe in the future, when things go back to normal, I might never get the chance to do that. This might be one of the best albums of my life."