Luis Fonsi Continues to Push the Arts in Puerto Rico and Donates Musical Instruments to Students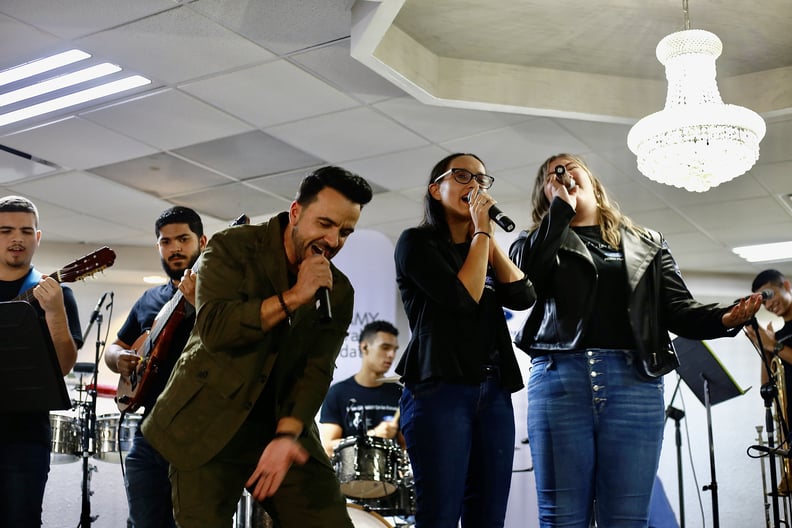 The Latin Recording Academy/Photographer Gladys Vega/Getty Images
The Latin Recording Academy/Photographer Gladys Vega/Getty Images
Luis Fonsi teamed up with the Latin Grammy Cultural Foundation in partnership with the Ford Motor Company Fund to donate musical instruments to the Escuela Especializada de Bellas Artes Ernesto Ramos Antonini in Yauco, Puerto Rico. This school and the community were severely affected after Hurricane Maria, and most recently, the earthquakes that ravaged the island between December and January.
"It's so nice to be here in the South of Puerto Rico sharing and making this donation of musical instruments to the Escuela Especializada de Bellas Artes Ernesto Ramos Antonini," Fonsi shared on his Instagram. He added that this opportunity means a lot to him, especially after the school and community suffered so much. He went on to thank the Latin Grammy Foundation and the Ford Motor Company Fund, as well as the students and teachers for showing their love.
Fonsi, who is a five-time Latin Grammy winner and a Grammy-nominated singer, composer, and producer, was invited by the Latin Grammy Cultural Foundation to share his personal story and experience, and encourage the students of the program in the pursuit of their dreams.
This marks the fourth time Latin Grammy in the Schools has been held in Puerto Rico. This is an educational program that informs and connects music students with professionals in the Latin music industry and supports educational music departments that have financial limitations. The goal is for students to learn to optimize the educational opportunities presented to them, giving them an advantage and strong academic preparation to be able to compete in the music industry.
Since the beginning of the Latin Grammy Foundation's partnership with the Ford Fund in 2014, more than 7,000 students have benefited from the donation of nearly $500,000 worth of musical instruments to schools in several US cities, Argentina, Mexico, and Puerto Rico.
Previous artists who have participated in the program include: Ángela Aguilar, David Bisbal, Miguel Bosé, Calle 13, Pedro Capó, Chino & Nacho, Joss Favela, Fonseca, Gente de Zona, Kany García, Leslie Grace, Jesse & Joy, Prince Royce, Gilberto Santa Rosa, Olga Tañón, Carlos Vives, Wisin, Sebastián Yatra, and many more.