NeoCell Super Collagen Powder: the Best-Kept Beauty Secret
I've Looked the Same Age For Over 10 Years — This Is How I Keep That Latina Glow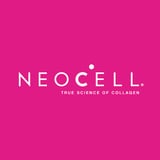 As Latinas, we're always looking for el secreto de la eterna juventud. We've partnered with
NeoCell
to let you in on that secret, so you can stay bella y joven even as the years go by.
Ever since I can remember, I have been fascinated by beauty routines. Not necessarily going overboard with products, or indulging in crazy procedures, but captivated with finding ways to do things that make me feel good, happy, and comfortable in my own skin, as that is what I feel really ignites beauty.
Turning 15 years old was a pivotal point for me. As a Latina, it meant that I was transitioning de niña a mujer, and that came with its own set of beauty responsibilities. My mom started teaching me ways to take better care of my skin. Makeup became a constant in my life, and with it came makeup remover, moisturizers, and face washes. But it wasn't until I turned 20 years old that my mom introduced a new, unheard-of concept to me: skin elasticity.
I wasn't in my teens anymore, so she was adamant that I start paying attention to my lifestyle and routine, that I take precautions to avoid early aging. "Prevention is key," she'd tell me. "Look at me, no wrinkles and great skin," she'd add, waiting for me to agree with her so she could get more validation — although she had, and still has, fantastic skin! Her trick? Collagen.
At 21 years old, I moved to New York City, which meant I was living alone for the first time. I didn't have my mom around to check up on me and make sure I kept my life in check. I had heard city living was going to wear me down; everything would move too fast, I wouldn't find time for myself because it would be all about work, I'd be stressed out all the time, and I wouldn't be able to find a balance. But after an adjustment period, I remembered my mom's trick.
I went to a holistic store around my apartment and said to the clerk: "I need collagen." He went to the back and brought back NeoCell Super Collagen powder, and I started adding it to my routine in different ways, once a day. Sometimes I'll add the unflavored one. Other times, when I feel more adventurous, I'll have the French Vanilla flavor. I've found that NeoCell Super Collagen powder has helped in key aspects of my life, inspiring love and positivity from within, and it's reflected in my skin. Here's how I use it:
To me, making sure you start your morning right is very important. I personally feel like my day begins the moment I wash my face and brush my teeth. I then make myself a green juice or a smoothie. I'm not a fan of an early breakfast, so finding simple ways to get my nutrients is key. I love adding NeoCell Super Collagen powder, usually unflavored, to continue boosting that natural glow.
I do my hair, put on some SPF, and do my makeup. All the things that help me highlight on the outside how I feel on the inside, because after all, that's beauty to me.
One habit I've adopted in my 20s is going to the gym. I admit I wasn't the most athletic or in the best shape while growing up. But through the years, I came to the realization that this is the only body I get, and while I might not be a size zero — or six for that matter — that's totally fine as long as I treat my body with the respect it deserves, from choosing better food options, to exercising regularly. I went from not going to the gym to training four to five times a week, so I started drinking post-workout protein shakes to make sure my body wouldn't give up on me.
It helps the body heal the microtears in your muscles, making your muscles stronger over time. To boost my shake, I add NeoCell Super Collagen powder (if I haven't had it already) in French Vanilla to really push that post-workout glow, and continue supporting healthy collagen formation.
I believe that negative thoughts or feelings you have reflect on your mood and how you interact with others. That's why I always take a moment out of my day for myself, usually at night when I don't have any more commitments and my mind is a bit clearer. I make myself ginger tea like my nana, Dalma, used to make, and (if I haven't had it already) add my daily dose of NeoCell Super Collagen powder to support healthy hair and skin.
I try to listen to music that makes me happy, read a book, and even plop on my couch to watch a movie or TV show I love. Sometimes I just cuddle in silence with my dog and try to remember all the good things that happened in the day, no matter how small, to acknowledge them and be thankful for them. I feel like this little ritual helps put things in perspective and keeps me in check.
All that, plus adding NeoCell Super Collagen powder to my routine, has helped me look and feel my best. I'm about to turn 30 and I look the same as I did when I was 20. However, I feel better than ever, stronger than ever, and younger than ever. My skin is radiant, I exercise more than I ever did, I'm actually building muscle, and the only things that really give out my age are my gray hairs, which are hereditary!
Credits: Senior Art Director - Colleen Lennon; Photographer - Aileen Son; Prop Stylist - Samantha Margherita; Producer - Cassie Doyle