Makeup artist, fashion product development manager, and influencer Paúlina Ramos is out to change the world. Born to a Mexican immigrant father and a first-generation Mexican American mother, this multitalented creative lives for her cultura, glam makeup looks, and her dedication to the LGBTQ+ community. Oh, and video games.
Paúlina grew up in Fresno, CA, surrounded by vineyards, open pastures, chickens, and sheep. "It was a very enriching experience to care for animals, feeling the unconditional love they have for the hand that feeds them," she said. However, it wasn't always easy to be herself in a small, insular community, and Paúlina was bullied even before she came out as transgender. "Growing up in Fresno shaped my identity," she said. "The small town showed me the beauty and cruelty in people's hearts."

Paúlina was teased and targeted by bullies before she was even old enough to understand why. "When I was growing up, there wasn't a lot of positive representation for young queer people, and for a child like myself, being able to 'hide' was not a privilege I had," Paúlina said. She decided to come out as queer at a young age because she wasn't ever able to hide her feminine mannerisms — nor did she want to. "It all felt natural to me, and being out and loud gave me the strength to overcome the bullies and hate," she said. "I wouldn't allow them to have power over me. My 'flaws' were beautiful to me."
Paúlina's resilience was her way of protesting against a cisgender, heteronormative society. Her love and need for femininity were also her main drives to pursue a career in fashion, beauty, and art, despite all the social and cultural barriers she had to face to get there.
"In Hispanic households, being creative and colorful was frowned upon in little boys, but my grandmother saw me for who I was before I even knew and allowed me to express myself as I grew older," she said. One of her earliest memories of being able to actually play with makeup was when her grandmother gave her a retro makeup case for her "stage makeup" for a middle school play.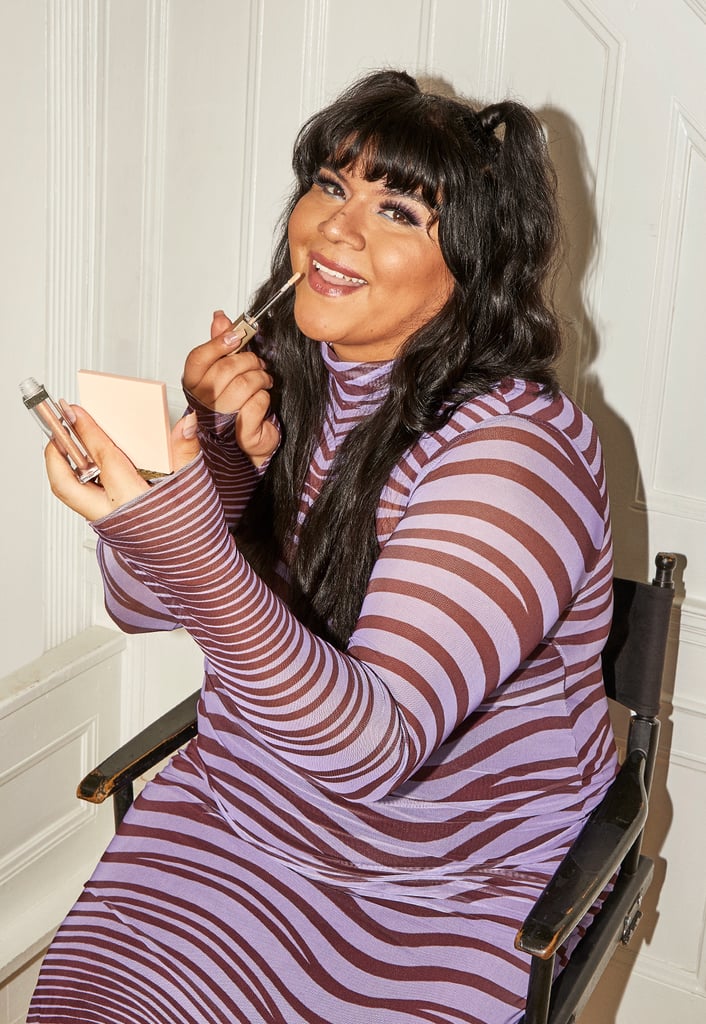 Now, when she's creating her makeup masterpieces — her favorite styles range from Old Hollywood glamour, to retro '80s, to avant-garde editorial — Paúlina flashes back to her childhood, watching her grandmother apply lipstick in awe. "As a young child, I would sit and stare at my grandmother applying makeup in front of her dresser mirror and watch as the touch of blush hit her round cheeks and soft red lipstick glided on her lips," she said. This first memory of makeup shaping how she saw her grandmother has translated into Paúlina's philosophy on beauty today, which she said helps us better understand ourselves and relate to the people around us.
And it is her grandmother (and mother) whom Paúlina credits for helping her realize her inner strength — and realize the power of expressing her true self to the world. "My mother and grandmother were and are my biggest supporters," she said. "They saw their young child grow up to be a strong, independent, powerful Latina with the love they instilled in me. I can finally see the girl of my dreams in the mirror."
Paúlina's home economics teacher Mrs. Panttaja was another supportive figure in her life. Mrs. Panttaja recognized Paúlina's passion for fashion and beauty and encouraged her to compete for a fashion scholarship at a design college in Los Angeles. Just as her teacher advocated for her back then, Paúlina now uses her voice on social media to advocate for the Latinx LGBTQ+ community. "Even though the Latin and Hispanic cultural barriers are strong for queer people, we need to change the perception of our community by just existing and taking up space," she said.
Despite her experience with bullies, Paúlina has an unbreakable self-love-first attitude and still believes that people are not inherently malicious. "Hatred is taught, and if I am going to be that light at the end of the tunnel for other bullied students or younger queer people in the closet, then I want to make sure they see a version of me that isn't tainted by hate," she said.

Paúlina's hope is to one day live in a society where transgender and nonbinary people receive the same respect as their cisgender peers. "I want us to be treated and respected for what we contribute to everyday culture, society, and knowledge," she said. When she's not fighting cis heteronormativity, you'll find Paúlina cuddling up in bed with her cat, Santos, and a pint of chocolate chip cookie dough watching reruns. It's the perfect self-love night for this unapologetic Latina who is determined to take up space.
Credits: Photographer: Matthew Kelly; Art Director: Becky Joy; Visual Designer: Rebecca Hoskins; Photo Producer: Alex Friedlander; Associate Producer: Hannah Lee; Digital Tech: Sam Kang; Wardrobe Stylist: Alexis Badiyi; Prop Stylist: Katrina Rozeville; Makeup Artist: "J" Patrick Rivera; Hairstylist: Sonia David