Raul Peñaranda Gets Personal For Hispanic Heritage Month
Raul Peñaranda Is Redefining Luxury in the Fashion World but Never Forgets Where He Came From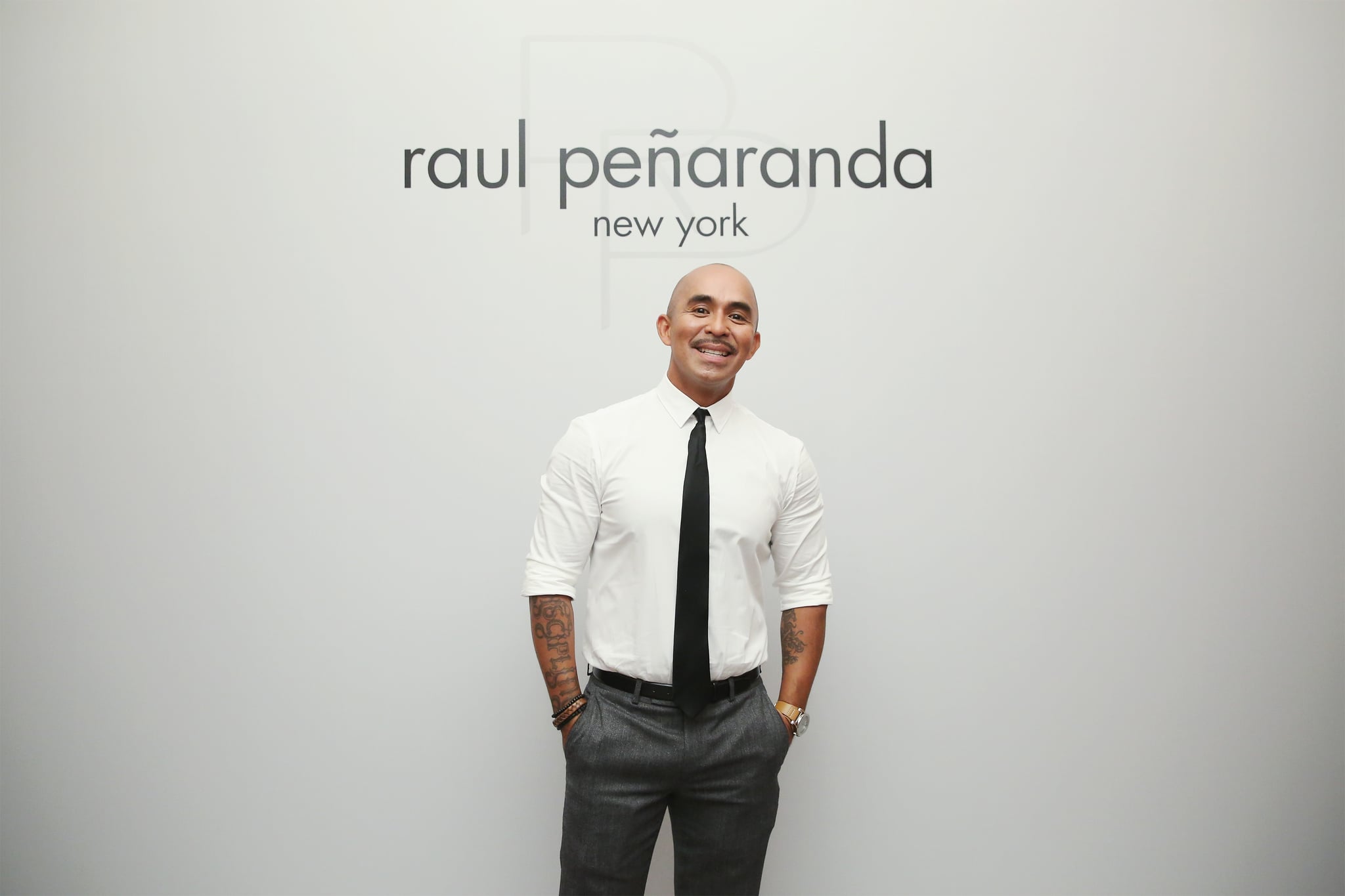 Image Source: Mireya Acierto/Getty Images
Raul Peñaranda is a Colombian-Venezuelan women's wear luxury designer who rose up the ranks at iconic fashion houses to become one of the fastest-growing fashion entrepreneurs to come out of the small business industry with his 100 percent US-manufactured line. This story was told to Maria G. Valdez by Raúl and edited for length and clarity.
I was born in Cali, Colombia, in a beautiful family of six: two boys and four girls. I'm number four. Back in the 1970s the Cali Cartel ran the town, so my family and I left Colombia to Venezuela to look for a better future. That was the time when Venezuela was booming thanks to oil, and they were taking in a lot of Colombians looking for a better life.
We landed in Caracas, in a very humble section called Alta Vista Catia, where I grew up and went to school. Each year, however, we'd go visit Colombia, so I was raised between two beautiful countries, and that's why I can proudly say I'm a Colombian-Venezuelan designer.
Nevertheless, political uncertainty took over Venezuela when [Hugo] Chávez tried to take over the government in 1992, and now an adult, I felt like I needed to protect my family to the best of my abilities. In 1994, we decided to move to Miami and the eight of us plus my dog landed there with only $2,000 in our pockets. There was no way to go back.
I became the father and mother of my family for four years while everyone else got their papers in order because I was the only one with a business visa to work.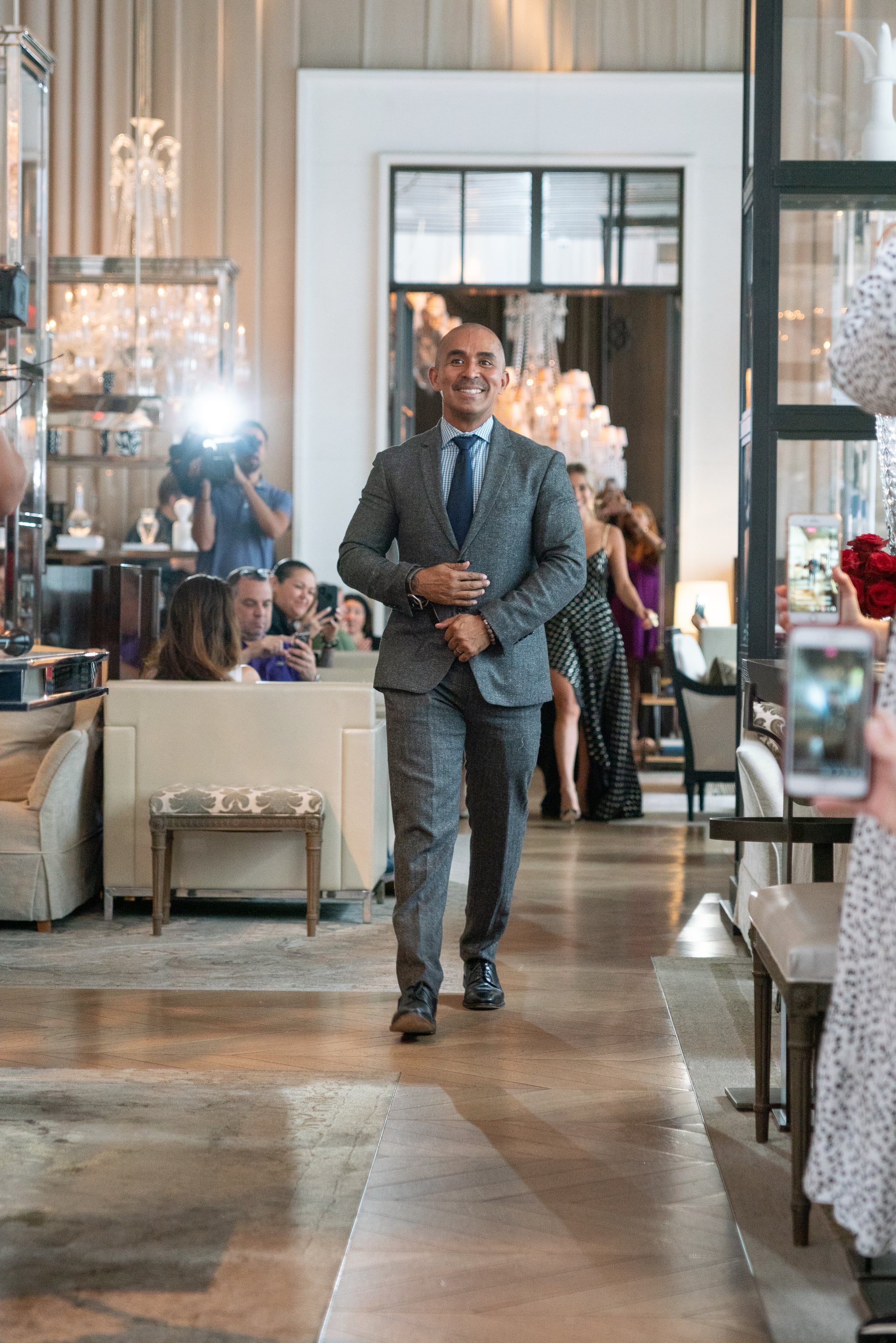 Image Source: Joshua Tillman Estes
Defying Traditional Gender Norms
My dad was the coach of one of the most important soccer teams in Colombia called América de Cali. After three girls, and me being the first boy, he wanted me to be a soccer player. But I was so bad to the point I remember my dad taking me to practice and just shaking his head in disbelief. On the other hand, my mom is a seamstress, and I'd see her take the old curtains and turn them into beautiful dresses for my sisters and shirts for me. It made me feel cared for.
That was so powerful to me. I saw the impact clothes had, and my dream became to create items that would make women feel like Wonder Woman, because that's how I saw my mom and sisters whenever they took something out of the closet and tried it on. In Latinx cultures, ladies dress from head to toe, even when they go buy a carton of milk, so I knew there would always be someone out there willing to wear my creations.
You'd think my dad would take my desire to create instead of playing soccer in a bad way, but he told me I always have a choice to stop or continue. He went on to say that the most important thing is how I feel about what I'm doing, regardless of what other people might say about it. He said, "You want to make sure that you feel that you give your best, and if your best is not good enough for them, that's their issue because in your part you did tremendously."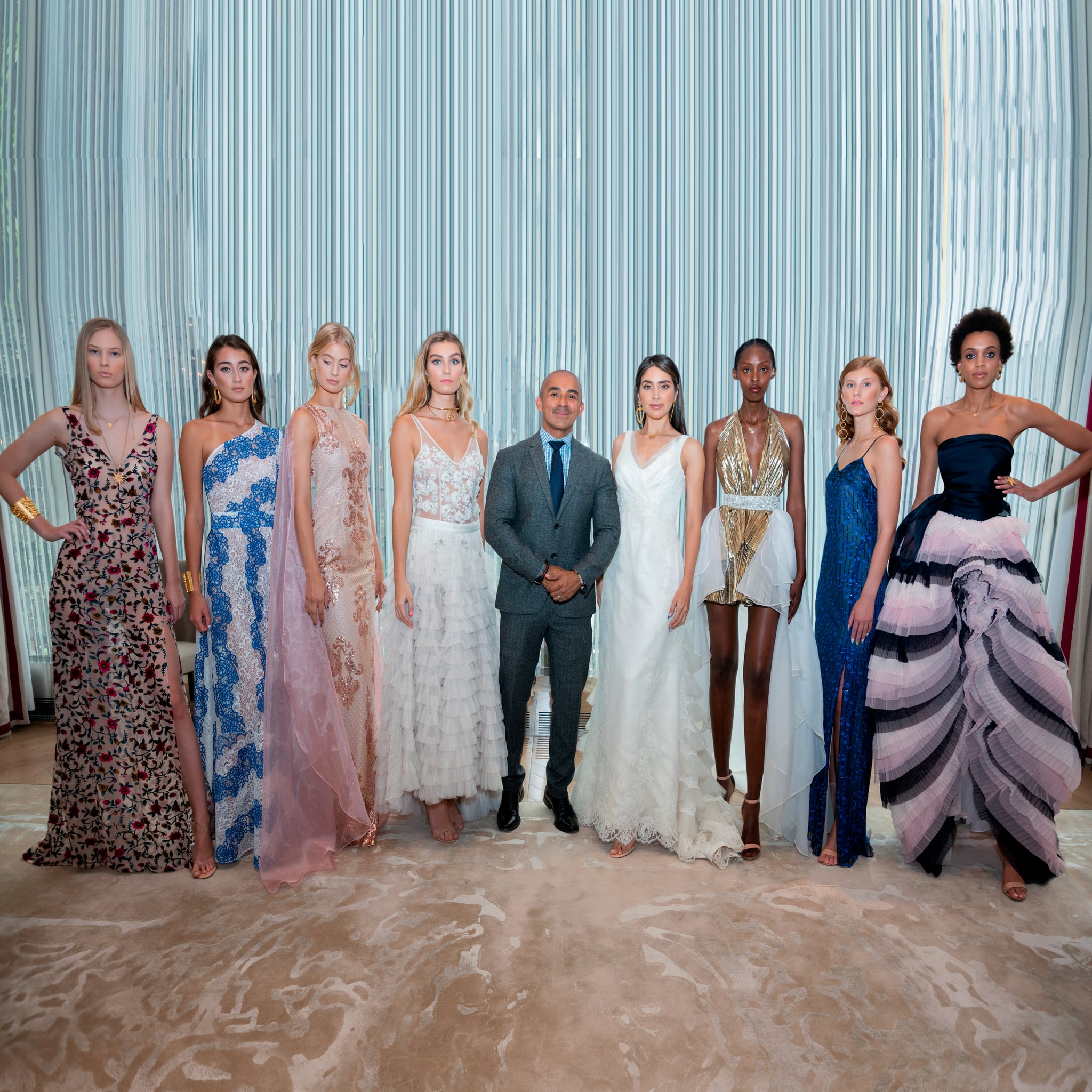 Image Source: Joshua Tillman Estes
Changing the Face of Fashion
I was always thinking strategically, and when I lived in Venezuela, I figured that working in a hotel would help me create opportunities through the people I'd meet. And thanks to that, I was able to move to Miami. Then in 2000, I decided to move to New York and got a job at the Four Seasons Hotel, and sure enough an opportunity came. I met a Donna Karan executive. He told me to create a portfolio. I had no idea how to do it but I figured it out and started building it. Six months later there was an opening for an assistant women's designer for Donna Karan, and this executive told me, "I don't want to give you false expectations, you're going to be competing against 30 to 70 designers from Parsons and FIT, the best fashion schools in the US." But I still went there thinking positively, and I got the job.
I was so grateful because so many other designers aren't so lucky to work for such an iconic house. For me, this was everything. But there were challenges beyond my creative abilities. I remember one day I went to get a burger, and I came back to the building with my paper bag. The receptionist at the lobby stopped me and said, "Excuse me, deliveries go through the back!"
That moment was a true test to me, and I remembered what my mom used to tell me: "First, nobody can make you feel bad without your consent. Second, when things happen, you have two choices: you can react based on fear and be the victim, or you can choose love, forgive the person, and understand that you're going to use this bump in the road to your advantage."
Unfortunately, this wasn't an isolated incident. There were many times I faced discrimination based on how I looked in this industry. But slowly, I began to grow at Donna Karan and my designs got more approval than anybody else's, and surely. things started changing. From Donna Karan, I got a job at Tommy Hilfiger as a sketcher, and then Oscar de la Renta. After that, I did a collaboration with Zac Posen, and by then, I had already learned the good and the bad in the industry. I was becoming a bit of a sensation, and I had always said to myself that I would show collection in New York.
In 2009, I applied for the official calendar of Fashion Week. It's a process where so many designers applied and only 10 made the cut. When I applied, there were 400 designers, but I got the job. I was the only Latino who made it that year — and the only other Latino who had been selected before me was Narciso Rodriguez, 14 years before. Since 2009, I've presented 20 collections, uninterrupted. I couldn't be happier or more grateful or more thankful.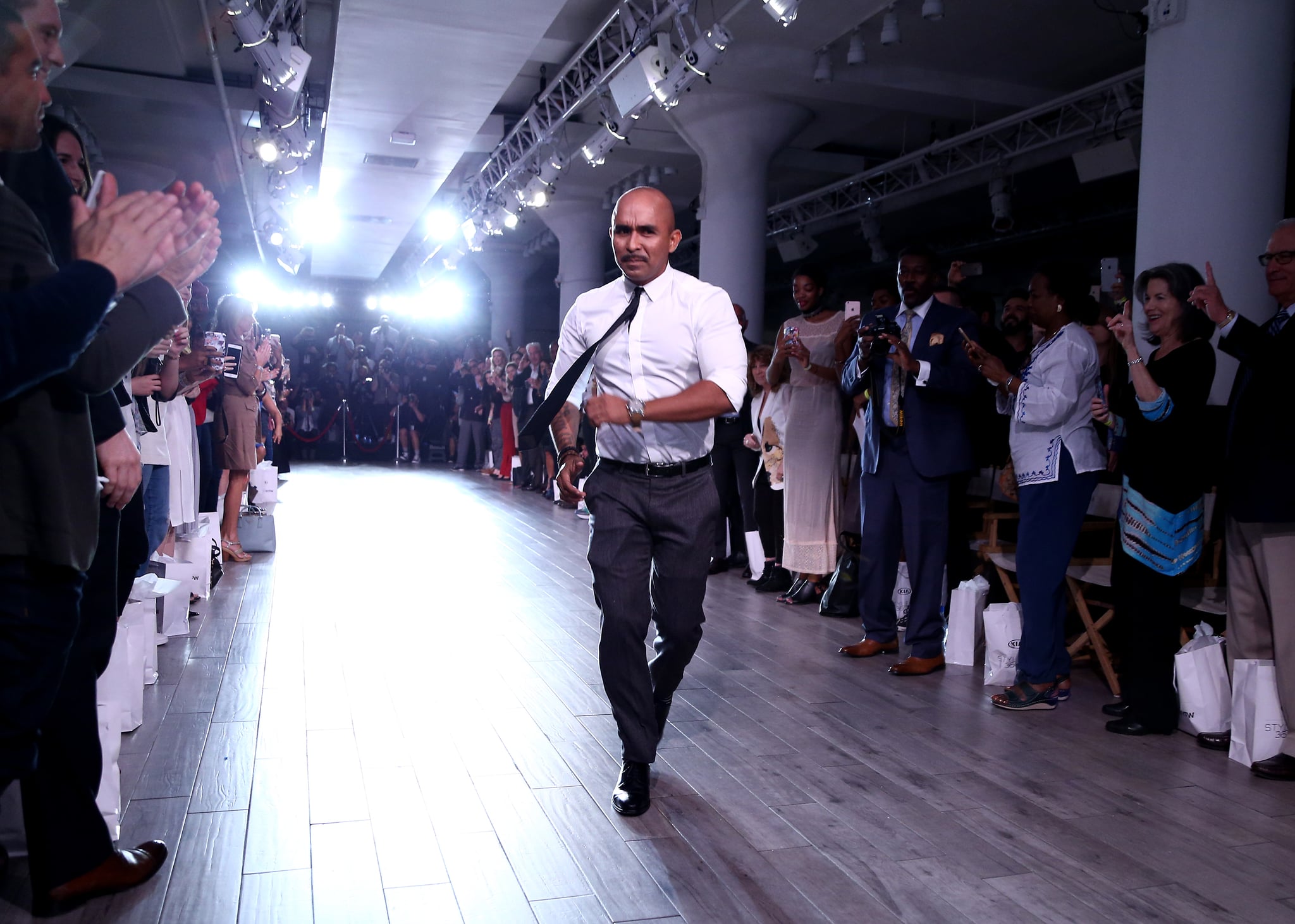 Image Source: Thomas Concordia/WireImage Style360
Luxury With a Humble Heart
Working for big fashion houses was a blessing and a curse. I worked from 2001 to 2009 in all these fashion houses, and somehow, you're brainwashed into acting a certain way in order to be successful. I took a different approach. I became a storyteller. To this day, every collection I create is inspired by a personal emotion that I'm going through in that specific moment. I can tell you what I was going through in my life based on my work.
I show people my vulnerability. I show people that I don't know everything. And when that happens, there is a beautiful element of compassion and kindness. I don't design dresses — I create emotions and the dresses are basically my way of communicating to the world.
You can have the most incredible gown, but if you don't have humbleness within your own essence, the dress will be lost on you. Fashion is an extension of who you are. If you feel like a million bucks, you will [look] like a million bucks.