I was born in Barranquilla, Colombia. And ever since I started traveling, I realized how joyful it is when people say "Shakira!" as an immediate reaction to the place I was born, so I think you can imagine my excitement knowing she was performing for the Super Bowl's halftime show along with Jennifer Lopez.
Not only was I over the moon, but among my friends — all journalists from Barranquilla, where the "Hips Don't Lie" singer is almost a deity at this point — there were several rumors and ideas about how Shakira would pay homage to her hometown like she has done many times before. I'm happy to report — and explain to you all — that there were a lot of special homages and hidden messages that only us Colombians could understand and that made us proud of our heritage.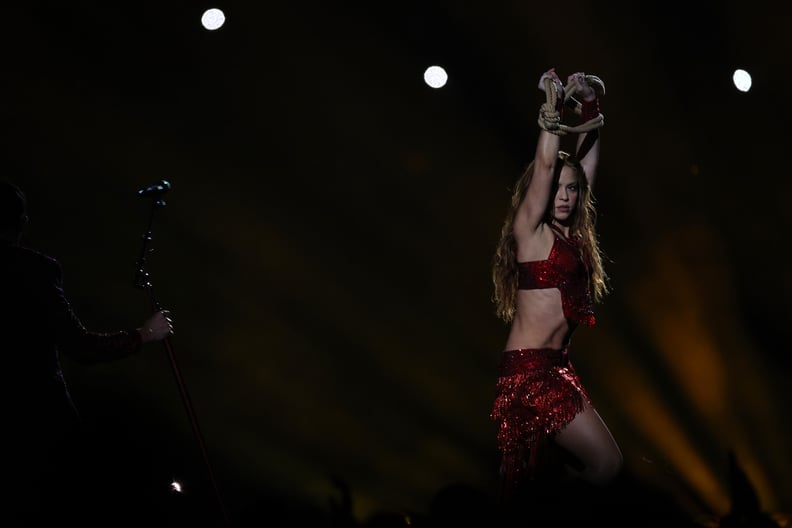 The fact that the Super Bowl was in Miami was already a big indicator that it was going to be influenced by Latinx, and Jennifer Lopez and Shakira had a whole parade of Latinidad ready for the eyes of the world. There, in the center stage of the most American sport there is, they sent powerful messages for everyone to see: J Lo wrapped herself in a feathered cape with both the American flag and the Puerto Rican flag on it, while her daughter Emme and a children's choir sang "Born in the USA." And the powerful imagery didn't stop there — we also saw children sat on the stage in structures that resembled cages, a direct protest against children in detention centers at the border.
On her part, Shakira had a few hidden codes just for us, the people of her hometown. We all knew a mashup of her biggest hits in Spanish was out of the question given the venue, but she did speak and sing in Spanish. Her rendition of "Ojos Así" paid tribute to her Lebanese heritage, and to her roots in Barranquilla, a city of immigrants (just like this country, go figure).
Then, she did "I Like It," and right before Bad Bunny surprised us as Shakira's special guest, she said "en Barranquilla me quedo," just like the famous song from our beloved singer Joe Arroyo. Paying homage to this very particular singer and song made us Barranquilleros all over the world scream at the top of our lungs.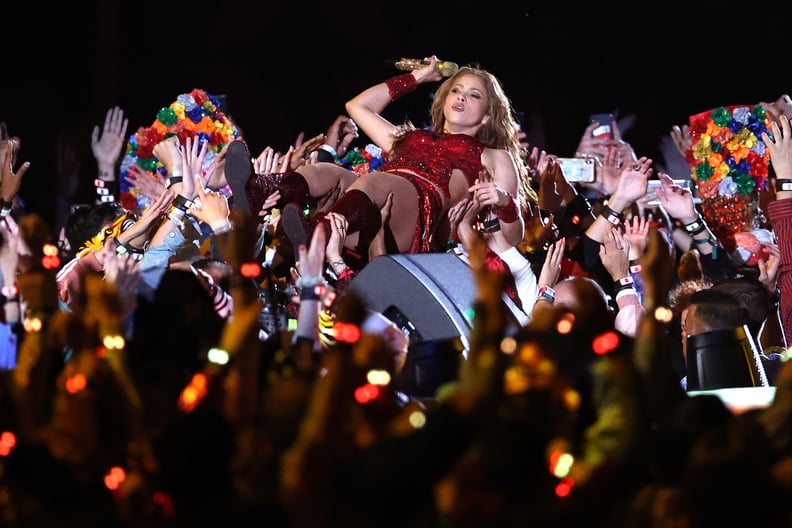 Barranquilla is famous for Shakira, Sofía Vergara, and its Carnival — the second biggest one in the world. And Shak knows that, which is why she put the icing on the cake by honoring the roots of our biggest festivity. If you noticed the masks of the people who carried her when she dove into the crowd as she sang "Hips Don't Lie," I'm here to tell you they are traditional Barranquilla carnival masks, which she commissioned from an expert community of craftsmen in Colombia.
She followed with the now-viral "tongue flicking" which many identified as zaghrouta, a traditional Arabic expression of joy and celebration, but to any Colombian watching, it was another homage to carnival, as we've seen the group "Son de Negro" produce these sounds in their dances.
It made sense that right after, Shakira and her dancers broke into a mapalé choreography, an ancient dance that comes from our African heritage and is also an important part of our carnaval.
And just when we thought that was it for the celebration of Colombia, Shakira joined J Lo, who started the famous "Waka Waka," another hit inspired by African music, and left us with a little piece of champeta, a dance that originated in the popular neighborhoods of Cartagena, Colombia, and rapidly spread all over the Caribbean. If you want to dance even further, I can tell you the particular song they sampled during that dance break was "Icha" by Syran Mbenza and Lokassa Ya Mbongo.
I have never felt such a roller coaster of emotions in 12 minutes. Sitting in the living room of my New York apartment, I had my heart full of pride and my feet filled with candela the whole time. It made me so happy to explain every single thing to my friends as I'm doing with you now.
I could not believe it: that little girl from Barranquilla who started out singing Spanish rock conquered the last major stage she had on her bucket list. She and J Lo took a celebration that is in the heart of almost every American in this country and made it a global celebration. I can say I've watched that performance a dozen times and I can't get enough of it. My hometown, mi tierrita, represented in such a spectacular way, for the whole world to see!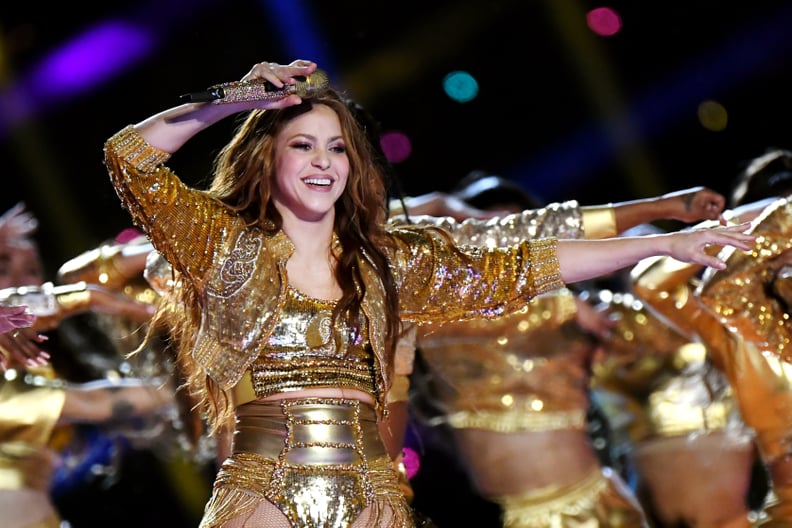 In taking over the Super Bowl, Shakira and J Lo are telling us that we should embrace diversity and make it into a party, enjoying the different flavors of the world. I can tell you we are ALL excited. Jairo Soto, a music journalist from Barranquilla, told me, "Today is a day we can call a bookmark in history. Two women, two Latina women took over the most-watched show of American television. In the context of this political momentum, they showed us that the diversity and drive Latinx have brought to the table is one of the biggest forces in the United States."
Shakira is also the first Colombian to be a central artist for the Super Bowl halftime show, and that right there is history. It was a major deal for us, and we are not going to get over it any time soon, so be aware.
There was salsa, cumbia, pop, a bit of rock, reggaeton, belly dancing . . . it doesn't get more diverse than that. Just like Shakira said on her social media: "We Latinos climbed Kilimanjaro tonight." And we certainly did because, while there were only two up there, these goddesses in glitter fringes dancing in the center of the stage carried the hearts of people like me who never thought we would see this day. What a time to be alive. What a time to be Latinx and proud!