No two Latinx countries are the same — and neither is how their people enjoy sobremesa. Sobremesa, that moment after a meal when family and friends gather around the table to chat, is when so many special conversations are had and memories are made. Plus, it's totally normal to keep eating and drinking, sometimes for hours!
The best thing about this lovely tradition is that it looks different depending on where you are in the world. So we talked to three Latinas with Cuban, Venezuelan, and Mexican roots to get the details on how they do sobremesa in their home countries and how they've learned to do it their own ways in the United States. Keep reading to see how they mix tradition with new recipes and snacks they love as we go back to the table with our loved ones, and get inspiration on how to make everyone feel welcomed at your table.
A TASTE OF VENEZUELA
For Yanina Oyarzo, a Venezuelan American influencer and host for female-empowerment platform Get It Girl, sobremesas at her grandma's house were a (very) big deal. "I have 15 aunts and uncles, so getting at least half of them and their kids in my grandma's house was always an adventure," she said.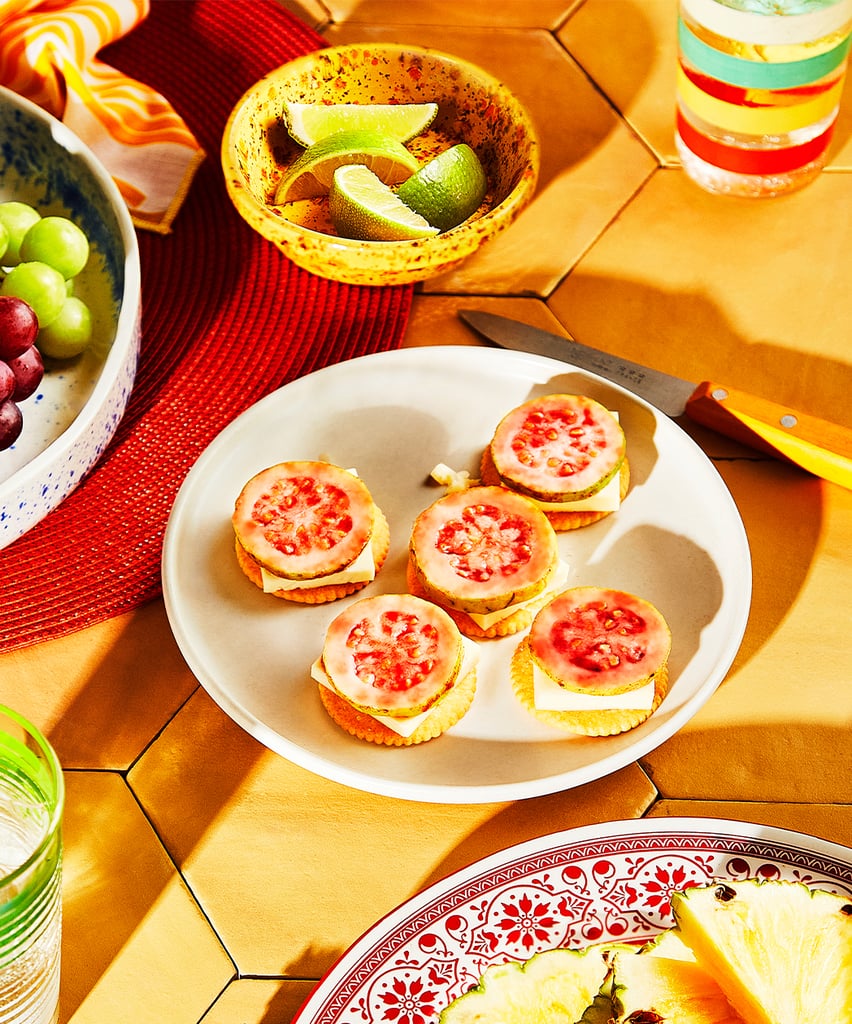 While her tíos drank hard liquor, beer, or hot chocolate and her tías brought to the table home-baked cheese bread, tequeños, cachapas, obleas, arepitas, guava, and all kinds of dips, everything and anything was discussed. "For me, [sobremesa] was when you really got the juicy topics or all the topics that can start debates with family members," Oyarzo said.

Now, when she's hosting, she'll always have a cute charcuterie board with cheeses, crackers, jams, and a variety of dips mixed with some sweet and spicy options. "I love introducing my friends to Venezuelan foods and dishes. It's always a great convo," she said — it's how she makes room at the table for new friends and new flavors.
Depending on the occasion and the crowd sitting at her table, she'll bring out her favorite key lime pie or her go-to savory snack: slices of fresh guava and queso blanco (white cheese) over RITZ Crackers. She also loves to top her RITZ Crackers with a combo that has a major kick: avocado, paprika, red chili pepper flakes, and spicy honey.
FROM MEXICO WITH LOVE
For Tera Perez, a Mexican American dancer and TikToker raised among both cultures, what makes this after-meal tradition truly special is the people sitting at the table — la familia. In her family, as in many Latinx families, abuelas are often sobremesa's main character. "Frijoles and rice are always a staple at my abuela's for gatherings," she said.
The TikTok master, who's worked with major recording artists, is now known for creating family dances with her baby and husband on the uber-popular video platform. She grew up in a large family, and Sundays and birthdays were always reasons for a big celebration and a family gathering. From homemade pozole at Abuela's to watching her mom bake cakes and homemade bread in the kitchen, cooking was always something they enjoyed doing together as a family.
She makes sure to keep those traditions alive by always having Mexican dishes and flavors at the table. One of her favorites is the authentic Mexican shrimp cocktail (cóctel de camarones), served chilled in a glass filled with crunchy veggies and tomato sauce. On the side for dipping, she swaps saltine crackers for her favorite RITZ Crackers. It's her way of creating a modern take on sobremesa when she's hosting.
SOBREMESA A LA CUBANA
A good-old Cuban sobremesa is first and foremost sweet. You'll typically find everything from pasteles (little cakes) to guayaba pastries, arroz con leche (rice pudding) to flan, and, of course, café. "Every sobremesa included delicious Cuban espresso made by my grandmother with milk and sugar," said Ría Safford, a Southern California-based mom of three and the founder of RíOrganize, an organization design company.
This California girl was raised by a first-generation Cuban American mother and Cuban grandparents, and loves to mix her Cuban and American heritages through food. She gives these traditional snacks and desserts her own twist — think: topping classic American RITZ Crackers with queso frito (fried cheese) and guava paste.
After marrying a Texan, Ría is now an expert when it comes to making everyone feel welcomed and comfortable at her table, no matter their cultural background. "I had my in-laws over to host our first sobremesa as a married couple," she said. "This was such a special experience to share with them and cook my favorite Cuban meals. We stayed up late and shared stories together in the comfort of our new home. Such a special memory!"
To get more delicious recipes using RITZ Crackers that will be perfect for your own sobremesa, click here.

Credits: Art Directors: Rebecca Joy and Samara Grossman; Photographer: Matthew Zach; Prop Stylist: Vanessa Vazquez; Food Stylist: Micah Morton; Producer: Hannah Lee