The Art of Sinning by Sabrina Jeffries Book Excerpt
Will He Be Able to Master the Art of Love?
American artist Jeremy Keane has clever wit, an enormous talent, and a reputation for visiting the wrong places as well as painting the wrong things. But his brothel-hopping masks an ulterior motive and his art masks a dark secret that even he doesn't want to face. Then he sees the lovely Lady Yvette and can't rest until he has her . . . in his painting and in his bed.
Lady Yvette Barlow instantly realizes Jeremy Keane is a danger to her hard-won ability to hold rogues at bay. Still, when he wants to paint her, she makes him a bargain. She'll model for him if he'll get her into one of the brothels so she can find a mysterious woman. She figures she knows how to handle him. But she quickly learns that the man who practices the art of sinning is also skilled at the art of loving, and she craves lessons in both.
You'll love this amazing first installment of the Sinful Suitors series, from New York Times bestselling author Sabrina Jeffries comes The Art of Sinning.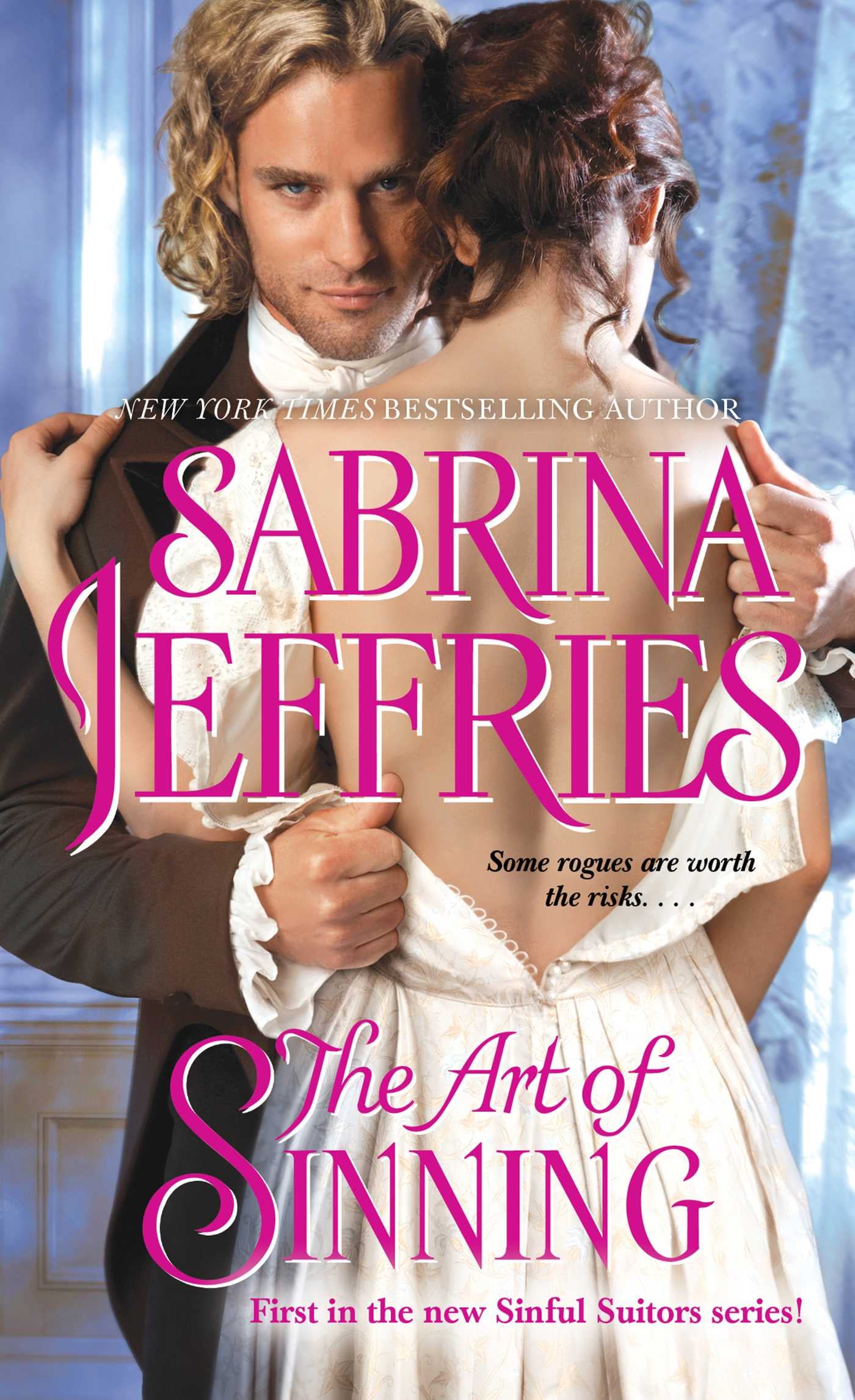 PG-13 Excerpt
"Is that it?" came a voice from the doorway. "My costume?"
He tensed. She was here. "Yes." He glanced up at her, and his heart slammed to a halt.
Her hair was undone, frothing over her shoulders like a fine dark ale, and she wore what looked like a linen shift or nightdress with a muslin wrapper over it. She'd swaddled both in a voluminous brown shawl that was edged with a paisley design and finished with gold fringe.
The effect was stunning—like cream wrapped in a pastry shell and dotted with golden specks. He wanted to take a bite. He wanted to drink the ale and lick the cream. He wanted to peel away the layers—
God, at this rate he'd never survive the night. "You're early," he managed. "And more . . . er . . . informally dressed than I expected."
Her cheeks shone pink. "I had to allow my maid to undress me or she would have been suspicious." Lady Yvette stepped warily into the room, and the shawl's gold fringe sparkled about her in the lantern light. "Fortunately, everyone is generally abed by eleven here in the country."
"Then tomorrow we'll meet at eleven," he said. "I'll have little enough time to paint you as it is."
"At least you won't need to rise early. I sleep late most days, so Edwin won't find that the least bit suspicious. I've never been one to jump out of bed at dawn." Hugging her arms, she approached to look at the costume. "Shall I put this on?"
"Certainly."
"I suppose you want me to remove my nightdress underneath."
Yes. Oh hell, yes. "It would be best. I want the arms showing, and your nightdress is too fussy a design for a classical look."
Her cheeks were bright red now. "And my . . . other undergarments?"
"You can leave those on. I'll have you take off your stockings when I get to the feet, but that won't be anytime soon."
"All right." A few moments passed. When he simply stood there, she said, "Well? Are you going to turn around so I can change?"
"Sorry," he muttered as he put his back to her. "I'm not used to having a respectable female pose for me. Most of my models are . . . not the sort of women who care if I see them naked."
"Well, I am that sort," she said testily from behind him. "I'm afraid you'll have to get used to it."
The rustling of fabric that followed made him clench his hands. He wanted to watch. He wanted to touch. He wanted to run his fingers over that smooth, porcelain skin until she lost her stiffness and melted in his arms.
"All right," she said. "Where do you want me?"
In my bed.
Without looking at her, for fear he might combust, he stalked to the table. "Here. I need you to lie upon these papers."
She came up beside him. "The ink will ruin the costume."
"It doesn't matter. My cousin said she didn't need the chiton back."
Only then did he venture a look at her ladyship. The chiton was too short for her and showed a generous portion of her neat ankles and well-shaped calves. He skimmed his gaze up to where the silver thread rope belt cinched her waist, accentuating not only her lush hips but her ample bosom. To where her nipples, hard from the chill in the room, were imprinted on the linen.
His mouth went dry.
X-Rated Excerpt
Jeremy's eyes burned into her while he rubbed her down there, as if he knew what his touch did to her and roused those feelings deliberately.
Well, of course it was deliberate. He might not be quite the scoundrel she'd assumed, but he had experience that he put to good use. Such good use. Her blood fairly stampeded through her veins. Every sense was attuned to his clever, wicked fingers plucking and plundering with a deftness that made her moan.
"You like that, don't you, my pretty wanton?"
She couldn't deny that she liked it. And if a wanton was a woman who enjoyed being touched and caressed and kissed, then clearly she fit the bill.
Then he slid her skirt up her thighs. "Jeremy!" she squeaked, and caught his hand.
His breathing warmed her cheek. "I want to look at you."
"T-there?"
"Yes, there. Just look. For now."
Why must that send a heady anticipation kicking through her? "All right. But only if you promise never to paint what you see."
He choked back a laugh. "You give me credit for more talent than I have. I wouldn't have to use models if I could paint from memory."
"Oh."
Apparently he took that for consent because he dropped to his knees and pushed up her skirts to expose her slitted drawers. With a gleaming gaze, he spread the split farther open, then gazed upon her. "What a fetching frame your drawers make for your lovely Garden of Eden."
She gulped. That slang term she knew.
When he lifted her leg to hook over his shoulder, she was mortified. It opened her up to his gaze most shamefully. Could he tell how it made her throb down there? Heat up? Dampen most embarrassingly?
"Have you . . . seen enough?" she whispered.
"Not quite. I need to get closer." So he did. But he didn't just look. He put his mouth on her. There.
Oh, dear, was it intentional?
His tongue licked her, and she gasped. Oh yes. Most definitely intentional. And shocking.
Not to mention thrilling. "Jeremy . . . ohh . . . This is . . . very naughty."
He chuckled but kept on what he was doing. Which was amazing.
As if fully aware of how her private parts ached, he stroked and soothed and laved them with his tongue so eloquently that her heart beat in places it never had before. What he was doing felt like . . . like . . .
"You taste like sin, my Juno," he murmured against her.
That was it. It felt like sin. Very good sin.
A wild laugh rumbled up from her throat. She was sinning in a nunnery that was really a bawdy house. And she wanted more, too. More of his devilish caresses. She wanted them harder. Deeper.
Deeper?
Heavens, his tongue had slipped inside her. She might just explode. Or faint. Or both. Could a person faint and explode at the same—
Ohhhh, good Lord. Her knees gave way and she gripped the desk for dear life. His lips were . . . and his teeth were . . . and . . . and . . . oh, marvelous! She pushed into him, greedy for more.
With a growl, he gripped her hips to lock her against his insolent, clever mouth. A drumbeat call to pleasure sounded in her ears, and, like a soldier blindly following, she marched toward it, faster, determined to catch the elusive sensation running just ahead of her.
"Jeremy . . . please . . . oh, please!"
He quickened his strokes, and she strained to capture that delicious feeling that was so very . . . very . . . She hurtled over the edge and plunged right into bliss.
Get The Art of Sinning here, and check out more great content on XOXO After Dark:
Sabrina Jeffries on Starting a New Sinful Series
Sabrina Jeffries Q&A
XOXO Quickie Bridezilla Reality