Cass Clemmer Period While Transgender
This Powerful Post Proves That "Periods Are Not Just For Women"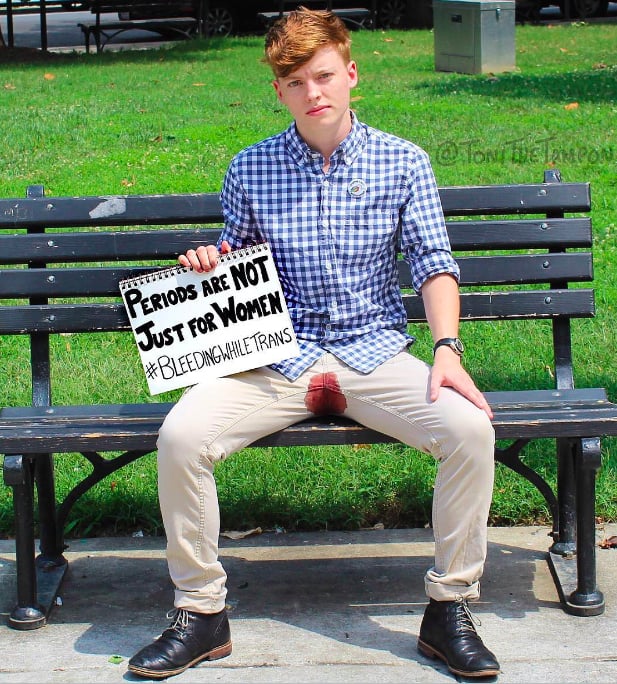 For those who assume they know the basics about menstruation — that women get their periods and guys don't — one artist is proving an important point with a powerful Instagram photo.
Cass Clemmer, who prefers to use "they" pronouns, recently posted a picture of them freely bleeding in stained pants while holding up a sign that read, "Periods are not just for women #BleedingWhileTrans."
Cass is a menstrual health activist and hopes that this raw post will raise awareness for the transgender experience. "Periods are honestly pretty traumatic for me," Cass wrote in a poem posted with the photo. "See my life is very clearly marked, Like a red border cut up a nation, A time before and a time beyond, The mark of my first menstruation."
On the day that Cass got their period, they explained, although this was a proud day for their worried mom, it was a confusing moment for this teen who felt like they could no longer be their authentic self. "The relief got all meshed up in my pain, In that moment, I sat down and cried, Just thanking god I was normal," Cass wrote. "While mourning the freedom that had died."
Despite those around Cass excitedly welcoming them into womanhood, others couldn't see the internal struggle that was raging within this teen. "They kept celebrating a child dying. See my body had betrayed me, That red dot, the wax seal, On a contract left there broken, A gender identity that wasn't real," Cass wrote. "Most people deal with blood and tissue, And yet my body forces me to surrender, Cause every time I get my cycle, Is another day I shed my gender."
When Cass gets their period, it's a monthly reminder of their body betraying them, and that's something that many don't realize. "The five days it flows, I try to breathe, I dissociate, While my body rips outs parts of me, Leaving nothing but a shell of hate," Cass wrote. "The blood drips from an open wound, Of a war waging deep inside my corpse, The battle between mind and body, Immovable object; unstoppable force."
Since posting this moving post, Cass said the hardest part has been the influx of people telling them they should kill themselves. Yet despite already having a history of attempted suicide because of transphopia and these new negative messages, Cass told POPSUGAR that they don't regret posting their struggle for all to see:
"I honestly thought it would be better for me to be dead than live my life as transgender. The point of all this being that THAT is what keeps me going and why I do the work I do. I survived out of sheer luck, and I have since made a promise to myself to spend every moment that I am alive fighting for a better world than the one that made me hate who I am so much that I wanted to kill myself.

Trans youth have a higher than average rate of suicide, and if me being able to share my story helps just one person remember that they are not alone and they are loved — that alone is worth all the transphobia and death threats in the world."