EMT Proposes to Domestic Violence Survivor
3 Years After Being Brutally Stabbed by an Ex, a Woman's Rescuer Proposes
Melissa Dohme's life changed forever the night her ex-boyfriend brutally stabbed her 32 times. Three years later, the college graduate and advocate for domestic abuse survivors stood on the pitcher's mound at a Tampa Bay Rays game. As she prepared to throw the first pitch, her boyfriend, a first responder on the scene of her attack three years before, got down on one knee and proposed.
Cameron Hill, an EMT, found Melissa that terrible night, covered in blood but alive, after being attacked outside her home. "It was so bad you couldn't tell she was blond," he told the Tampa Bay Times. Her wounds covered her face, back, and arms. She suffered a stroke and nerve damage that left part of her face paralyzed, and she flatlined four times that night. Doctors weren't even sure that she would be able to speak or walk the same again, but after weeks of rehab, she began taking steps to resume her life — traveling to Europe and enrolling in nursing school.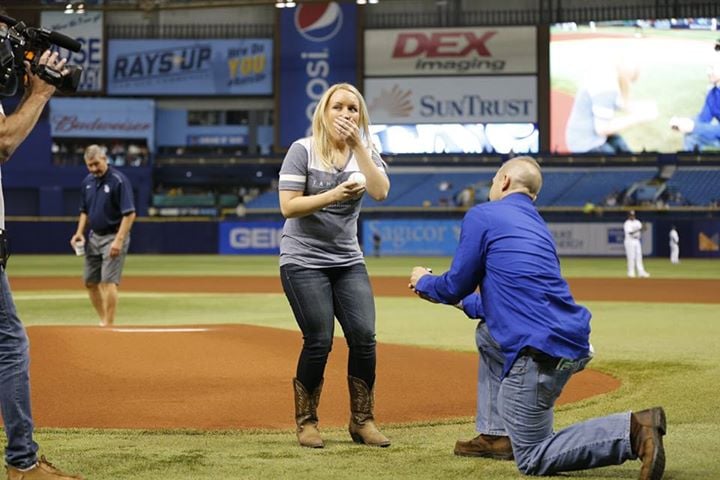 Cameron, who called their meeting a "brush with destiny" reunited with Melissa 10 months later, when she reached out to thank first responders on the scene responsible for saving her life and spoke about her ordeal. When they saw each other, the mutual attraction was undeniable. "I didn't think it was possible," she said. "I didn't even want to like anyone." They eventually had a first date, and the two have been together ever since, with Cameron supporting Melissa as she testified at the trial of her attacker, who was convicted of attempted murder and sentenced to life in prison.
"When I look back on that night, I can't think of it as all bad anymore because I met Cameron," Melissa said, calling him her "fairy tale."