Fort Hood Hug Lady Passes Away
Try Not to Cry When Reading These Soldiers' Tributes to the "Hug Lady"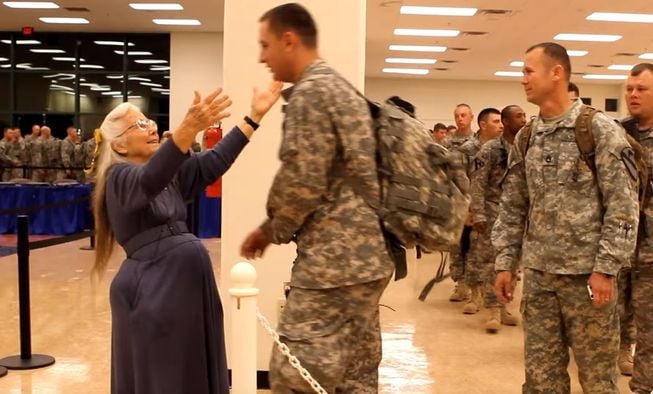 After a decade of greeting over 500,000 soldiers with her warm hugs, Fort Hood, TX, "Hug Lady" Elizabeth Laird passed away this Christmas Eve. The 83-year-old was beloved by the military community for spending the last 12 years of her life in the local airport, offering hugs and words of encouragement to those leaving for (or returning home from) deployments. The grandmother and Air Force veteran was so valued by the Fort Hood community that somebody even created a Facebook page in appreciation of her special gesture toward soldiers.
Mere months ago, grateful soldiers raised over $90,000 to pay for the medical bills racked up during Mrs. Laird's battle with breast cancer. In the comments on her GoFundMe page, countless supporters shared their personal memories with Laird: "I deployed teary-eyed and scared (secretly) worried my almost two-year-old daughter would forget me, she whispered in my ear that everything would be OK, it meant the world to me. I wish I had millions to give her." Now, after her death, even more veterans are sharing their condolences and stories about the "Hug Lady" on a Reddit thread honoring her life.
Though she was a small woman, Laird had a huge impact on hundreds of thousands of people during her lifetime. To reflect her important role, many military personnel are rallying to have the deployment center at Fort Hood named after Laird — if you want to support the effort, sign the petition after reading these touching tributes!