Gay Couple From Hillary Clinton Video
Cute Couple From Hillary Clinton's Campaign Video Invites Her to Their Wedding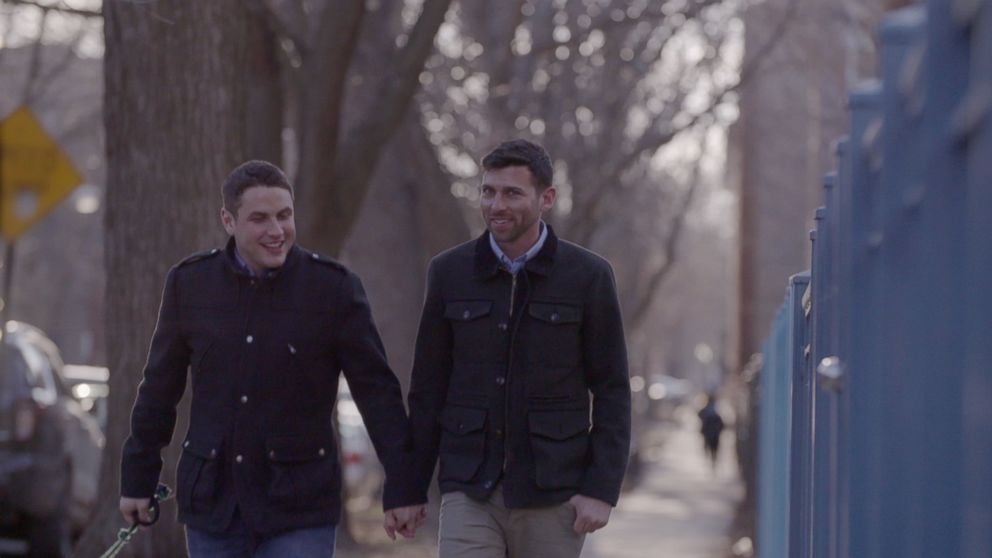 Imagine your surprise to find yourself and your husband-to-be featured in a video that millions of people will see — without knowing what exactly the video was for. Jared Milrad and Nathan Johnson were asked to participate in a video featuring people going through "big life changes," and the couple, planning to marry in July, fit the description. Little did they know they would be part of Hillary Clinton's official campaign video. She announced her decision to run for president and followed up with the video, which notably included two pairs of same-sex couples.
"I've been raised by a pretty awesome mom and my grandmother's also pretty awesome, too," Johnson said. "I think women's rights is a very important thing for me . . . She's been very strong on that, so for me, that's been a very important issue. And obviously her support now for same-sex marriage for LGBT couples is an important reason for why I support her . . ." Clinton's diverse and inclusive video reinforces her support for equality for all Americans and holds true to her record of pushing for gay rights.
Milrad and Johnson were excited to be a part of the campaign and had an adorable way of saying thanks, taking to Twitter to invite the presidential candidate to their wedding this Summer.
Thanks for inviting us to your big day @HillaryClinton. We're returning the favor & inviting you to ours. #wedding pic.twitter.com/paMtBFLLUW

— Jared Milrad (@JaredMilrad) April 12, 2015