The Ghost by Monica McCarty
Will Alex Choose Honor — or Love in This Sexy Series?
An undercover warrior and her sworn enemy play a seductive game of cat and mouse in New York Times bestselling author Monica McCarty's sexy new Highland Guard novel. Joan Comyn swore allegiance to Robert the Bruce the day she witnessed England's barbarous king torturing her mother. Now the mysterious beauty slips into men's hearts like a specter and entices England's most illustrious barons to unwittingly divulge their secrets — known only as the Ghost, Joan has become the most wanted traitor in England. Alex Seton, the man determined to uncover her identity, poses her biggest threat yet. But when the sparks between them become undeniable, will Alex choose honor — or love?
For more on this sultry novel, visit XOXO After Dark!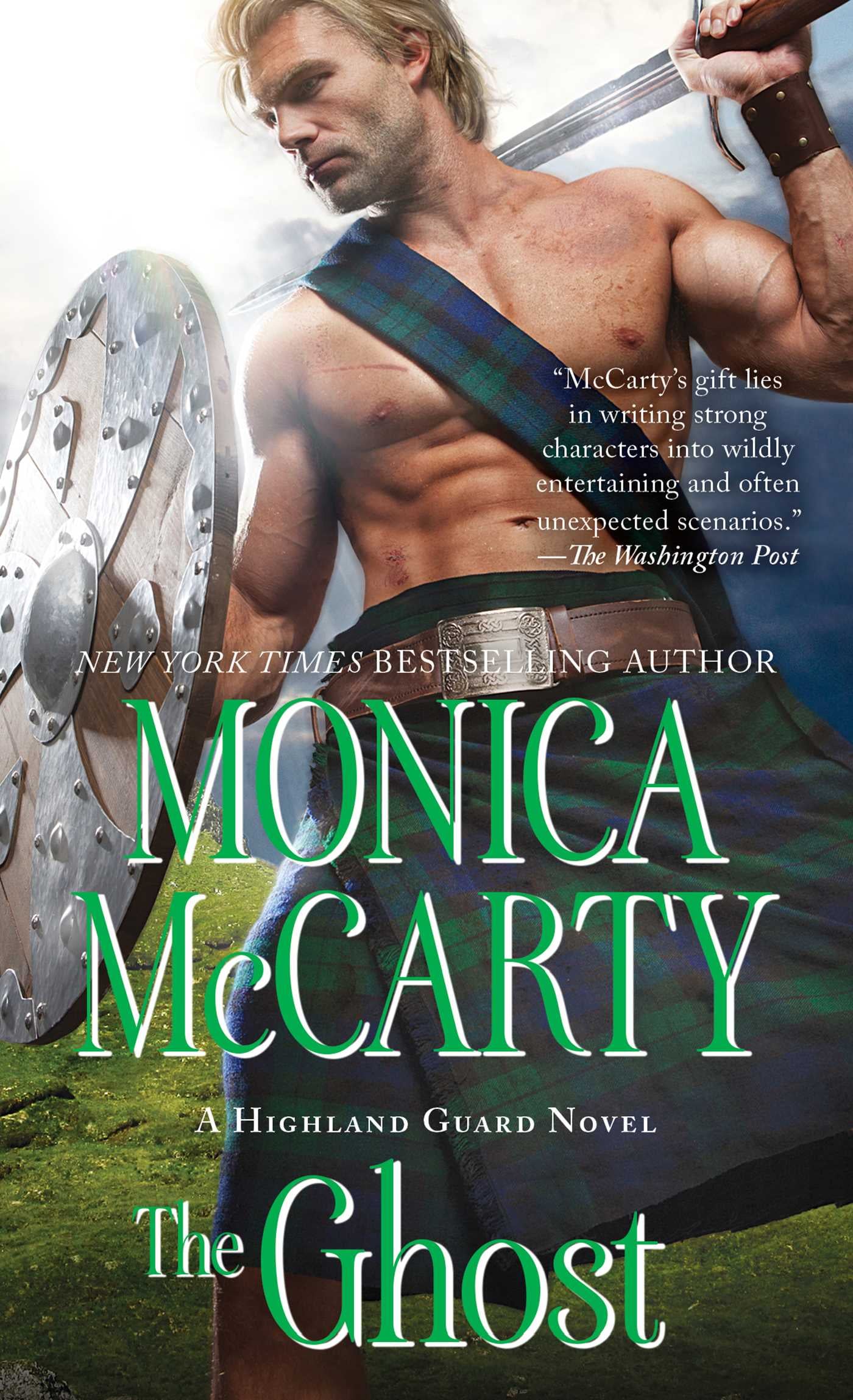 PG-13 Rated Excerpt:
Senses Alex didn't even know he had exploded at contact. It had been hard enough holding back his desire when those incredible breasts had been displayed only inches away for him to admire every mouthwatering ripe curve, every delectable point, and every tantalizingly deep crevice.
Christ, she was practically bursting out of the gown. The fabric seemed to stretch to the breaking point to contain all that straining flesh. All he had to do was reach down, slide his finger along the edge of her bodice, and he'd see the pink of her nipple. What shade would they be? A delicate light pink or succulent, berry red like her mouth?
Aye, looking was difficult, but having them crushed against his chest, that was torture unlike any he'd ever felt before. He ached to touch them, to feel the full weight in his hand, to rub his finger over the silky skin and pebbled tips, to squeeze and lift them to his mouth and tongue. Just thinking about it made him crazed with lust. His body was as hard as a damned spike.
Those siren eyes didn't help any. They dragged him in and made him think of pleasure. Of hot, twisted limbs in bedsheets, of sweaty, naked flesh, of sin and passion and lust.
She was temptation and base desire, and a damned fantasy come to life. It took everything he had not to pull her into his arms and cover that taunting, but achingly soft red mouth with his. He knew how good she would taste, how good she would smell. Like warm honey and flowers in the spring . . .
The fierce intensity of his reaction infuriated him. He knew what she was doing, damn it. She was only trying to provoke him. He should be repulsed by the obvious ploy. But his body sure as hell didn't understand. It throbbed, ached, and tightened to the point of pain.
Ploy or not, he was good and provoked. He was going to take what she offered, damn it, and teach her a lesson about prodding hungry lions with a stick—or in this case, two very firm and barely covered breasts that he'd be picturing for too many nights to come.
He slid his arm around her waist to pull her even closer, groaning at how good she felt. She seemed to melt right into him. She gasped at the movement, and his mouth was about two seconds away from smothering the next one, when he suddenly swore and pulled back.
R-Rated Excerpt:
He felt her urgency as powerfully as his. Her tongue circled and sparred, egging him on with every stroke. He couldn't get enough—couldn't go fast enough.
He touched her body as if it belonged to him. As if he had every right to cup her breast and run his thumb over the taut tip. As if his hands were meant to span the delicate circle of her waist. As if he'd held the taut curve of her bottom in his hand a thousand times to lift against him.
But pressing wasn't enough for either of them. He started to circle his hips in a slow, hard grind and his head nearly exploded behind his eyes. He could feel her heat through the thin layers of cloth, hear her moans of pleasure, feel her dissolving against him, and it drove him wild.
Heat and passion engulfed him, took over, and possessed him with a madness he'd never experienced before. He didn't recognize himself. The only thing that mattered, the only thing he could think about, was making her his.
He eased her back onto the bed and came down on top of her—or rather, half on top of her as his body stretched along the length of hers.
His mouth was on her lips, her throat, her breast. He didn't take time to open her chemise—he didn't have time—he just sucked and circled her nipple with his tongue through the fabric until he'd drawn her as tight as a bow. Until she was arching and straining and begging for his touch.
He gave it to her. Sliding his hand under the edge of her chemise, he found the soft place between her legs warm and slick with need.
The moan of pleasure she made when his finger slid inside her nearly undid him. He had to clench his teeth against the pressure pounding at the base of his spine. Pressure that had nowhere to go and wasn't going to be able to wait much longer.
But he would give her pleasure before he took his own release, damn it. God knew, he wasn't going to last long once he was inside her.
He stroked her. Soft and gently at first, and then with more urgency as her need intensified.
He stopped kissing her to watch as her lips parted with sharp, uneven little breaths, as color flooded her cheeks, as her back arched, and finally as her beautiful eyes fixed on his and widened with surprise right before she broke apart. Surprise, damn it. That had been new.
It was the most beautiful thing he'd ever seen, and the intensity of emotions swelling in his chest hurt. But the cries of release were like a siren's call to his own need. Whether this was wrong or right no longer mattered. He couldn't have turned back if he wanted to—and he sure as hell didn't want to.
He didn't hesitate as he worked the ties of his braies.