How to 69
3 Tips For 69ing the Good and Proper Way
When it comes to ambitious sex positions, 69ing is pretty hit or miss. Resident expert Dr. Emily Morse, sexologist and host of the Sex With Emily podcast, has a few thoughts — and special tips — on the slightly taboo lovemaking act.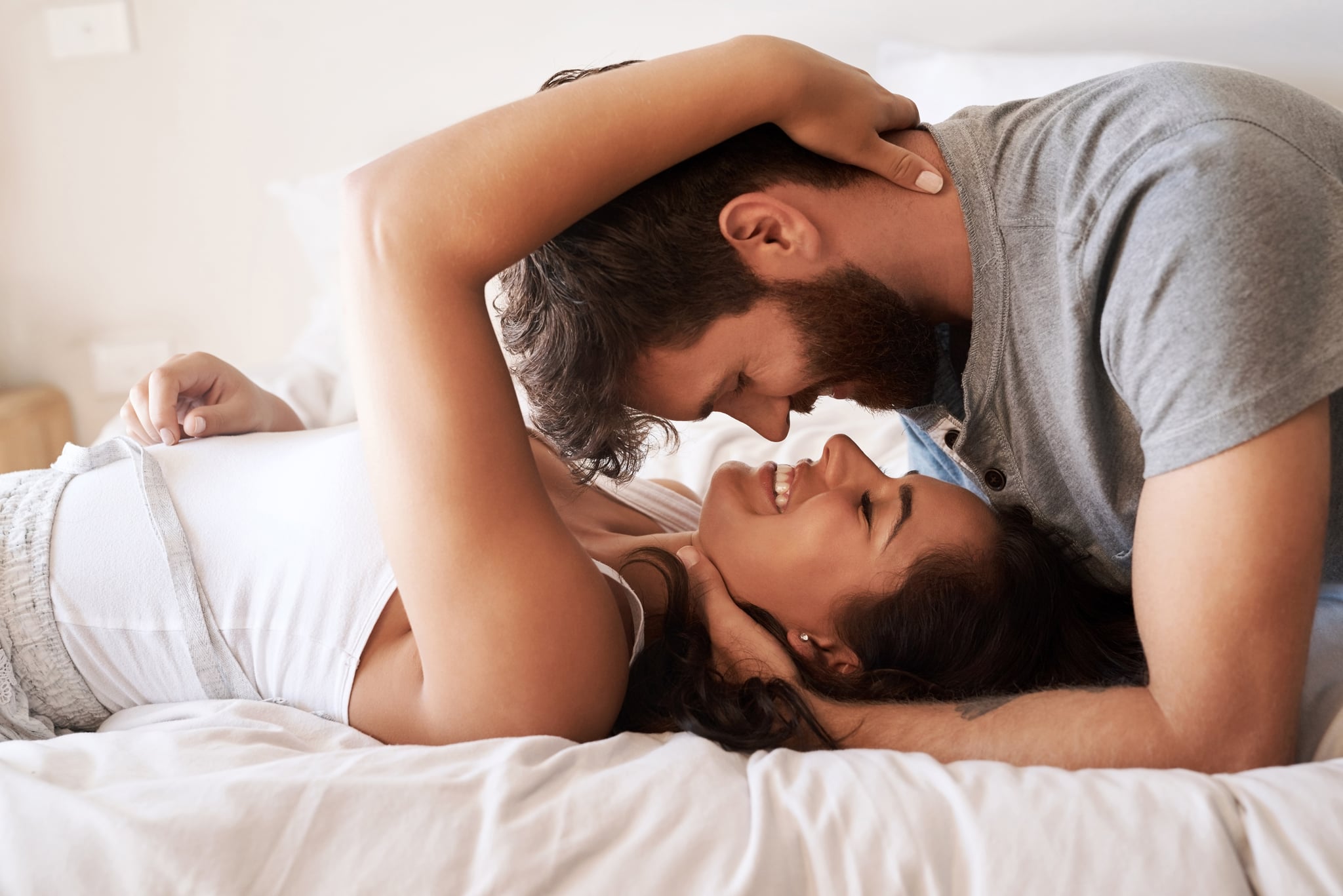 The road to truly spectacular sex is a two-way street. Sometimes, you've gotta give a little to get a little — so why not give and get at the same time? That's why 69 is a fan favorite in the bedroom. In this intimate position, we're able to provide a partner with continuous oral pleasure without sacrificing a moment of our own.
Despite its popularity, there are many who still shy away from 69. It's true: the actual positioning can be awkward (even though they make it look so easy in porn). Some find themselves too distracted by the oral stimulation they're receiving to perform the task at hand, and vice versa. Not to mention the whole "fear of being smothered when you're on the bottom" thing . . . anxiety can definitely be a mood killer!
Perceived challenges aside, any position that lets you and your partner come together in perfect oral harmony is worth the time it takes to perfect. If the logistics are the only thing standing between you and simultaneous satisfaction, then it's time to rethink your position on 69. There's no better day than today to step up your dual-stimulation game! Here are three tricks to amplify your pleasure in 69.
1. Pick your position.
There are a few different ways to rock the 69 position, but the most common version involves some level of stacking. This arrangement is often uncomfortable for both parties.
If you're on top, you'll likely have to perform oral sex in the plank position. This means your arms and legs support your weight, while your mouth and tongue go into overdrive to provide the necessary stimulation. (Those with weak cores need not apply.) Meanwhile, the person on the bottom has full use of their hands and arms, but they've also got a face full of genitals. This may seem like a good thing in theory, until claustrophobia kicks in.
An easy remedy for this is a simple roll to the side! Lie on your side facing your partner with your head toward their feet and have them do the same. Bend your top leg to form a triangle with your knee pointing to the ceiling and place your top foot flat on the bed, using your elbow for support. Then scoot in until you've found the perfect alignment. This variation eliminates the strain of holding yourself up and allows you to put all your focus into pleasing and being pleased. Plus, it frees up your hands to help pleasure your partner even more.
2. Make the most of your hands.
Don't let the term "oral sex" fool you — your mouth doesn't have to carry the full burden of pleasure the entire time you're going down. In fact, the trick to amazing oral is to utilize all the tools at your disposal. This means using your lips, tongue, and of course, your hands. Using your hands gives your mouth a much-needed break and provides extra stimulation to send your partner over the edge.
During a blow job, use one hand to stroke the shaft of your partner's penis while you stimulate the most sensitive part, the head, with your mouth. To step up your cunnilingus skills, insert one or two fingers into your partner's vagina while your tongue caresses her clitoris. With your palm facing up, employ a "come hither" motion with your digits to stimulate her G-spot (which is usually located on the upper wall of her vagina, about two inches in). As you stimulate her with your fingers, try to match the rhythm with your tongue movements, which can lead to a speedy and explosive orgasm.
And speaking of tools, make manual stimulation even hotter by wrapping your fingers around a buzzworthy toy. You and your lover can simultaneously trace your hands all over each others' bodies, or apply direct stimulation to some of your most sensitive areas. Either way, the subtle vibrations will take your 69 experience to the next level.
3. Make it extra wet.
Whoever said "wetter is better" was most likely touting the benefits of lube. Whether you use it during intercourse or masturbation, lubricant decreases friction, enhances sexual enjoyment, and increases the chance that you'll have an orgasm. And now there's one more reason to reach for the lube: to spice up your 69!
If providing oral isn't your favorite pastime or you'd just like to make it a little more fun, try a flavored lubricant. It brings added excitement to your regular oral routine. Think of it as an erotic condiment — it makes everything taste (and feel) a little bit better.
Here's a trick I'm obsessed with: apply a tiny bit of your favorite tasty lube, like Lifestyles 2-in-1 Lubricant in Strawberry, onto your lips like a lip gloss; then slowly slide your mouth up and down the shaft of your partner's penis, or use your lips to massage her clitoris. Using the added lubrication, bring your hands into play for double the stimulation. This full-service oral sex trick will blow your lover's mind, and the delightful taste is just for you.
Sometimes 69 is all you need, but for others, it's just the first course. In terms of foreplay, what other presex activity can get both parties warmed up and ready to go at the same time?