Indiana Anti-Gay Law
Indiana Might Have Just Legalized Discrimination Against Gay People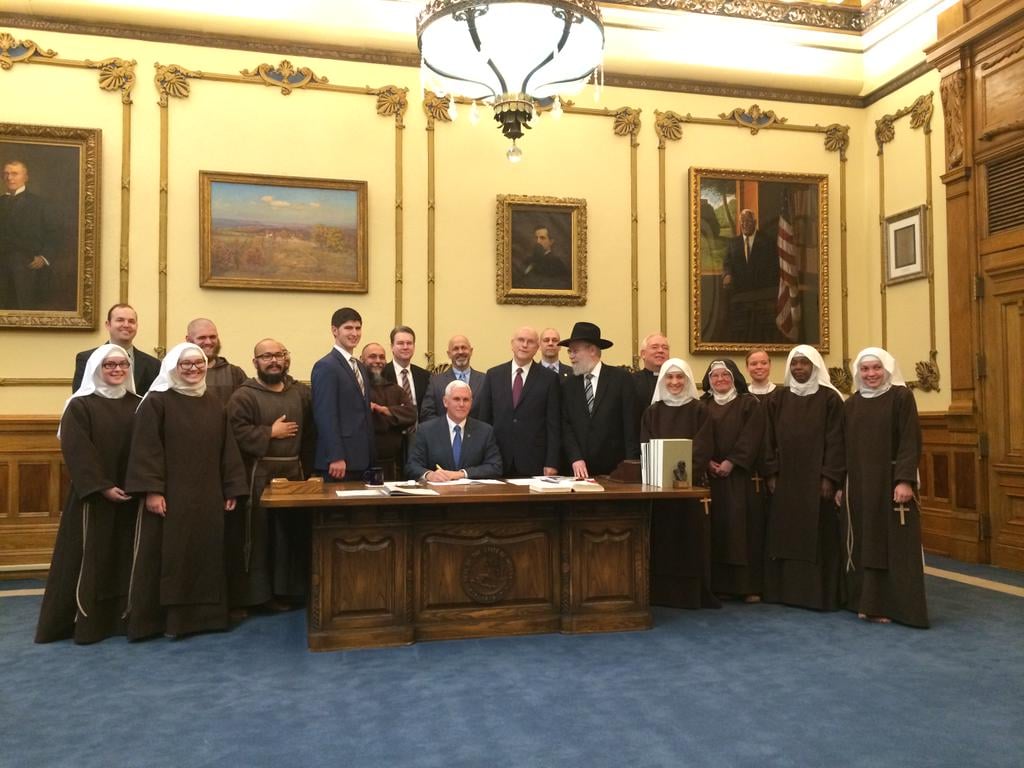 Source: Twitter user GovPenceIN
It's not a good sign when you have to sign a bill during a closed ceremony. But that's what Indiana Gov. Mike Pence did today, when he made a controversial bill law with the stroke of his pen. The Religious Freedom Restoration Act appears to make it OK for businesses or regular citizens to discriminate against LGBT individuals. They just have to cite their religious beliefs. For example, according to the law's critics, a hotel could not provide lodging to a gay couple. Or a restaurant could turn away a transgender person. Suffice it to say, this is not going over well with many people around the country.
The governor says it's not about discrimination but about religious freedom. It seems one of his main concerns is any mandate to provide birth control to women. In his statement, he said, "One need look no further than the recent litigation concerning the Affordable Care Act. A private business and our own University of Notre Dame had to file lawsuits challenging provisions that required them to offer insurance coverage in violation of their religious views." Many activists and people on social media are not impressed. Here is a sample of negative reactions, including a boycott by Salesforce:
Today we are canceling all programs that require our customers/employees to travel to Indiana to face discrimination. http://t.co/SvTwyCHxvE

— Marc Benioff (@Benioff) March 26, 2015
The NCAA, which is holding the Final Four in Indianapolis, also issued a statement:
"The NCAA national office and our members are deeply committed to providing an inclusive environment for all our events. We are especially concerned about how this legislation could affect our student-athletes and employees. We will work diligently to assure student-athletes competing in, and visitors attending, next week's Men's Final Four in Indianapolis are not impacted negatively by this bill. Moving forward, we intend to closely examine the implications of this bill and how it might affect future events as well as our workforce."
And the city's Republican mayor echoed the disapproval, saying the bill sends the "wrong signal."