Real-Life Story of a Student-Teacher Relationship
From Babysitting His Kids to Saying "I Do" — This Student-Teacher Love Story Has a Happy Ending
It's no secret that student-teacher relationships tend to be frowned upon. However, there are some instances in which two people truly fall in love, regardless of age. Blogger Bridget Hunt's story of how she began babysitting a college professor's children and ended up falling in love with him will make you believe in true love.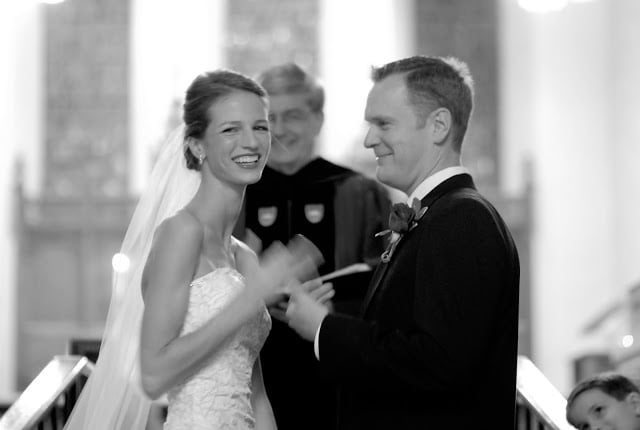 Let's start at the very beginning. I'm at college, I was a freshman with a schedule-in-hand for my second semester classes. The schedule read "New Testament" with a certain Dr. Hunt. This guy required that you make a short trek across campus to buy his specially constructed notes that would aid you in your note-taking. So my friend and I headed on over to buy the aforementioned notes and enter the office. There he sits — my first observations? He's young and he's handsome. He pushes back from his desk and gives us a smile. He's suave too. He's totally hip too, requiring that we call him by his first name instead of the official title.
He comments on my friend's last name, a Swedish one (those Swedes). Maybe asks us where we're from? I don't know, details get fuzzy and this was, after all, six years ago. We leave, notes in hand, and probably both comment on the fact that we thought he was cute, seemed sweet, and was, what was it again, oh yes, suave.
I soon discover that this little pseudo-crush I had was shared by many of the female students. You only had to mention his name and another crush-confession would come out. Totally harmless though, the guy was married, and come on . . . he was a professor after all.
I take his class, skipping only a few, but basically consider it one of my favorite classes. I tell my Mom about him. Take a few tests. Turn in some homework. He hands back homework, smiles at me as he passes, I turn to giggle at my friend sitting next to me (true story) who also has a crush on him because I knew she'd be a little jealous. And so that's how spring semester goes.
Fast forward through summer. Fall semester, sophomore year. I take another class of his and contemplate a religion major in addition to my English major simply because I enjoy his class so much (pseudo-crush aside, he's a great teacher). He's a fresh voice, makes you laugh, is really quite smart, but, perhaps best of all, challenges you and makes you think in new ways about religion (sometimes to the dismay of more conservative students . . . but for me, it fit).
In October, he missed a few classes (eventually missing the entire second-half), and I suppose it quickly came out that his wife had cancer. Soon after, we discovered that she was really very sick. Prayers went out from all corners of the campus. Four young kids — the youngest being only two — made it all the more grave. The campus, in my opinion, was consumed by it. I was literally consumed by it. There was little else I could think of throughout the whole ugly time. From discovering she was sick to her death, was only about one month. Crazy.
Fast forward again to junior year. Early on, by way of my older sister who was in a small group through her church where Steve also went, I discover he's in the market for a babysitter. I had thought so much about him and his kids (who I didn't know at all) over the year that I really wanted that job. I really did. So I got it.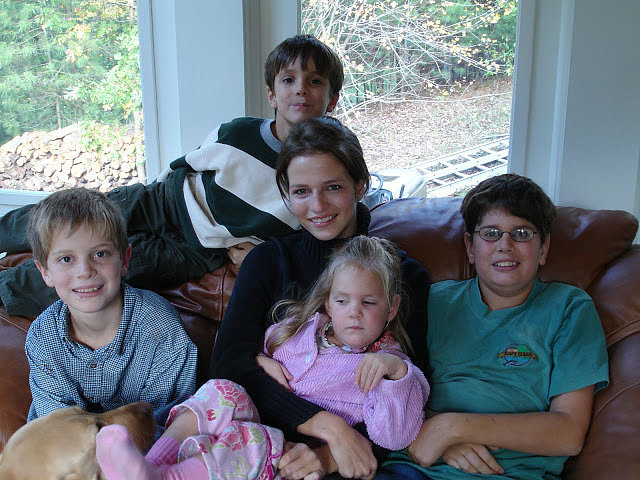 October 2005
The signs were there. If he were a guy my age, I would have been absolutely certain he was into me. That is not to say that they were entirely overt . . . no, they were subtle, but present. Some lingering eye contact, happy smiles, calls about "babysitting schedules" that lead into conversations about a million other things. But, as is only natural, I doubted and doubted that I was reading those signs properly.
I decided I had to say something. And when I say it was surreal and my palms were sweaty, I mean it was surreal and my palms were sweaty.
"I really enjoy our conversations and our friendship. But, ya know, we've been talking more often and . . ."
I might've just stopped there and left him hanging. I can't even remember. But by the first few seconds of the conversation — that turned out to be nearly three hours long — it was confirmed that he liked me too. You'd think we were breathing sighs of relief knowing that the elephant was finally banished from the room. But, this hopeful relationship wasn't going to be easy. Professor. Student. You remember.
The next day we saw one another. Could I describe how weird it was seeing this man who before was only a professor and friend to me, as a potential date? A love interest? A boyfriend? No, I couldn't describe it. I don't think there are words. But trust me — it was cah-raaa-zy. Exciting, yes very exciting, but big (you know that moving forward with this one would've made me a mom of 4 — at, oh, 22 years of age).
He deemed it only appropriate that he tell his boss about this first thing the next day. I mentioned sweaty palms earlier, right? I think he was the one who had them this time. So, we were given a — how shall I describe it — cautious blessing, and a request that we keep it quiet. If it were not going to become anything, what would be the point in having 1000+ students hear about it? Made sense to both of us.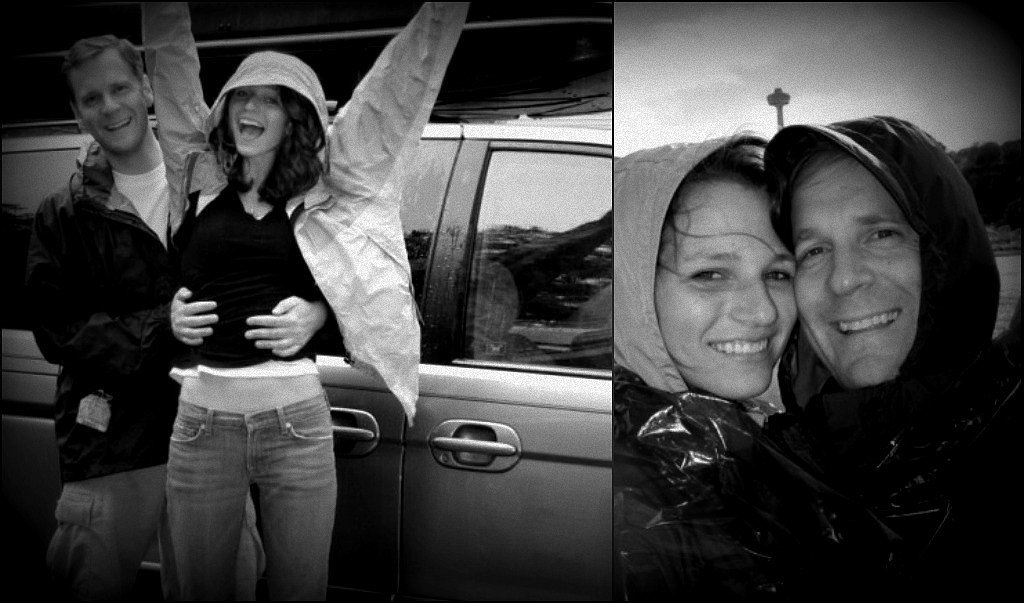 There was a little healthy sneaking around to do. A no-hand-holding-on-campus policy. A need to travel a bit further from the college in order to go on dates. Funny story: we did run into some people from the college once when on a date. We were 40 minutes from the college — this was our turf! We knew we were spotted and they knew. Anyway, we had to ask them before they left the restaurant that they kindly keep this juicy gossip quiet.)
We dated and got to know one another and he immediately decided he needed to meet my parents — and sisters. I was already home, he flew in, they met. It went wonderfully. My Dad gave him a huge hug and had tears (happy ones!) in his eyes more than once thinking about the whole story, what his daughter's life might now look like, and the fact that this widower might be finding love. My Mom was a bit more on the hesitant side (can you blame her?) but still welcomed Steve in with open arms.
The dating continued through the spring semester and we happily kept it quiet for months. It was a challenge to keep it quiet, to worry about how people would perceive the whole thing when it finally was public knowledge, let alone worry when it would be public knowledge. How the cat finally got out of the bag is completely silly and, I'll have you know, was not our fault. But summer was approaching, and we were happy, and life was grand.
Summer presented a road trip out West to meet people who should be met at this stage of the game — Ohio (his cousin's house, Minnesota (his late wife's family's home), Colorado (his folks' and brother's family's home), and then a trip to Switzerland (friends of his live there — that, and the magic that is the country of Switzerland).
And, what do you know, something special happened in Switzerland . . . we were engaged.
We returned to Massachusetts for a lovely summer complete with boating on the lake, BBQs, and friends. Not only was I dating that once-professor of mine, but now I was actually engaged to him. Wowza.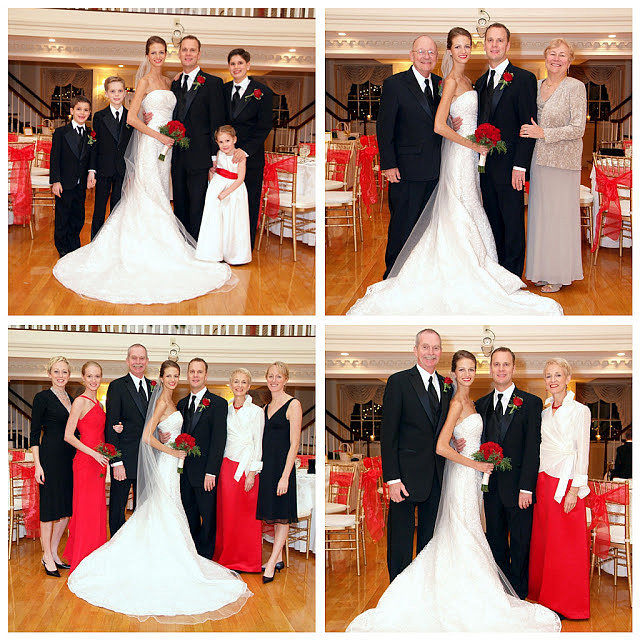 So, it was October when we decided to get married in December. Never did I picture myself having a Christmas wedding, but never did I picture myself being a stepmom at 22 either. Life threw me a few loops, so what's a few more? We planned and purchased and primped and on December 22nd, I married the love of my life. The ceremony was perfect. In this small chapel that we filled to the brim. There were holly sprigs tied to candle sticks that were lined up the aisle. There was a lot of red in the room — red dresses and lips — and he sang to me! He sang Kenny Chesney's "Me and You."
I think subconsciously the idea that I not only became a Mrs. but also became a Mom was so large and so difficult for me to grasp. Blending my life with his was not going to be easy and was going to be perhaps the biggest thing I've ever done. And right then, as I think of it now, I had not a clue how hard it would be. My Mom asked me, months after the wedding, if I felt sort of unprepared for what my new life was like. I would say 100% yes.
Our road has not been an easy one. It has had it's share of stress and heartache and tears but we have our health, our laughter, a roof over our heads, our family, our memories, our joy, and our friends. You take the good with the bad and though, I can honestly say (and have said) that I did not know what I was getting myself into, I wouldn't change a thing. Because I still have my best friend to do it with.