September 11 Love Stories
5 Incredible Love Stories of 9/11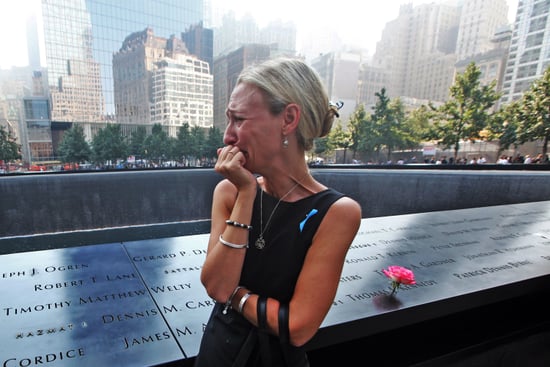 Carrie Bergonia looks over the name of her fiancé, firefighter Joseph Ogren, at the Sept. 11 memorial on the 12th anniversary of the attacks.
Every time Sept. 11 comes around, it's easy to get sucked into sadness again. You can't help but watch harrowing videos and revisit images you'll never fully be able get out of your head. And while grieving together as a nation is important, it's equally as important to focus on the good that has come out of that day. That's why we've put together touching stories of love (and loss) among the tragedy that remind us, above all, to not take anything for granted. Read on, and don't forget to tell that special person how much they mean to you.
Beverly Eckert was on the phone with her husband, Sean Rooney — who worked on the 105th floor of the second tower — when the plane hit. He told her he loved her over and over, and all she could do was clutch the phone to her heart as she heard the tower collapse. After he died, she carried her love for him everywhere, building homes with Habitat For Humanity in his name and even establishing a scholarship at his high school in his honor. In 2009, she was on her way to present the scholarship when she, too, died in a plane crash. Their family members described their love as one for the books. How ironic then that in an interview after he passed away, Beverly said, "We just wanted a happily ever after like Camelot, and I think we did pretty well."
Imagine this: thinking your spouse was dead and then finding out she was miraculously still alive. That's exactly what happened on Sept. 11 to Dan Potter, who was a firefighter in New York City on that tragic day. His wife, Jean, was in the north tower just minutes before it collapsed and escaped by walking down 81 flights of stairs. Dan was sure she had died until he got a phone call saying Jean was safe at a fire house. She'll never forget the reunion. "I said, 'Where were you?' and his response was, 'You don't want to know.' And we hugged." The couple has since moved to Pennsylvania, calling their new home "Grateful Hearts."
This is one instance in which a change of plans led to a whole new life. Diane and Nick Marson, both in their 50s at the time, were on a flight from England to Houston on Sept. 11 when their flight was diverted to Newfoundland because of the attacks. They ended up at a shelter, where Nick asked if he could lay down on a cot beside her, for four days before returning to their homes. They made such a connection that they kept in touch and, one year later, got married. "We just found a little bit of heaven," said Diane.
Bonnie McEneaney spent the day of Sept. 11 frantically calling hospitals to find her husband, Eamon, who worked at the World Trade Center. Just a few days before the tragedy, he told her he had a premonition that New York City would be attacked by terrorists. Knowing about his connection with the supernatural, she says she knew as soon as she felt a strong wind come out of nowhere on Sept. 11 that Eamon had died in the towers. Since then, she often feels his presence in other ways, like when she sees special pennies that act as a sign of his love. "Love is the strongest force in the universe, and just because a person dies doesn't mean they're gone forever. They may be gone in the physical sense, but love keeps you connected."
Talk about finding love even amongst the most difficult circumstances. Ben Salamone and Donna Teepe, both in their 60s, met at support group meetings for widows and widowers of Sept. 11. They had both lost their spouses of more than 30 years and were having a hard time with the grieving process. Slowly, they began to spend more time together and, even though both were worried about being disloyal to their deceased partners, got engaged after four years of dating. "We just enjoy being with each other," she said. "You need someone who's going through the same thing you're going through."