This Bride "Eloped" Amid COVID-19 — and Got Ready With Her Bridesmaids Over Zoom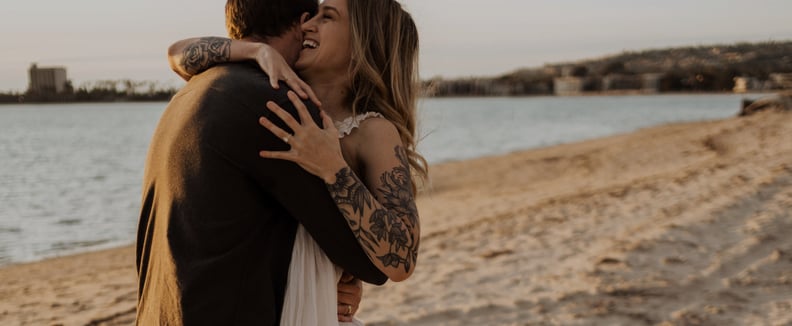 Kassidy Sherburne
As an event and wedding planner, Torrie had been dreaming about her own walk down the aisle for a long time. She and her now-husband, Nick, originally planned a celebration at Building 177 in San Diego on March 22, with family traveling in from out of town. But as the coronavirus pandemic impacted social gatherings across the United States, it became clear things would have to change.
"It was stressful to say the least," Torrie told POPSUGAR. "We went through a couple phases of changing plans. Originally about one week out, when things were getting concerning but everyone was still able to go out, we figured we would move forward with it but probably have a few people not able to attend. Then the government recommended no gatherings larger than 50, so we made the decision to cancel the larger celebration and celebrate with just our immediate families and bridal party. A few days later, it was recommended that no groups larger than 10 gather.
"We said 'I do' in the most unexpected circumstances, but in the end none of that mattered."
"At one point, my head was spinning, and Nick and I were running through what our options were. He looked at me and said, 'I don't care what it looks like, I'm marrying you this weekend.' From that moment, it was decided, we were getting married come hell or high water."
In just a matter of days, plans fell into place so Nick and Torrie could get married. Although Torrie admitted it was "pretty heartbreaking" to let go of her original dream wedding, she and Nick created an unforgettable memory with their families. Her mom prepared the wedding dinner and cake, Torrie wore a dress she was previously planning on returning, and they found one of the only florists in town who hadn't closed yet to make a bouquet and a flower crown.
Torrie's bridesmaids conspired to drop off the supplies she would need for her hair and makeup, and the friends "got ready" together over a Zoom call. Her dad officiated their marriage, then Nick and Torrie snuck off to have their photos taken by Kassidy Sherburne — at a safe distance. "It was everything we never planned for, and it was perfect," Torrie wrote in an Instagram post. "We said 'I do' in the most unexpected circumstances, but in the end none of that mattered."
Torrie said that since her wedding, a "number of brides" have reached out to her asking for her advice on their own plans amid COVID-19. "I have told them all the same thing my mom originally told me: pick a specific date you need to make a decision by and then try to relax until you have to make the call one way or another," she said. "Have a backup date or plan in mind and ready to put into action if you do wind up having to reschedule."
Torrie added: "At the end of the day, none of us have any control, so I think it's helpful to just table the decision until you absolutely have to make a decision, otherwise you'll just be in a constant state of stress. Second word of advice is to focus on your person. At the end of the day, whether it's next week or next year, you will get to marry the man or woman that you love and it will be everything you ever hoped for, because it's you two, getting married."
Torrie and Nick look forward to reuniting with their family and friends for a big celebration in the fall. See more photos from their special day ahead.