Tinder Music Mode From Spotify: How It Works in the App
This New Tinder Feature Will Unlock a Key Myspace Memory You Forgot About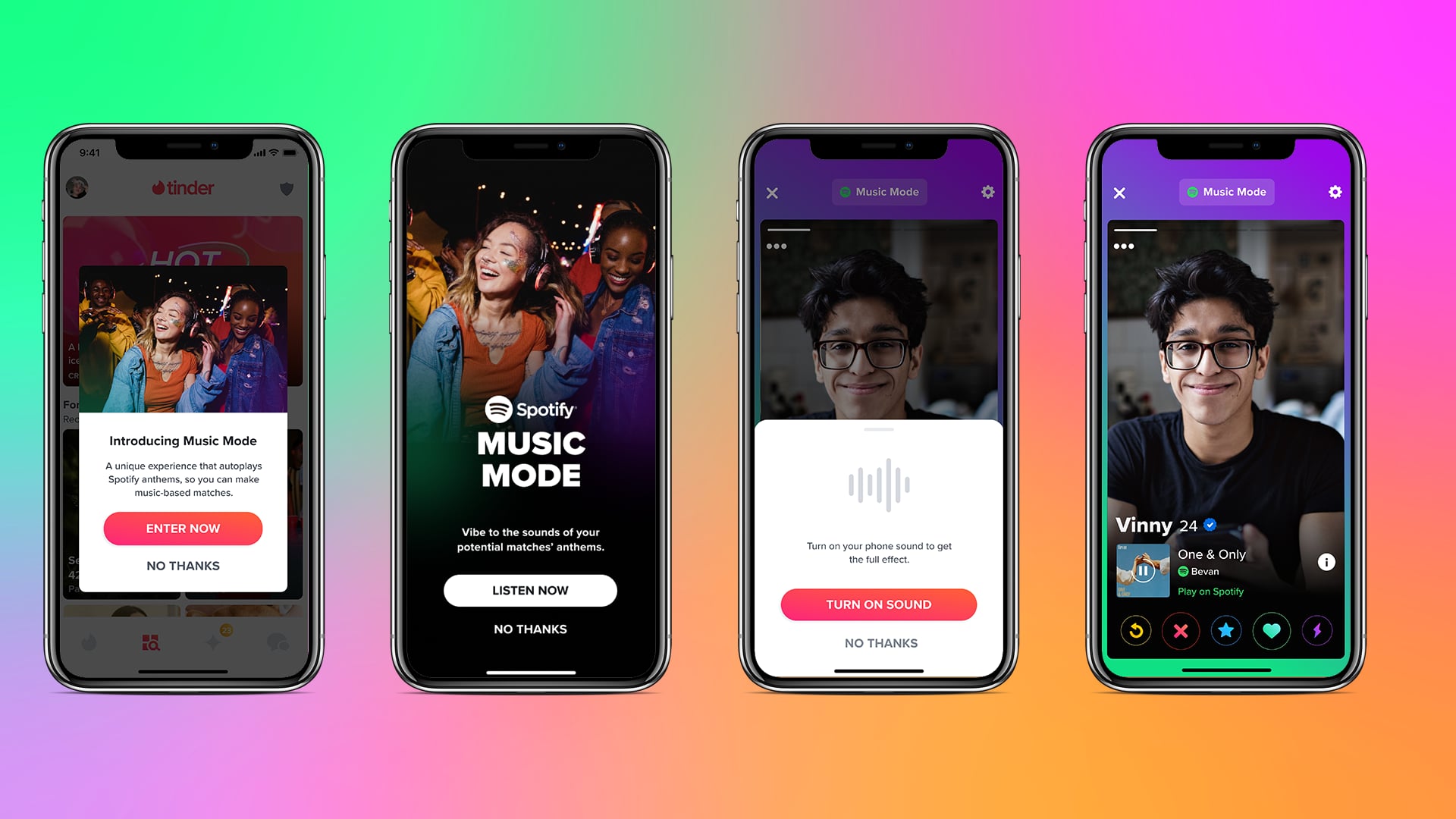 The year is 2007. You've spent the last hour fiddling with the HTML code of your Myspace profile to change your background to airbrushed butterflies. Nice. Your friend Jess moved you two spots down on her Top 8, but you're not that mad. Why? Because you just switched your Myspace profile song from Snow Patrol's "Chasing Cars" to Dashboard Confessional's "Stolen," and the brooding-main-character energy is so palpable. If you remember this exact sequence like it was yesterday, be warned: Tinder's new Music Mode feature, released in the year of our lord 2021, will take you right back to your Myspace days, all while allowing you to see if you and a potential match have similar taste in music.
What Is Tinder Music Mode?
Tinder's Music Mode feature, developed in partnership with Spotify, essentially mirrors the concept of a profile song. Accessed within Tinder's interactive Explore space in the app, Music Mode allows users to choose an Anthem, or "that one song that defines them inside and out," according to a press release shared with POPSUGAR. Much like your old Myspace profile song, your chosen Tinder Music Mode song will automatically play as a user comes across your profile.
Essentially, the Music Mode feature was meant to increase the potential for connections by offering users an immediate opportunity to detect a common denominator between them: music taste. "Now with Music Mode, our members can experience that feeling when you're at a party and you find out someone else loves the same songs you do," Kyle Miller, VP of product innovation at Tinder, said in the release. "It's amazing how adding music as another element of discovery elevates the whole experience on Tinder. Songs are deeply personal, and Music Mode is a place to spark something new through music." According to Tinder, it seems to be working. The brand says that, based on users who've already added an Anthem to their profile, using Music Mode may help you see about a 10 percent uptick in matches.
If you're not sure what Anthem to choose, a few songs have soared in popularity with regard to Tinder Music Mode Anthems. Tinder shared with POPSUGAR that users are loving Doja Cat and SZA's "Kiss Me More," Olivia Rodrigo's "Good 4 U," and Drake's "Way 2 Sexy" (with Future and Young Thug), among others.
How Does Tinder Music Mode Work?
To be able to use Tinder's Music Mode, you just have to link your Spotify account to your Tinder profile. Once you do, you can enter Music Mode by navigating to the Explore tab on the Tinder menu bar at the bottom of your screen. From there, you should see a Music Mode module. Tap it, turn on your sound, and you'll enter a form of Tinder in which your potential matches' Music Mode Anthems will automatically play as you view their profiles and choose to swipe left or right. Once you've connected your Spotify account to your Tinder profile, you can add your own Music Mode Anthem within your account settings.
Why Can't I Find Tinder Music Mode?
If you're not seeing Tinder's Music Mode in the app, your easiest troubleshooting techniques are to either quit and restart the app or log out and log back into the app. If neither method works, check that your Tinder app is updated to the most recent version. If you still don't see it, the problem may be that Spotify isn't available in your area, or that the feature simply hasn't rolled out for you just yet. (Tinder said Music Mode would roll out globally in "the coming weeks.") Of course, you can always reach out to Tinder's help center for assistance.
Image Source: Courtesy of Tinder