Wonder Woman Parents Guide
What Parents Should Know Before Taking Their Kids to See Wonder Woman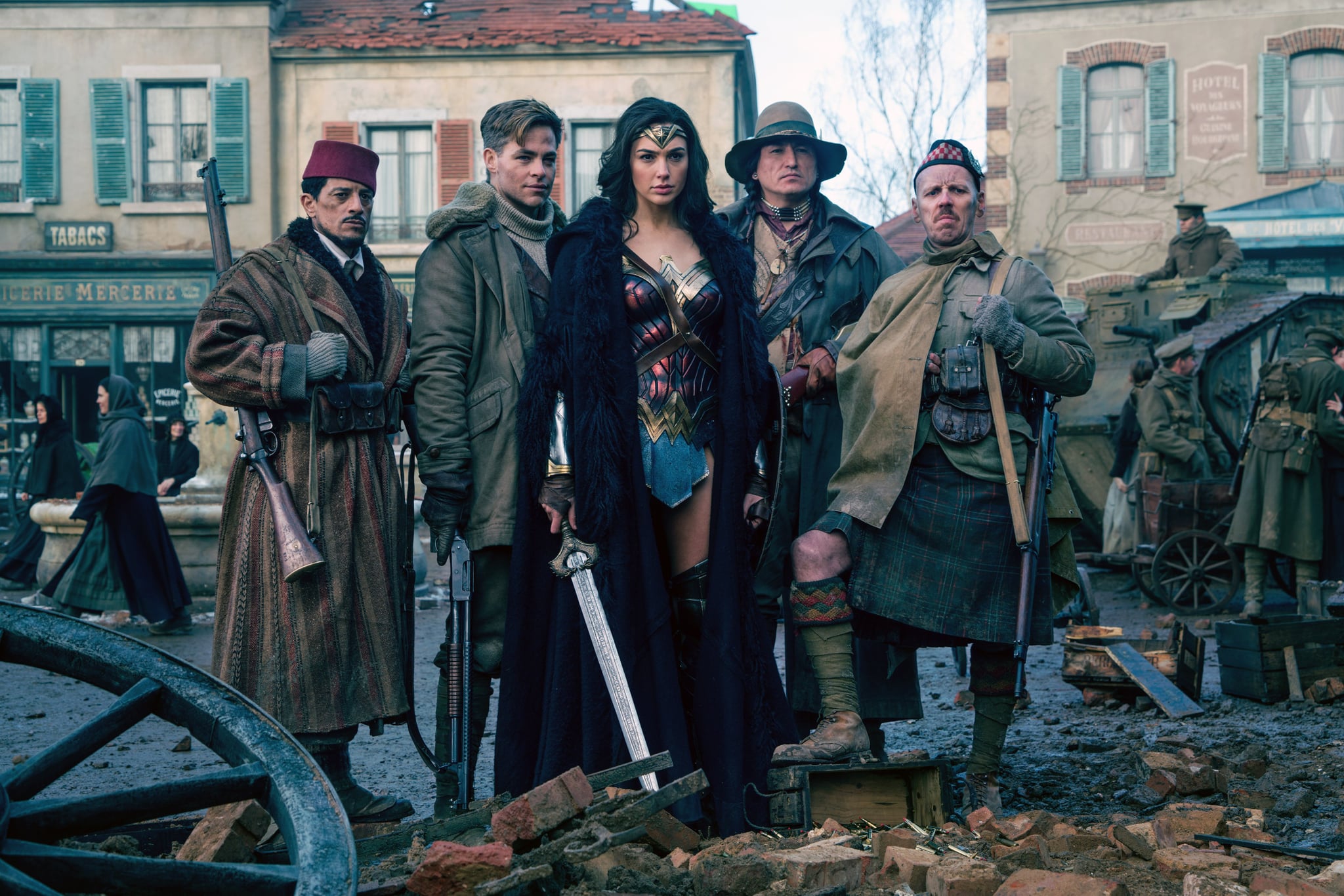 Shortly after Wonder Woman made its triumphant, badass debut in movie theaters, parents began proudly sharing photos of their kids adorably dressed up as the titular superhero on their way to see the action flick. At this point, even kindergarten classrooms can't get enough of her! While most superhero movies are traditionally kid-friendly (excluding the rare, R-rated Logan) — Wonder Woman has some empowering themes little girls will especially benefit from — there are definitely a few scenes that parents will want to be aware of upfront.
Described as "more optimistic" than previous DCEU installments, Wonder Woman has an official PG-13 rating for "sequences of violence and action, and some suggestive content." Here's a brief breakdown of what that actually means:
Brief nudity. After Steve Trevor (Chris Pine) crash-lands on the all-female island Diana Prince (Gal Gadot) inhabits and helps her and the rest of the Amazons battle some German soldiers, he's sent to a magical, healing pool to treat his wounds. There's a brief scene of him getting out of it, where he's shown fully naked with only his hands covering his privates (he describes himself as "above average" compared to other men, which is hilarious and true, but maybe you don't want to deal with explaining that to your kid . . . ).
Allusions to sex. There is a conversation between Steve and Diana about sleeping with women outside of marriage, the "pleasures of the flesh," and how babies are made, which is all very clinical and awkward thanks to Diana's naivete about the modern world. A relatively chaste goodnight kiss later on in the film fades to black, meaning sex is implied.
Sequences of violence and action The movie contains plenty of combat training scenes with the Amazons, as well as lengthy war and battle scenes that feature hand-to-hand combat, guns, bows, arrows, grenades, and explosions. An early battle scene sees people being injured with gun shots to the stomach, arrows through the chest, and stab wounds from swords, although none of it is depicted as particularly graphic or gratuitous (there's barely any blood). Additionally, one of the film's villains shoots a German soldier point-blank in the face (no gore, it's mostly off-screen), and there's a chemical experiment conducted on a man who gets gassed to death. A man also kills himself with a cyanide pill to escape interrogation. It should also be noted that unlike Batman and Superman, Wonder Woman has no qualms about killing her foes. One scene in particular shows her stabbing someone with a sword in detail (though, again, barely any blood), and she has no issue taking out soldiers attacking her during some of the intense, more elaborate fight scenes.
While Wonder Woman isn't dark in tone and doesn't have much blood, a child who is easily frightened by intense battle scenes might be better off skipping the movie for now. The overall message, though, is incredibly important and empowering for young girls (and boys), so if you think they can deal with some heavy action scenes, don't hesitate to introduce them to the wonderful world of Wonder Woman. Also, if you do opt to take your little one to see the movie, consider discussing these questions with them afterwards!