One year before the 2018 Winter Olympics in Pyeongchang, South Korea, US figure skater Adam Rippon broke his foot. I know. I'd give up right then and there. Hang up my skates. When you consider that athletes spend much of the four-year gap between Olympic Games training, the timing of this incident would, I assume, be devastating. Rippon had only 12 months to fully recover from his injury and get back in fighting shape. Instead of admitting defeat, he was filled with fire. "In that moment, that's where I got the most confidence," Rippon tells me over the phone one morning in May. "I thought, 'This is going to be fine, and this is a chance for me to rebuild myself and be even better.' That's when I knew that I would go to the Olympics, even though I only had one working foot."
Flash forward to 2018, and Rippon has emerged as an unstoppable force who seems to possess an enviable self-assurance. I marvel at his ability to so effortlessly be himself. Wouldn't it be great to cancel out the haters? Wouldn't it be nice to know, beyond all doubt, that you are, as he tweeted, "a glamazon b*tch, ready for the runway"?
When I meet a person who's so self-realized and so rooted in their sense of self, I find myself asking a one-word question: "How?" The answer is not simple, and everyone's path is different. Rippon tells me how he went on a long journey and finally found himself.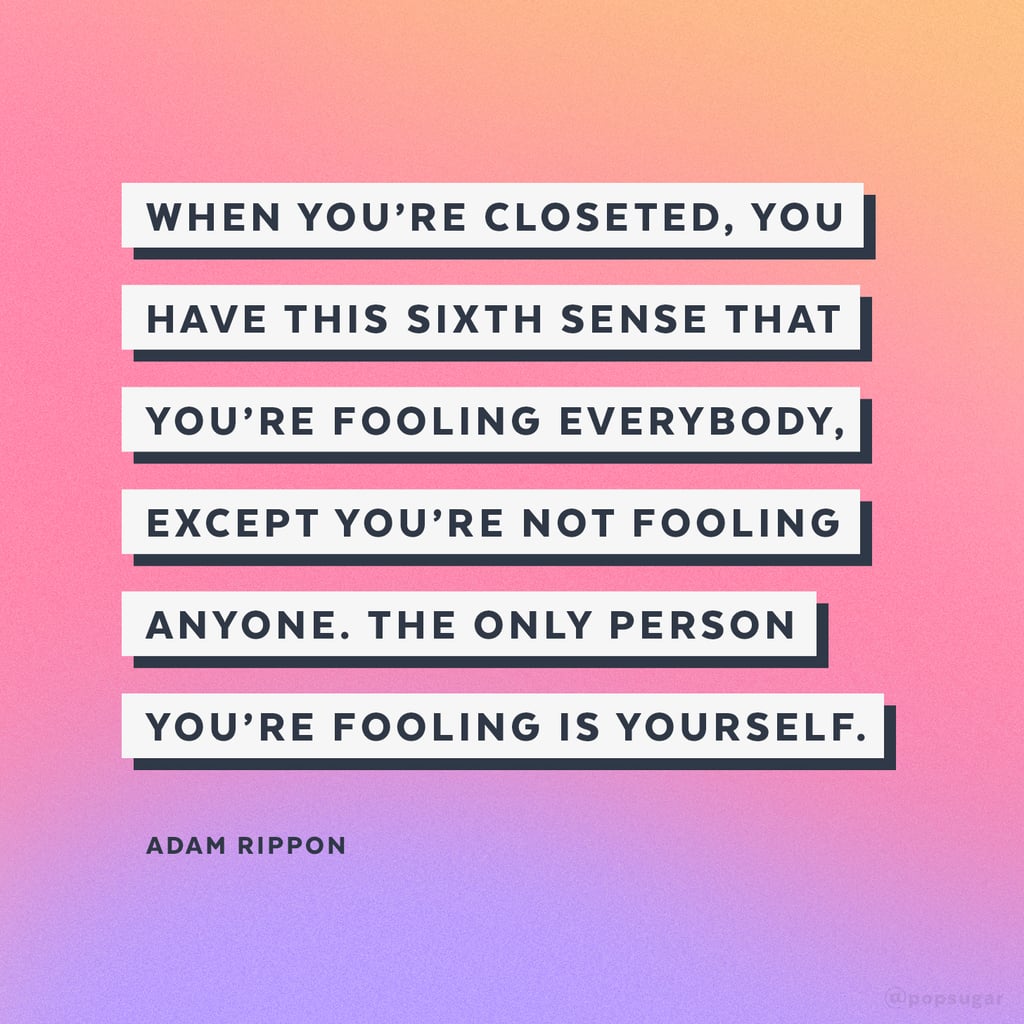 Rippon began skating when he was just 10 years old. "I was bullied, definitely, for being different and not wanting to play football with all the other boys and having a lot of friends that were girls," he says. "And I was obviously bullied a lot for being a figure skater."
Even in these early years, Rippon found a way to block out the haters. "I reminded myself that I loved what I was doing and then . . . I felt bad for those people who were making fun of me, because they didn't know what it was like to really love something."
Around the same time, he started to come to terms with his homosexuality. Rippon used his skating as a way to forget about it. He couldn't possibly be bothered with thoughts about boys! He had work to do! "I was able to use my skating as a really good excuse for why I would put everything on hold," he admits. "I was like, 'Well, I'm focused right now.'"
The funny thing about denial is you can only manage it for so long, and eventually, it got in the way of Rippon's ability to express himself on ice. "When you're closeted, you have this sixth sense that you're fooling everybody, except you're not fooling anyone. The only person you're fooling is yourself," he says. "I was super aware that I wasn't being myself. And I think when you can't be yourself, you don't trust yourself. You don't trust that you're strong, and you don't trust that you can do it when the pressure is on because you don't really know who that person is."
His coming out became his first big personal hurdle. As long as he wasn't embracing his sexuality, he wouldn't be able to grow into a stronger skater. But before he could burst out and tell the world, he had to come out to his family and friends.
When Rippon was 22, his mom asked him "very casually" if he was gay. He said no.
"I'm like, 'How dare she? I'm obviously not.'" He laughs.
But deep down, he knew it was time. "I remember I was doing a show and we had two shows that day. And in between both of the shows, I brought my mom to the parking lot and I said, 'Mom, I'm gay.' And she said, 'You lived inside of me for nine months. I've known for a while.'" Here, we both laugh; I laugh because my mom said something very similar when I came out. According to Andrea Roschke, my mom, mothers always know. Whether they're willing to acknowledge it or not is another story.
After that, the next hurdle was coming out to the rest of the world. Piece of cake. The catalyst? The 2014 Winter Olympics in Sochi. If you don't remember, the Olympics came just after Russian President Vladimir Putin passed the antigay propaganda law. The piece of legislation bans public discussion or exposure of "homosexual propaganda" to children. Alexei Zhuravlev, who wrote the bill, has said that it aims to "protect" children from trauma brought on by parents who "do not conceal their same-sex sexual relationships."
Rippon tells me that the law really changed his view of everything. At that point, he felt compelled to come out publicly — not just for himself, but for the benefit of others as well. After all, he wasn't ashamed of being gay. He just wasn't proclaiming it to the general public. "I wanted young kids to be like, 'Oh. You can be yourself. It doesn't really matter. You can be really successful.'" How could he inspire authenticity from inside the closet?
But Rippon's big coming out didn't happen at this point. For the second time, he failed to make the Olympic figure skating team. "That's when I kind of felt rock bottom. I decided that if I was going to keep going, I needed to be doing this for the right reasons, and the reasons that were important to me," he remembers. "I needed to have a greater purpose, because I think we, as humans, are more inclined to do things for other people rather than ourselves. At least, I am."
Understandably, Rippon didn't want to come out just then. But with that drive to help others find strength, he was more inclined to pick himself back up. "I had this moment where I basically was like, 'Well, if I come out, I want to be doing really well,'" he recalls. "So, in 2015, I decided I was going to work the hardest I ever worked in my entire life. I was 25. I made it back onto the national team. I was second at Nationals that year, and I skated really well, and I felt awesome."
It sounds confusing, but his coming out was both momentous and modest at the same time. He came out in a splashy magazine feature, but he casually slipped the admission into the middle of the story.
"So, US Figure Skating has this magazine that comes out bimonthly and it's just called Skating Magazine. They wanted to do an article on me and one of my other friends, Ashley Wagner. She won her third national title, and we are best friends. I said I wanted to put in the article, like just throw it in the middle about coming out and being gay. They were all about it. I met with the executive director of US Figure Skating, and I talked to the president, and they were like, 'Go for it. We're behind you.'" Despite the "sneaky" execution, the world noticed.
Many news outlets, including NBC Sports, reported on Rippon's coming out. Even then, he wanted to pivot his revelation toward self-acceptance. This moment wasn't just about his sexuality. It was about authenticity.
"Being gay is not something that defines me," he told Skating Magazine. "It's the year 2015. So many more athletes are willing to be open, and it's part of the culture now to be more open about who you are and what your interests are . . . I'd just like to be a good role model. I've been honest with myself the whole time. I worked hard and loved what I did."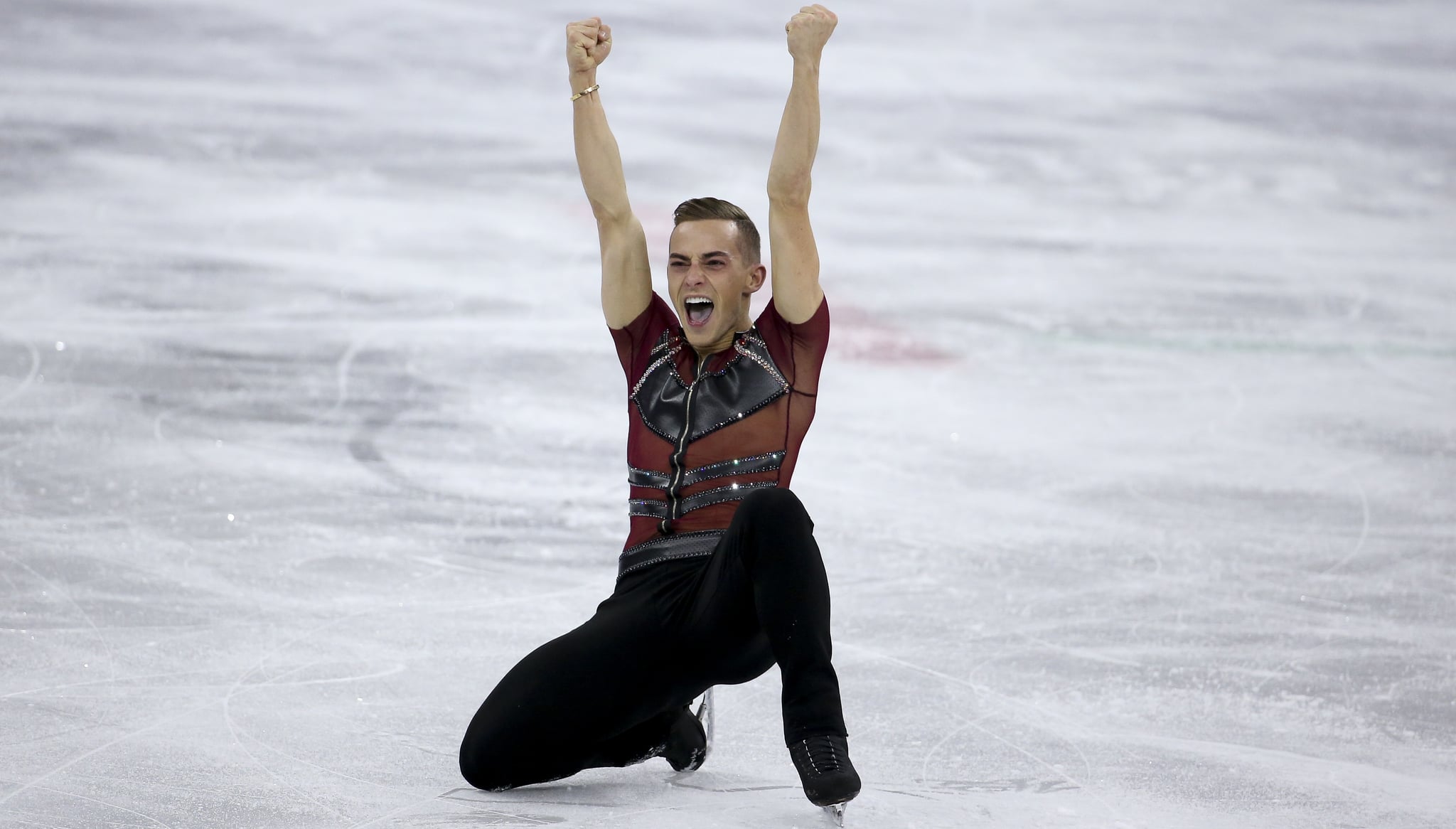 Image Source: Getty / Jean Catuffe
And that was it. With that one article, Rippon had set everything into motion, marking the true inception of the fiery Rippon we know today. Granted, he had been gathering his courage and convictions all his life. Some of it, I imagine, was even imbued in him at birth. But at that moment, when he truly stepped into himself, that was when he could unlock it.
"After I came out publicly, that's when my skating career really took off, because I just felt powerful and confident and strong," Rippon tells me. "I just felt I was in control of my life for the first time." So, onward to the stars, right? Rippon built a magnificent momentum. "I had already had this huge resurgence in my career and felt awesome and was feeling great. I was skating the best I ever had."
Finally, the Winter Olympics in Pyeongchang were on the horizon. Given his 2010 and 2014 disappointments, he knew not to be overconfident. "I had moments before where I was like, 'OK, I'm really going to go to the Olympics.' And it fell through twice. I was really close and, just when it counted, it didn't pan out for me." All things considered, it looked like he would finally make the team.
Now, back to that pivotal moment at the beginning of 2017 when Rippon broke his foot — but decided he would not let it break his spirit.
"It made me hungry. It made me feel excited," Rippon remembers. "I had this challenge: how can I come back from this broken foot? How can I be better from this? How can I make this work for me?" So what did he do? He drove 20 hours, from LA to Colorado Springs. He spent the first six months of the year living, recovering, and rebuilding at the Olympic training center there.
Rippon took advantage of every possible amenity, trainer, dietician, and physical therapist. "I said, 'You know what? If I'm going to come back, I'm not just going to come back. I'm going to be an even scarier and a better competitor, and an even more dangerous person to compete against.'"
Rippon qualified for the Olympics and made the team in January 2018. When you consider everything — his private and public coming out, his ups and downs, the adversities, the triumphs — it has all snowballed into a person who is galvanized by all the pain rather than destroyed by it. Is it any wonder that he went into the Olympics at Pyeongchang with guns blazing?
"At this point in my life, I feel open and confident and strong to talk about things that matter to me."
Rippon is referring, of course, to his very public feud with Vice President Mike Pence. When USA Today asked how he felt about Pence's involvement in the opening ceremony at Olympics. "You mean Mike Pence, the same Mike Pence that funded gay conversion therapy?" he asked at the time. "I'm not buying it."
Rippon continued, saying, "I would absolutely not go out of my way to meet somebody who I felt has gone out of their way to not only show that they aren't a friend of a gay person but that they think that they're sick."
It's worth noting that Pence's history with gay conversion therapy is murky. His press secretary, Alyssa Farah, seemed quite focused on this fact when responding to what Rippon had said in a statement: "This accusation is totally false and has no basis in fact. Despite these misinformed claims, the vice president will be enthusiastically supporting all the US athletes competing next month in Pyeongchang." Farah, however, did not acknowledge Pence's extensive history of attacking the LGBTQ+ community, which has been chronicled in dazzling detail by the Human Rights Campaign.
Fellow out gay Olympian Gus Kenworthy joined in the pushback against Pence. He told CBS News that he would also decline any opportunity to meet Pence or even President Donald Trump. He even joked that the hand injury he sustained at the Olympics would graciously prevent him from shaking Pence's hand. "When we have people elected into office that believe in conversion therapy and are trying to strip trans rights in the military and do these things that are directly attacking the LGBT community," Kenworthy said, "I have no patience."
All this boils down to that intention that Adam set way back in 2015. Adam Rippon's journey was never just about his being gay. He just wanted to find himself and improve himself. "The most important thing is being a good and honorable person, because you can work at that every day. You can't work at being gay. I was gay when I born. You don't self-work on being a better gay. You just are, you're just gay," he says. "I'm not gay first. I'm a good person first, and being gay is just on the list of things: I'm from a small town in Pennsylvania, I get Brazilian blowouts, and I have an affinity for spray tans and bleaching my teeth. It's all on the same list."
Rippon admits to me that he almost wishes he could have found his self-confidence sooner. "At the same time," he contends, "I'm glad that I didn't. Because I really had to go through a lot of challenging and difficult moments in my career and in my life to get to this place." I know what he means; great pain carves out more space inside you so you can then find great joy.
So . . . now what? Rippon kind of, sort of announced his retirement from Olympic figure skating. And as if that wasn't enough for his incredible year, he just emerged as the champion of the latest season of Dancing With the Stars. Finally, six months into 2018, the dust is starting to settle.
Rippon is beginning a new chapter. He's finally arrived at a place where he can look back on everything he's done since January and look forward to the rest of his year. I ask him what he would change about the past few months and what he plans to do next. While he doesn't give a concrete answer, he knows how he'll get there. "My mom taught me when I was growing up to be kind to other people, to stand up for what you believe in, to be strong, to give 100 percent to whatever you do," he says. "That's why I've been able to have the success I've had in the past few months. And what would I change? Nothing."