Best Friends Max the Dog, Quackers the Duck in Minnesota
An Improbable Friendship Between a Dog and a Duck Is the Good News Story We All Need Right Now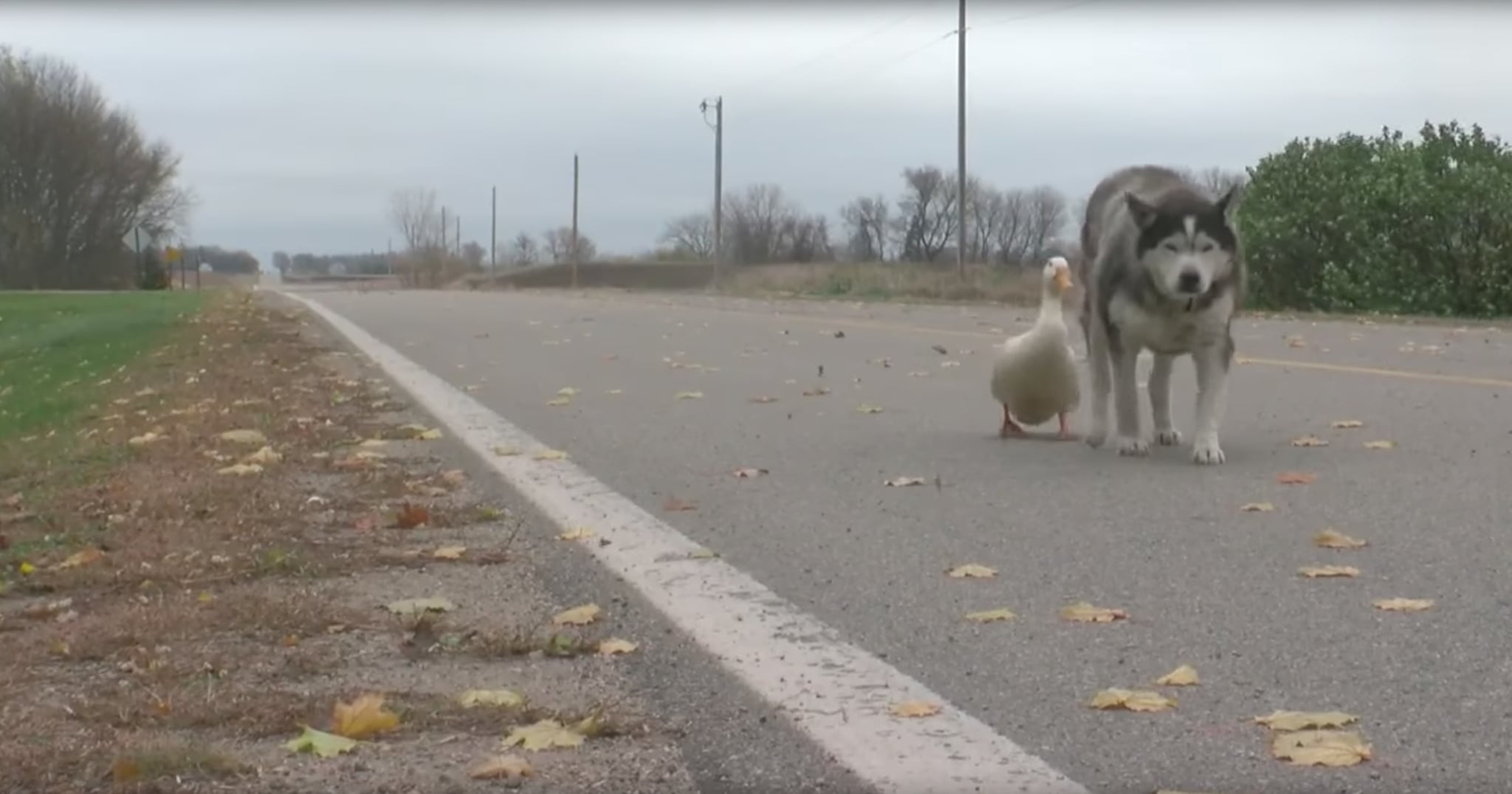 Sick and tired of only hearing about the bad things going on in the world? We're right there with you — and, thankfully, we've got the cure for exactly what ails you.
Meet the unlikely pair of Max, a 12-year-old Husky, and Quackers, a 4-year-old duck. Against all odds, the two animals — both owned by Patrick and Kirsten Riley — are inseparable best friends, and they're the pride and joy of the teeny-tiny town of Strout, MN. The town boasts a population of just 25 people, so Max and Quackers are well-known to all the residents and can frequently be seen out patrolling their domain. "Sometimes on my way home, I actually hope they're out there because they're just too precious to look at," Strout resident Alisa Godejahn told CBS affiliate WCCO-TV.
In the interview below, the Rileys describe how they adopted Max when he was 5 and he became fast pals with the couple's other dog, Sasha, and after she died, he was left without a friend. "He was without any friends, and Max would sit next to his pen all the time, and I think they just bonded that way," Patrick Riley says, adding, "after we let him out, they just never left each others' side." Kirsten Riley goes on to say that "they sleep together, they eat together, they drink together, they go for walks together down the road . . . everything is together."
The improbable friendship between a dog and a duck provides a poignant reminder that kindness and compassion transcends all that which may traditionally divide us and that it's not impossible to buck tradition and create a bond with someone who may not be exactly the same as you. As such, the pair is often used as a symbol of how to "put aside differences" among the residents of the town in which they reside.
Symbolism aside, it's hard not to have your heart melt at the sight of these delightful animals trotting along in unison. And you can bet that we'll be bookmarking this video of Max and Quackers and be watching it all year long, because it's exactly the kind of thing that we need a little more of in our lives right now.