Cards Against Humanity Buys Plot of Land on Mexican Border
Cards Against Humanity Bought a Chunk of the Border to Deliberately F*ck With Trump
Cards Against Humanity does not mince words. In the promotional material for the humorous card game's holiday promotion, "Cards Against Humanity Saves America," the folks behind the game make their political views abundantly clear. "It's 2017, and the government is being run by a toilet," begins the promotional website, which later declares: "Donald Trump is a preposterous golem who is afraid of Mexicans." It's these views that have led Cards Against Humanity to purchase a chunk of territory along the US-Mexico border in an attempt to, if not foil President Donald Trump's border wall plan entirely, at least become a major pain in his ass.
The game makers debuted a plan to wreak havoc on the current presidential administration through a $15 holiday promotion, which ensures each purchaser six "America-saving" gifts over the course of December.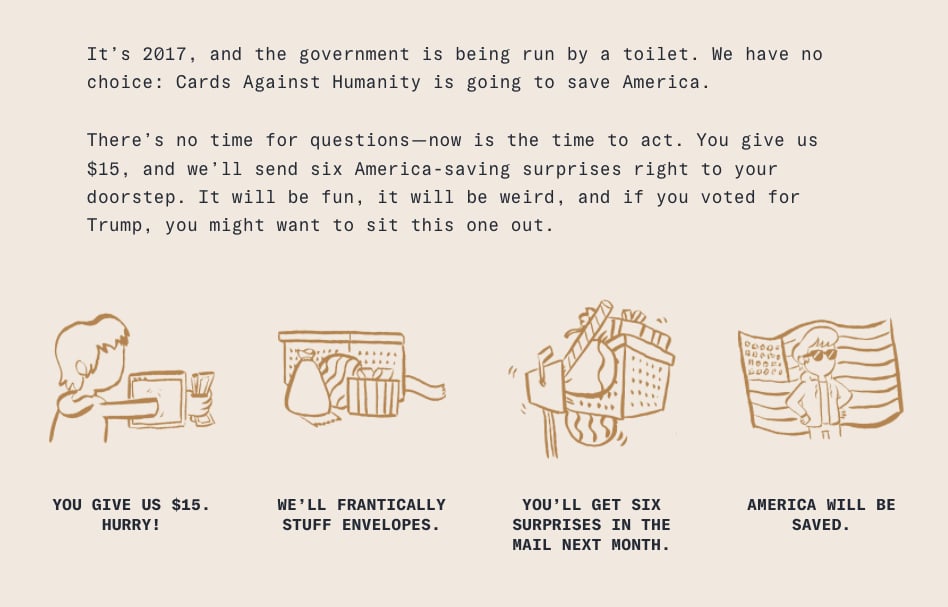 A significant one of these gifts is a portion of the game company's border territory, creating a large pool of landowners with whom the US government will have to deal while attempting to build a wall around the national border. CAH describes the effort as follows:
"Donald Trump is a preposterous golem who is afraid of Mexicans. He is so afraid that he wants to build a twenty-billion dollar wall that everyone knows will accomplish nothing. So we've purchased a plot of vacant land on the border and retained a law firm specializing in eminent domain to make it as time-consuming and expensive as possible for the wall to get built.
On Day 1, all Cards Against Humanity Saves America recipients will get an illustrated map of the land, a certificate of our promise to fight the wall, some new cards, and a few other surprises."
An FAQ section of the CAH Saves America website stays relatively vague about what comes with the promotion, but given its past holiday specials, recipients are sure to get a few laughs from whatever comes in the mail.
For the hell of it (and because I, too, want to save America with minimal cost and effort), I purchased the Cards Against Humanity holiday package for $15. During the purchase process, I was presented with a survey of . . . interesting questions.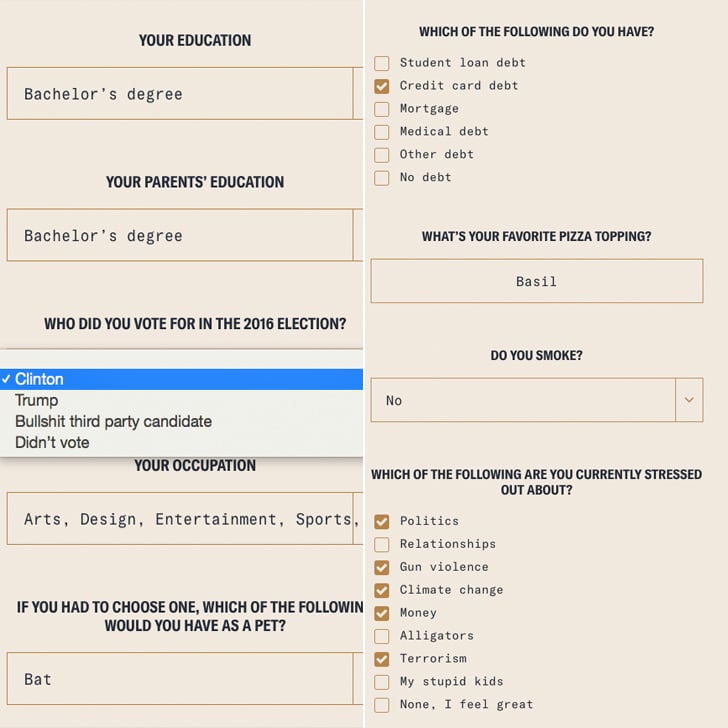 I have the feeling I'm in for a treat; if America is saved in the process, it'll be a major bonus.
If you're interested in buying into the game's holiday promotion, act fast — the slots are filling up quickly! Simply pay $15 on Cards Against Humanity's site and await your six presents.