Cards Against Humanity For Her Fights Sexism
Cards Against Humanity Is Fighting Sexism in the Cheekiest Way Imaginable — and We Love It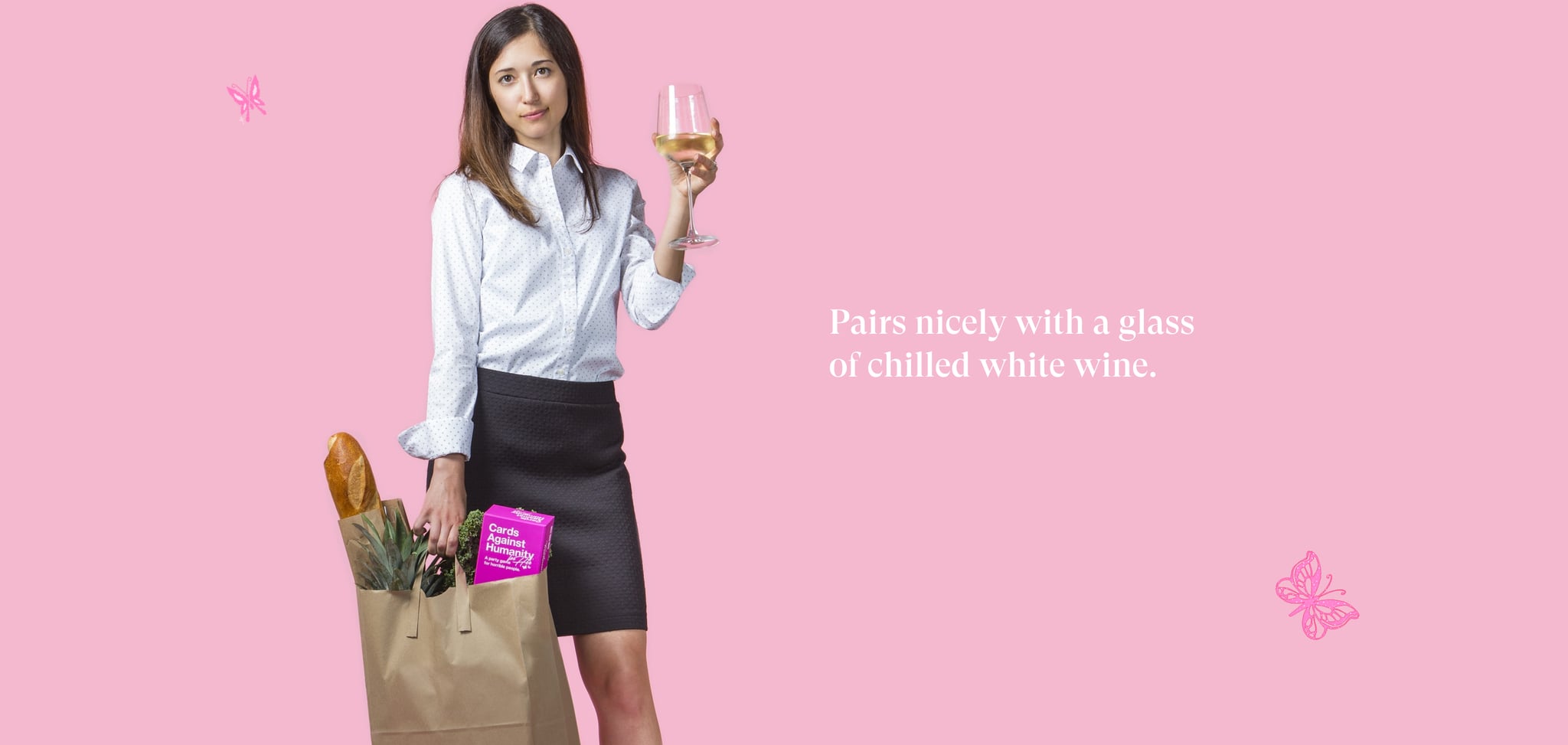 If you were to poll any random group of millennials about their favorite game to play over drinks with friends, chances are that Cards Against Humanity would be one of the top answers. In the last six years, the utterly unapologetic and un-PC card game has become a household staple. And the latest addition to the CAH family takes it to a whole new level.
"We crunched the numbers, and to our surprise, we found that women buy more than 50 percent of games. We decided that hey, it's 2017, it's time for women to have a spot at the table, and nevertheless, she persisted," the game's satirical press release says, adding, "That's why we made Cards Against Humanity for Her. It's trendy, stylish, and easy to understand. And it's pink." There are also expansion packs available for hardcore gamers, and these are customized, too, as "period" and "weed" packs.
The new version of the game is, at heart, a parody of the "pink tax," the premium that's placed on goods that are marketed specifically towards women. As such, the press release goes on to say that the box "contains exactly the same cards as the original game, but it is branded differently." The website for the game pulls out all the stops, chock-full of all sorts of hilarious GIFs, videos, and testimonials that parody other everyday products in a way that only CAH can. "Is this product really necessary?" one question in the FAQs asks, to which the response is: "It's adorable. It's cute. Self-care. Take time for yourself. Chia bowl. Perfect on your coffee table or bookshelf. Watch What Happens Live with Andy Cohen. Brunch. Cheat day. Nasty women. Yaaaaaaaas queen! Good vibes only. Activated charcoal. Gender Reveal Party. Avocado face peels. You're such a Miranda. Paleo."
If all this leads you to wonder whether it's legit of a company to make fun of the way that other companies brand their products in order to sell their own products, you're probably not alone. And that's why the best part of the whole campaign is that the proceeds will go to support real-life women fighting real-life inequality at Emily's List.
Oh, and it's guaranteed to hydrate, lift, and revive. So what are you waiting for? Get yourself over to CardsAgainstHumanityForHer.com now and check it out while it's still in stock.