Chelsea Handler Interview on Gun Control and 2018 Election
Chelsea Handler on the Second Amendment: "The Constitution Needs a F*cking Update, FYI"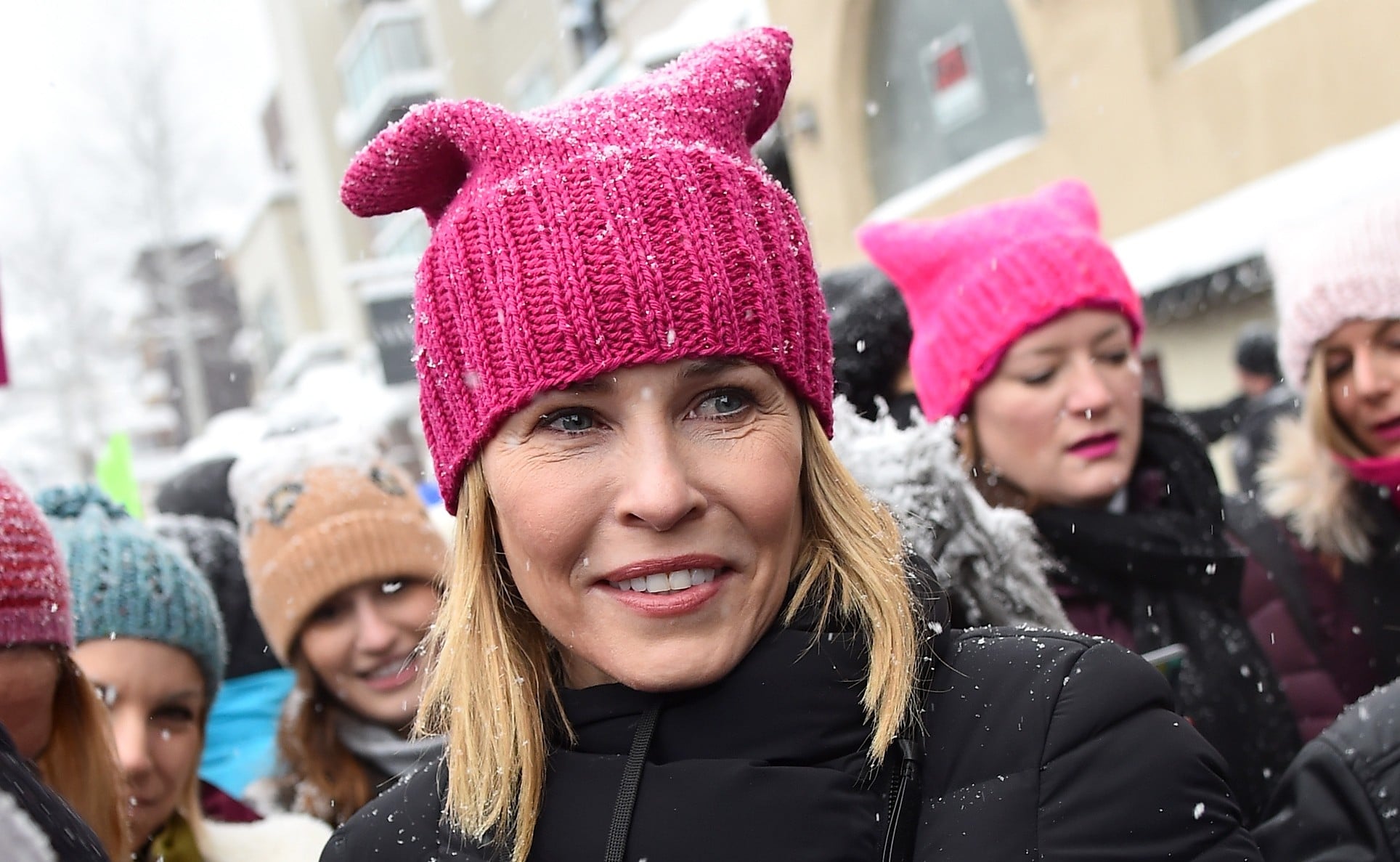 Don't let the self-deprecation fool you: Chelsea Handler knows what she's talking about.
The former late-night comedian — who has a social media following of over 14 million — happily shied away from her days hosting Chelsea Lately when the E! network gig forced her to be on top of the latest celebrity news and gossip. In 2015, she jumped ship to Netflix for a free-wheeling, semi-politically focused talk show, but after its second season wrapped, her focus continued shifting from Hollywood to Washington. Galvanized by the 2016 election, Handler entered the national political conversation full force, partnering with groups like EMILY's List, an organization that works to elect Democratic female candidates to office while using each of her platforms to push for causes she's passionate about.
Handler's fans have responded positively to her style of political analysis; she has much less restraint than just about any other entertainer assessing the news, and she isn't afraid to target anyone and everyone, from the National Rifle Association to the president of the United States.
Republicans platform: child molestors, sexual assaulters, child murder, voter suppression. Good fucking luck in November when we will elect a record number of women to replace all of you.

— Chelsea Handler (@chelseahandler) February 22, 2018
If there's one thing Handler doesn't take lightly, it's this current moment in history. In an interview on Feb. 22, she called on all Americans to join the political debate surrounding gun control, regardless of age, gender, or profession. "This country is going to hell in a handbasket if we don't act now," Handler told POPSUGAR. "This is our moment to stand up, to scream and yell."
(The following conversation has been lightly condensed and edited.)
"Women are going to win so much, we're going to be so sick and tired of winning."
POPSUGAR: How do you think the resistance and other Democratic movements have progressed since the election of Donald Trump?
Chelsea Handler: Well, we just flipped our 37th state legislative pickup since he was elected, so that's some good momentum, to start. A lot of those seats have been filled by women, though most of them were men. I feel like this year is going to be even bigger for us. Women are going to win so much, we're going to be so sick and tired of winning.
I'm feeling pretty optimistic because there's no other way to be — otherwise it's suicidal. Everyone is working really hard, and there are just so many women running, between the Senate and the Congress and state legislatures. 1992 was labeled "Year of the Woman" after Anita Hill's testimony and the election of 47 women in the House. I think we're going to see those record numbers of ladies in leadership again.
PS: Something else you've been very vocal about is strengthening our nation's gun laws. I want to ask you about your thoughts on the recent mass shootings. Are you hopeful at all that we may finally see a real push for gun control in Congress after the school shooting at Marjory Stoneman Douglas?
CH: I'm really sickened by Republicans, especially the state legislature in Florida. They think that porn is a public health risk and a danger to children but guns aren't. They simply aren't willing to listen to the kids talking.
But I think this time is going to be different. This has just happened too many times, and now there are too many children who are using their voices in a powerful way and teaching us how to use our voices. It's a signal for all of us to get behind them. If nothing else, if Republicans are too afraid to lose money from the NRA, at least we know [school shooting] victims are one day going to be old enough to vote them out of office. That is the new price you will have to pay if you're in a leadership position and you think it's OK for children to go to school and have guns there.
PS: What's your reaction to the president's suggestion that adding more guns to schools could be a possible solution to the shootings?
CH: Anyone who would recommend it's more impactful for teachers to have guns is a f*cking moron. The president is a moron. We all know it, that's not a new surprise, but he takes it to a new level every day. By the way, if our teachers in every high school were armed with guns, that would be bigger than the police force for the entire country. That doesn't make any sense.
"This country is going to hell in a handbasket if we don't act now."
PS: It's interesting that you bring up the young people adding their voices to the debate. We've seen survivors like Emma González — a Marjory Stoneman Douglas student, whose speech has captured the nation's attention — starting to speak out more than ever before. Do you have any words for young girls like Emma?
CH: Yes. Emma is incredible. They have to use their voices now, and they have to be tireless.
And we need to support these kids — we all have to attend the "March For Our Lives" protest on March 24. Nobody should think it's OK for children to feel like this. This is the only country that this happens in. You just don't have people walking into schools and shooting people in other countries. There is no reason to have AR-15s. There is no reason to have bump stocks. You don't add more guns to the problem. And you know what? I hope all of these politicians for sale do get elected out of office. I want to get someone in office — a woman — who espouses publicly funded elections and wants to overturn Citizens United so these corporations and rich people like the gun lobby can no longer dictate what politicians are doing.
This country is going to hell in a handbasket if we don't act now. This is our moment to stand up, to scream and yell, because if you don't try now and changes are made to our system that you don't agree with, you'll have to answer to your children about what impact you had and what you did. You can't say you were sitting on your sofa. You can't say, "Oh, I thought it was OK for kids to go to school and get shot, over and over and over again, in the richest country in the world."
PS: Do you find that as a comedian your critics get even louder when you start taking a strong, definitive stance on issues like gun control? Do they get angrier when you're posting about the gun debate more so than, say, when you're promoting EMILY's List?
CH: Of course. People get so mad about guns; you get death threats and all sorts of things. To those people: the Constitution needs a f*cking update, FYI. There's just no reason to have these kinds of firearms. It's one thing to own a handgun; it's another to be underage and go buy a f*cking semiautomatic weapon.
PS: You said during our last conversation, "If Trump is elected, we would have a toddler running the White House . . . it makes no sense that a bunch of adults would elect a toddler." Now that we're over a year into Trump's administration, has the president exceeded your expectations?
CH: (Laughing) Oh, beyond. I had no idea. I don't think anyone was prepared for how bad this would be. It's that bad.
But you know what? That's all the more reason to be motivated and galvanized. Maybe he could have went into office and not been such a prick, not been so tone-deaf and idiotic. Maybe he could have had a little bit more of an idea about government and politics, about policy-making and communication, and maybe it wouldn't have been as bad as it is right now. But if that happened, or if Hillary Clinton was elected, there never would have been the Me Too movement the way it is now. There never would have been the Time's Up movement. Women are so pissed off, and they're sick and tired of being so pissed off.
PS: Is there anything you're looking forward to?
CH: I'm looking forward to there being more women that are running for office and getting to know them and being able to campaign for them. I'm looking forward to doing things, hopefully, that have meaning and a lasting effect on this world. I just feel so passionate right now about my responsibility to respect the people who came before us and fought for our rights — fought for our rights to vote as women, fought for us to have the right to choose what to do with our own bodies. It's our duty as people with the resources and time and money to stand up and do something.
PS: Since you're about to attend a pre-Oscars brunch with EMILY's List, I have to ask your predictions for best picture. Who are you rooting for?
CH: Oh, I don't know what should be best picture. Phantom Thread maybe? Or that Greta Gerwig movie. I don't even pay attention anymore. Who's on the list?
PS: There's Get Out, Three Billboards . . .
CH: Oh, I liked Three Billboards. Frances McDormand should just win an Oscar every time she's in a movie. So should Daniel Day-Lewis.
Wait, Get Out is nominated? God, I'm so out of the loop. It's like all I do is eat, drink, pee, politics. Today my exercise is not turning on the TV.
Image Sources: Getty / Michael Loccisano and Getty / Ethan Miller