Donald Trump Jr. Emails About Russia Meeting on Clinton
How Donald Trump Jr.'s Emails Could Change Everything For the Trump Administration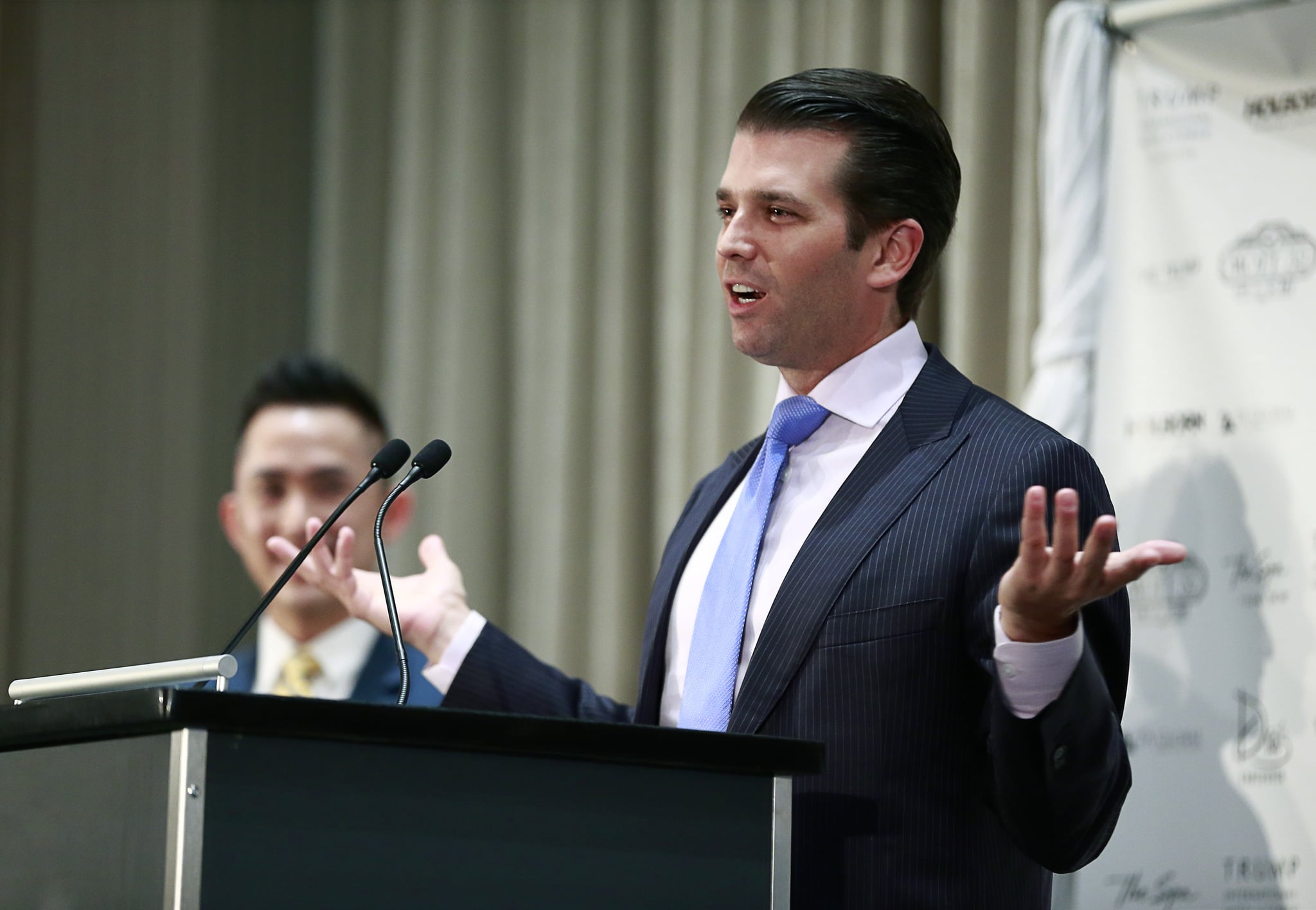 Donald Trump Jr. took to Twitter on Tuesday, July 11, to publicly release emails in which he discussed meeting with a Russian lawyer who was connected to the government and claimed to have incriminating information on Hillary Clinton. The decision to post the emails came immediately after The New York Times contacted Trump Jr. to inform him that they would be publishing a bombshell report on the email exchange between Trump Jr. and one of his father's former business partners, publicist Rob Goldstone.
Here's my statement and the full email chain pic.twitter.com/x050r5n5LQ

— Donald Trump Jr. (@DonaldJTrumpJr) July 11, 2017
Here is page 4 (which did not post due to space constraints). pic.twitter.com/z1Xi4nr2gq

— Donald Trump Jr. (@DonaldJTrumpJr) July 11, 2017
In an email to Trump Jr., Goldstone wrote, "This is obviously very high level and sensitive information but is part of Russia and its government's support for Mr. Trump." Trump Jr.'s response? "If it's what you say I love it." President Donald Trump now faces a fairly damning situation in which a member of the first family has come forward with evidence that can't be blamed on the "fake news media" or on any sort of internal leak, as the action quite clearly came from the president's son himself.
But what does this all mean, how did it happen, and how will things progress for the Trumps? Here's what we know, and we'll update this story as new information becomes available.
The whole thing kicked off when the Times published a story suggesting that Donald Trump Jr. was in direct contact with individuals connected to the Kremlin, which later evolved into a revelation that not only did the contact take place, but it was done over email. The third story, published on July 11, tipped things over the edge — and pushed Trump Jr. to release the emails to the public.
Collusion vs. conspiracy: Despite the furious, repeated denials of any connection between Trump, his associates, and Russia, the emails are the closest we've come thus far to proof of collusion between the campaign team and an outside party during the 2016 election. As many have pointed out, collusion is a political term and isn't technically a punishable crime. But what these emails describe could actually be considered conspiracy, in this case to commit election fraud — and there would be a heavy legal punishment for that indeed.
All eyes are now firmly set on Jared Kushner — the president's son-in-law and a key advisor to Trump — and former Trump campaign manager Paul Manafort. Both men were copied on the emails that were posted by Trump Jr., meaning they entered discussions with Russian individuals during the 2016 election with full awareness that the Kremlin was actively pursuing and offering aid to the campaign — and that puts the whole thing into questionable legal territory. Both men are already under review for failing to disclose their meetings with Russians when they were granted security clearance, but a whole new level of urgency will be applied to Kushner, who is still receiving top-secret information under the pretense that he has not been compromised.
There's also another player in the game. Just before the whole thing went down, the lawyer who met with Trump Jr., Natalia Veselnitskaya, did an interview with NBC News in which she vehemently denied having any information about Hillary Clinton. That's all fine, but what she did go on to describe was Trump Jr. as "desperate," wanting dirt on Clinton and the DNC "so badly." She also confirmed the presence of both Manafort and Kushner at her meeting with the president's son.
And finally, we would be remiss to omit the email aspect. After spending an entire election cycle discussing Hillary Clinton's emails, and a campaign platform that was largely based on jabbing her on it, it's now the Trump camp that's having to deal with fallout from the content of emails. We can absolutely expect Democrats on the Hill to bring this up as much as possible, and we'd be lying if we said that we weren't waiting for Clinton to take to Twitter to point out the hypocrisy in the way only her tweets can.