Donald Trump Quotes on Colin Kaepernick at Sept. 2017 Rally
Colin Kaepernick's Mom Had the Best Response to Trump's "Son of a B*tch" Comment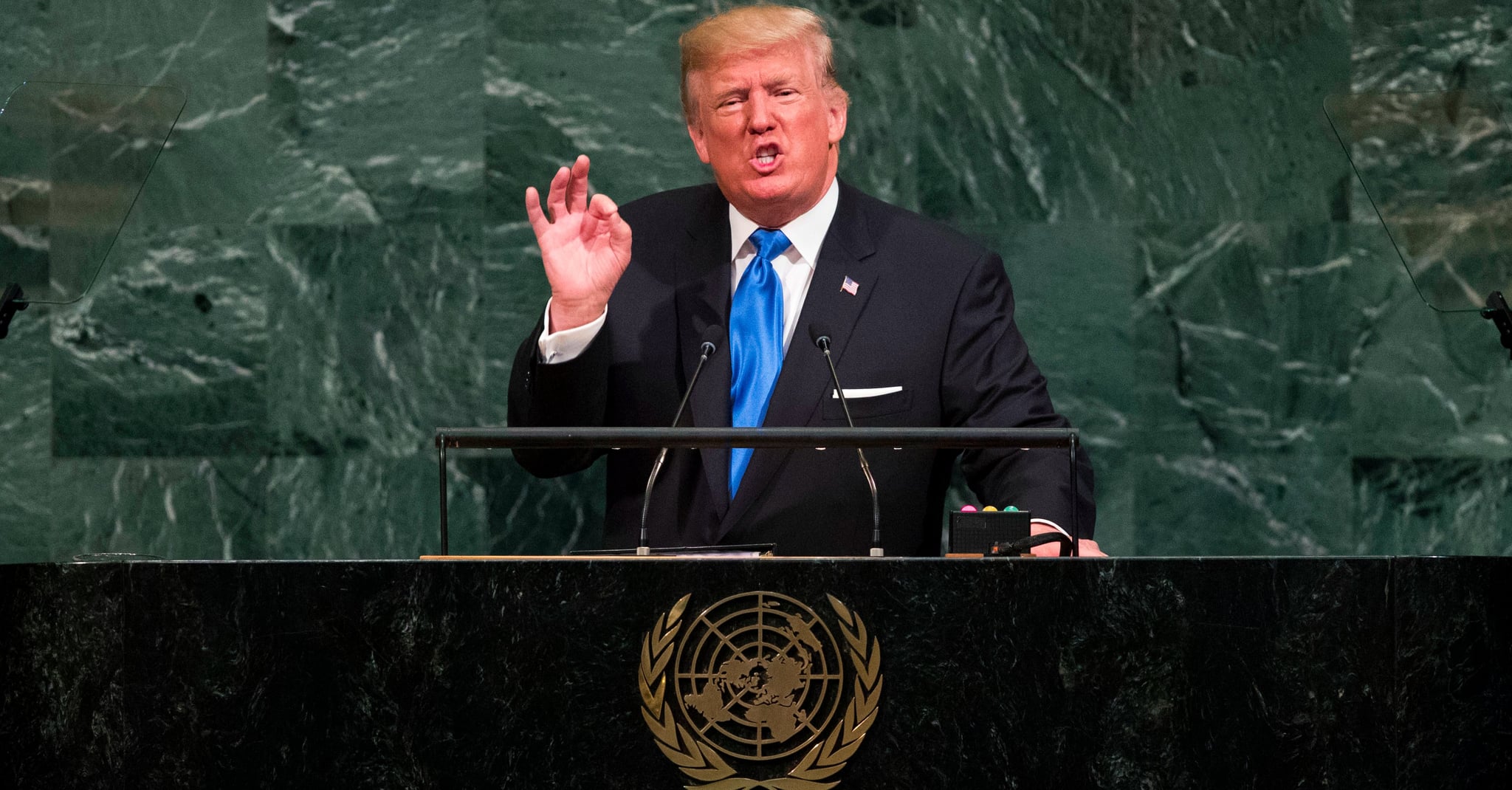 On Friday and Saturday, Donald Trump lashed out at two notable sports stars who have been critical of him: Colin Kaepernick and Stephen Curry. It started on Friday night, Sept. 22, when President Trump called out NFL players like Colin Kaepernick who protest racial injustice and police brutality in America by taking a knee during the national anthem. "Wouldn't you love to see one of these NFL owners — when somebody disrespects our flag — to say, 'Get that son of a b*tch off the field right now. Out. He's fired. He's fired!'" Trump shouted.
... trump taking a veiled shot at colin kaepernick, says owner should say: "get that sonofabitch off the field right now... he's fired!!" pic.twitter.com/ttbOd0VrPG

— fake nick ramsey (@nick_ramsey) September 23, 2017
Trump was speaking at a campaign rally in Huntsville, AL, for Republican Luther Strange, who's running for senator in the state. Trump's comments were quickly met with condemnation not only across social media, but also in a statement from NFL Commissioner Roger Goodell, who called the president's rhetoric "divisive."
"The NFL and our players are at our best when we help create a sense of unity in our country and our culture. There is no better example than the amazing response from our clubs and players to the terrible natural disasters we've experienced over the last month," Goodell wrote. "Divisive comments like these demonstrate an unfortunate lack of respect for the NFL, our great game and all of our players, and a failure to understand the overwhelming force for good our clubs and players represent in our communities."
Twitter users also reacted with a poignant response, using the hashtag #TakeAKnee, but the one person who had the best comeback was Colin Kaepernick's mother, Teresa. After Trump's statement, the proud mom tweeted, "Guess that makes me a proud b*tch!"
Guess that makes me a proud bitch!

— Teresa Kaepernick (@B4IleaveU) September 23, 2017
Her tweet has since racked up over 13,000 retweets and over 45,000 "likes" as of press time. Keep reading to see how others on the internet responded to Trump's NFL rant ahead.
We're not on the plantation anymore Chump. There will be no "buck breaking" out here. Fingers on the hand form a fist. #TakeAKnee 'til free.

— jesse Williams. (@iJesseWilliams) September 23, 2017
Dear @NFL players,

Please #TakeAKnee on Sunday.

We support your FIRST Amendment right to protest.

Sincerely,
America

— Michael Skolnik (@MichaelSkolnik) September 23, 2017
Funny how Trump supporters claim to support the 1st Amendment until it's a black man expressing his freedom #TakeAKnee

— Alt Fed Employee (@Alt_FedEmployee) September 23, 2017
So many hot takes that Kaep doesn't have a job because he isn't good enough from people who elected an unqualified reality star. #TakeAKnee

— Nick Jack Pappas (@Pappiness) September 23, 2017
If you're more upset about Kaepernick's protest than u are about police brutality, you should probably reread the Constitution. #TakeAKnee

— Lauramerica (@LJonasdotter) September 23, 2017
Don't allow racists to reframe #TakeAKnee as being a debate about anthem & flag. It's a protest of police brutality & racism... 🙄

— Bree Newsome (@BreeNewsome) September 23, 2017
Trump appeared to obsess about the topic the following morning by then going after NBA star Steph Curry, who has said he'd decline an invitation to Trump's White House:
Going to the White House is considered a great honor for a championship team.Stephen Curry is hesitating,therefore invitation is withdrawn!

— Donald J. Trump (@realDonaldTrump) September 23, 2017
Among the notable responders to that tweet? LeBron James, who called Trump a "bum" for twisting the truth of the scenario.
U bum @StephenCurry30 already said he ain't going! So therefore ain't no invite. Going to White House was a great honor until you showed up!

— LeBron James (@KingJames) September 23, 2017
As of press time, James's tweet had racked up 111,500 retweets. Trump's had less than half as many.