Donald Trump Speech on Charlottesville
How Donald Trump's Speech on Charlottesville Failed America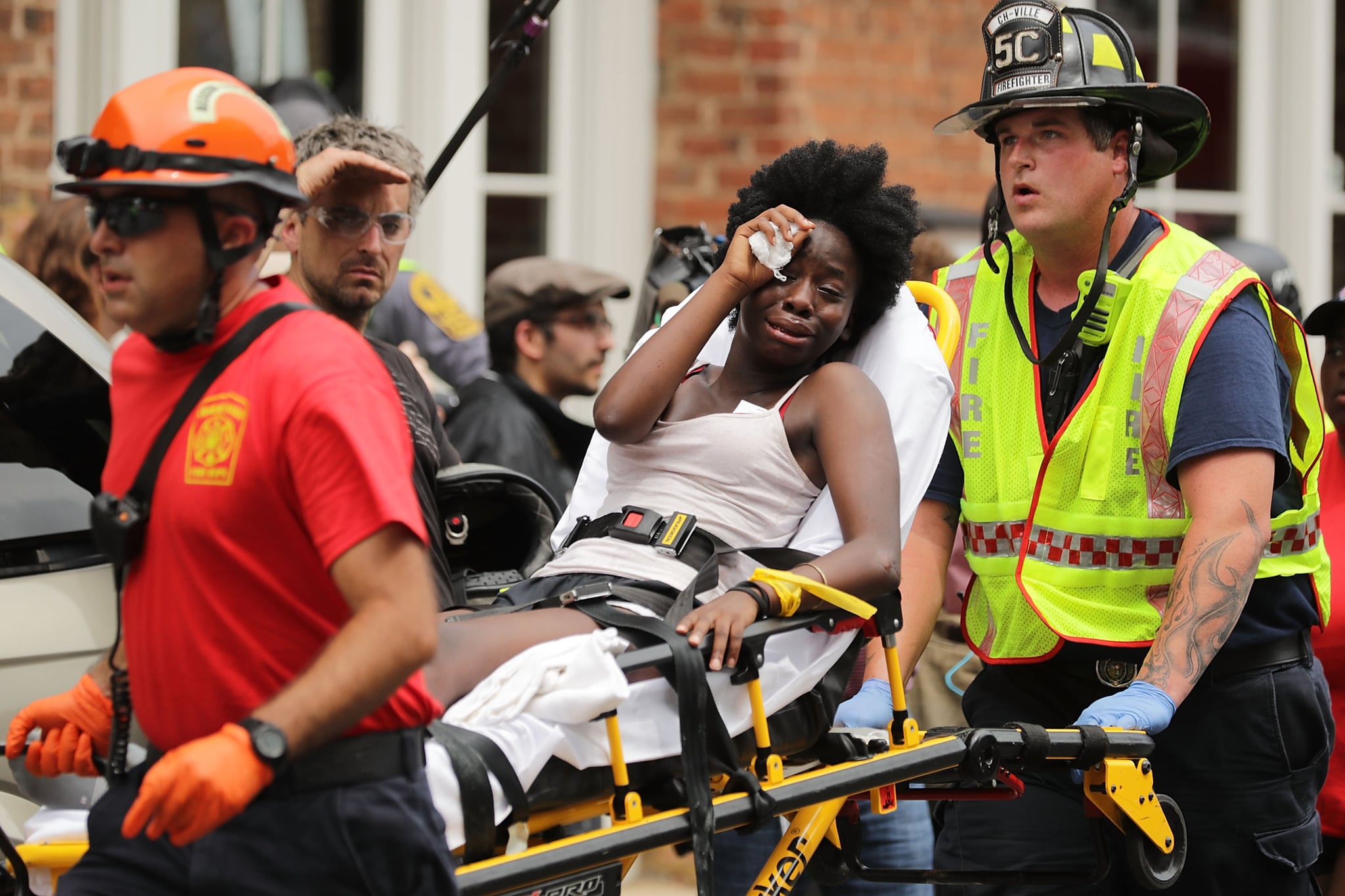 On Friday, Aug. 11, white supremacists and neo-Nazis descended on Charlottesville, VA, marching in the night with tiki torches and chanting phrases like "white lives matter" and the Nazi slogan "blood and soil." The homegrown terrorist demonstration sparked a weekend of hate and fear in the city and across the nation, leaving three dead and 35 injured so far. But it wouldn't be until late the next morning that Donald Trump — who is on a "working vacation" at his Bedminster, NJ, golf club — would tweet about the event, and several hours more before he faced the country in a speech.
In Trump's address, the president of the United States had an opportunity to explicitly and forcefully condemn neo-Nazis and white supremacy, but he did not take it. Instead, he spoke vaguely against hate and bigotry, and perhaps most shockingly, suggested that there were "many sides" responsible for the violence and hatred boiling over in the city.
"We condemn in the strongest possible terms this egregious display of hatred, bigotry, and violence on many sides — on many sides," Trump said in part of the speech, before dodging responsibility for his own contribution to empowering racism in America. "It's been going on for a long time in our country, not Donald Trump, not Barack Obama, it's been going on for a long, long time."
Trump also ignored reporters who asked him to denounce white nationalists or respond as to whether he considered the events in Charlottesville terrorism after delivering his message. It did not take long for prominent political figures on both sides of the aisle to condemn his decision not to use the words "neo-Nazi" or "white supremacy" or even "white nationalism" in his speech.
This is not "many sides". It's White Supremacist Terrorism. The President of the United States does not have the spine to say so. Shameful. https://t.co/AgGohzr5Pr

— Ana Navarro-Cárdenas (@ananavarro) August 12, 2017
The violence, chaos, and apparent loss of life in Charlottesville is not the fault of "many sides." It is racists and white supremacists.

— Mark Herring (@MarkHerringVA) August 12, 2017
Very important for the nation to hear @potus describe events in #Charlottesville for what they are, a terror attack by #whitesupremacists

— Marco Rubio (@marcorubio) August 12, 2017
The president has been more directly critical of TV hosts, cable news, actresses, comedy shows, & the intelligence community than of nazis.

— Olivia Nuzzi (@Olivianuzzi) August 12, 2017
It is neither unfair nor inaccurate to point out that the president has been tougher on Mitch McConnell than Putin or Nazis in last 24 hours

— Glenn Thrush (@GlennThrush) August 12, 2017
Donald Trump mocked Barack Obama for not calling Islamic Terrorism by its name.

Now HE must call White Supremacy Terrorism by its name.

— Joe Scarborough (@JoeNBC) August 12, 2017
The truth is that Americans deserved to hear Donald Trump single out white supremacists and neo-Nazis by their name today. His silence spoke volumes.