Dr. Laura Esserman's Wisdom Breast Cancer Screening Study
This Doctor Is on a Mission to Revolutionize Breast Cancer Screening as We Know It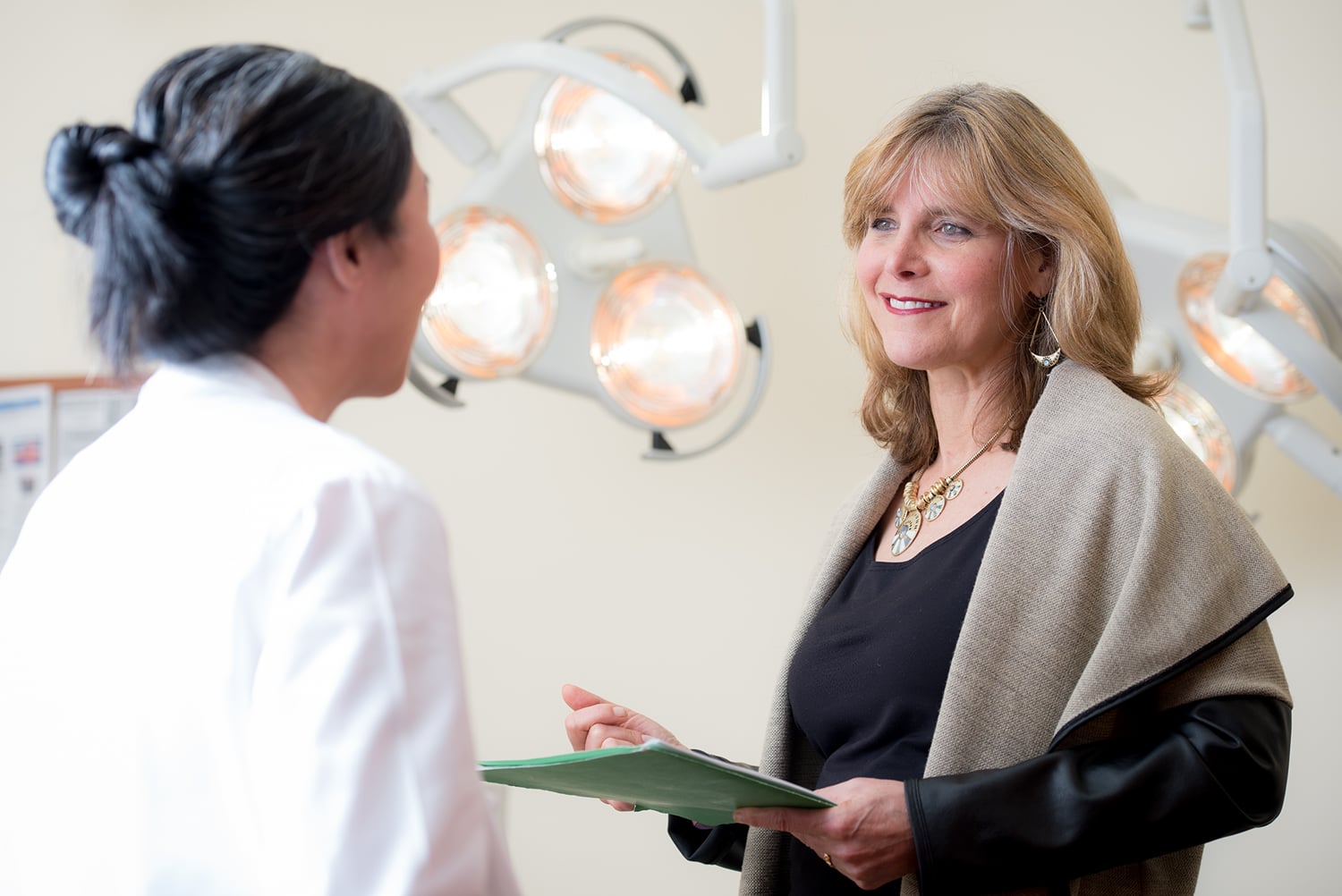 Dr. Laura Esserman has never been afraid to be unconventional. The Harvard and Stanford grad has devoted her medical career to researching breast cancer, and her longstanding, vocal position that the medical establishment should be taking a more measured and individualized approach to both breast cancer screening and treatment has been framed as "controversial," challenging to the "status quo," and even "iconoclastic."
But in recent years, as more data and updated recommendations suggest that medicine and research is ready to confront and challenge decades-long opinions about how best to confront this cancer, it seems Esserman may have simply been ahead of her time. Does she sense a sea change? "Well, the tide is starting to turn," a cautiously optimistic Dr. Esserman told POPSUGAR in between meetings at University of California at San Francisco, where she is Director of the Carol Frank Buck Breast Care Center. "I wouldn't say it turned." But if it hasn't yet turned, it seems Esserman's newest effort, the WISDOM study, could turn it.
"There Are Downsides to Doing Too Much"
On the surface, you might wonder what could be problematic about frequent, standardized breast cancer screening for all women with a certain age range. But Esserman and her team are quick to point out several drawbacks, with potential costs that are financial, psychological, and physical. "There are downsides to doing too much, and there are downsides to overscreening and overtreating," says Allison Stover Fiscalini, director of the Athena Breast Health Network, which is overseeing the WISDOM effort.
This is why Esserman may opt not to surgically intervene in cases when other doctors might. "If you need a biopsy and you need a workup, great. But if you don't, that is a hugely stressful thing to go through," she says. "When 75 percent of the biopsies are benign and 90 percent of the recalls aren't for anything, that's a lot of trauma that we don't need."
In an era when healthcare costs and insurance coverage are dominating the political and social conversation, there's also money to keep in mind. "I think the insurance industry should come to the table to help us," Esserman says, noting that shifting money to focus testing on high-risk populations is in everyone's best interest.
Esserman's cautious approach now seems to be echoed across a growing chorus of studies and recommendations urging a rethinking of the way we've been told to view breast cancer testing and treatment. One parallel development of note: guidelines for cervical cancer screening changed in 2012; now, it's recommended that women 21-70 get Pap smears every three years instead of once every year. And in 2017, The American Cancer Association suggested that self breast exams are unnecessary, as they are unlikely to help women detect signs of cancer — a move that took me, a millennial woman, by surprise, considering how frequently, and for how many years, my generation was told we must do them.
"Business as Usual Is Not Going to Cut It"
These are just some of the reasons Esserman's WISDOM undertaking could help revolutionize breast cancer screening and treatment as we know it: by tailoring both to individual women's needs and risk levels. Doing so could lead to stemming potentially invasive treatments and arm a new era of women with a greater knowledge of their own risk. The WISDOM study, which began recruiting last year, is seeking to bring on more than 100,000 women to better understand the best approach for breast cancer screening and guidelines — and hopefully to lead to a model that would allow for individual recommendations as to how often they should be screened. While there have been smaller studies that have tried to achieve similar goals, this is the first randomized, prospective study — versus a retrospective study — to look at breast cancer screening. That's not to mention its scale; the study is seeking to recruit 100,00 women within the next year. The study is open to women ages 40-74 who live in California and haven't had a personal history with breast cancer.
Part of Esserman's goal is to find better ways to treat women for whom breast cancer is a major threat. Notably, people at the highest risk for early death from breast cancer, Esserman says, do not have screen-detected cancers. "Business as usual is not going to cut it," she says. "We've been screening for three decades, and we haven't dropped these aggressive cancer rates sufficiently to say, 'Oh, no problem. We're screening, so let's all go home and feel good.' No. We have to make it better."
Ideally, the study could help produce a kind of personal blueprint that would help doctors determine the perfect screening regimen for individual women, based on a number of criteria, like her age, family history, and genetics.
"We will really move on when we identify the types of cancers that people get on this trial, and start figuring out, 'Okay if you are an ultralow risk, you don't need to be screened as frequently.' How great is that? If that's really true, that's a major breakthrough," Esserman says. "That means less [intervention] for people who don't need it, but then more for people who do need it."
Esserman's colleague, Stover Fiscalini, similarly says that identifying women who could benefit from increased intervention is just as much a goal of the study as alleviating unnecessary intervention for women for whom it's not required. Chemoprevention medication can help reduce the risk of breast cancer for women who are at high risk, but currently, there's a low uptake of these medications. The study could help better identify these women and give them the information they need to help convince them to take the medication.
"It Took Away This Heaviness and This Fear"
WISDOM uses a validated risk model in conjunction with genetic information. Women can either opt to be randomly placed in or make the choice between the annual study arm or personalized study arm. Women in the personalized arm of WISDOM share more information — and receive more in return. Among that study group, the team tests for nine breast cancer genes that are well-known, alongside smaller DNA changes, called SNPs. Those SNPs — or single-nucleotide polymorphisms, for you science buffs — help identify more particular genetic risks. Some of these markers are unique to women of different racial and ethnic backgrounds, Stover Fiscalini says, and the valuable information that SNPs can provide about risk factors is currently not being used in clinical practice, making this study all the more potentially revelatory.
Bethany Hornthal, 60, lives and works in San Francisco, CA. She got to know Dr. Esserman when she began helping her identify funding for the study in her role as a business development and marketing consultant. Now, she's a participant in the WISDOM study herself.
"Both of my grandmothers had breast cancer; one died of breast cancer," she tells POPSUGAR. "I had my first mammogram at 14 because I had dense, fibrous breasts."
Hornthal said her participation in the study was incredibly simple. Participants in both studies fill out an intake questionnaire and either undergo a mammogram — or just provide the results of their most recent mammogram. Women in the personalized study also submit a saliva sample, which identifies SNPs. Hornthal, who opted into the personalized study, says she was floored by what she learned.
"I have lived 46 years just assuming I am at the highest risk for breast cancer. I had this dark cloud hanging over me, just waiting for it to hit." Instead, she discovered her risk is "very, very minimal," and credits WISDOM with giving her the opportunity to not just learn this information, but to share it with her daughter. All participants in the personalized study are given a personal recommendation for their future screenings and a letter that shares their genetic results, telling them whether they have one of the nine SNP genetic mutations the study screens for. Based on the results of the study and her age, Hornthal plans to get a mammogram once every two years.
"It took away this heaviness and this fear that was potentially unnecessary," says Hornthal, who is now encouraging other women she knows to sign up for the study, which is slated to run for five years. "There's no reason not to do this."
If you're interested in supporting UCSF's breast cancer program and research, you can donate to Give Breast Cancer the Boot via this link. The event — founded by UCSF volunteers, patients, and breast cancer survivors in 2008 — has raised more than $2.5 million to date. You can also learn more about Dr. Esserman's work — and find out if you're eligible for the WISDOM study — here.
Image Source: Photo courtesy UCSF