Exclusive OkCupid Data on Politics, Sex, Dating, and Trump
Exclusive: How OkCupid Users Really Feel About Politics, Sex, and Donald Trump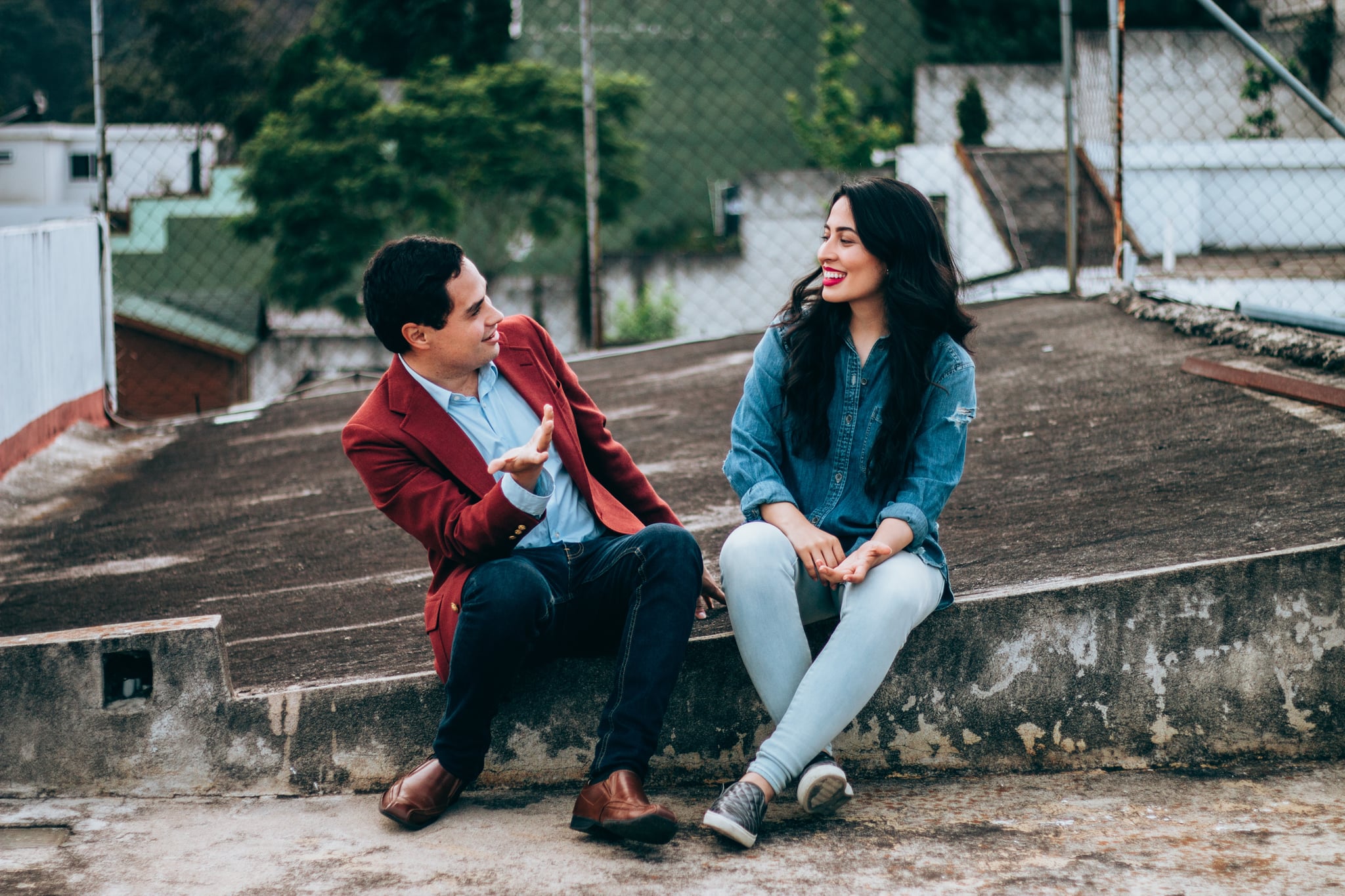 Way, way back in the good ol' days before the 2016 election, it wasn't totally impossible that you'd make it to the second or third date before hashing out your political divides (or discovering common ground). In fact, many people made a concerted effort to completely avoid that conversation during their first meeting, for fear that it might make the whole night go sour in a few ill-advised seconds. Naturally, the era of Trump has turned that whole paradigm on its head (and then some). Once a mainly nonpartisan arena, dating culture is now steeped in politics. And thanks to OkCupid's crack team of data scientists, we've finally been given a bit of insight into how this new reality is playing out behind the scenes.
In a statistic exclusively provided to POPSUGAR, OkCupid revealed that more than 600,000 people have used the platform's Trump Filter — a question that just reads "Trump?" with optional responses of "Hell Yes," "Yes," "Hell No," and "No" — as of Jan. 12. Furthermore, an astounding 90 percent of users opted for "Hell No" (74 percent) and "No" (16 percent), while only seven percent opted for "Yes," and a measly three percent displayed their MAGA pride with "Hell Yes."
While the places that did the most "Trump Filtering" were New York, Chicago, LA, Portland, and Seattle, it's worth noting that the trend of upfront political reveals extends well beyond the coastal cities — and beyond Trump, as well. According to previously released statistics, the users who discuss their politics in their profile are 52 percent more likely to get matches, and 30 percent more likely to get a message out of the exchange. As a result, OkCupid says that the percentage of new users mentioning political buzzwords in their profiles has skyrocketed more than 1,000 percent since 2015. It should come as no surprise that thanks to these telling statistics, the platform is in the midst of an ad campaign that "redefines DTF" by replacing the "f*ck*" with things like "Filter Out the Far Right" and "Fight About the President."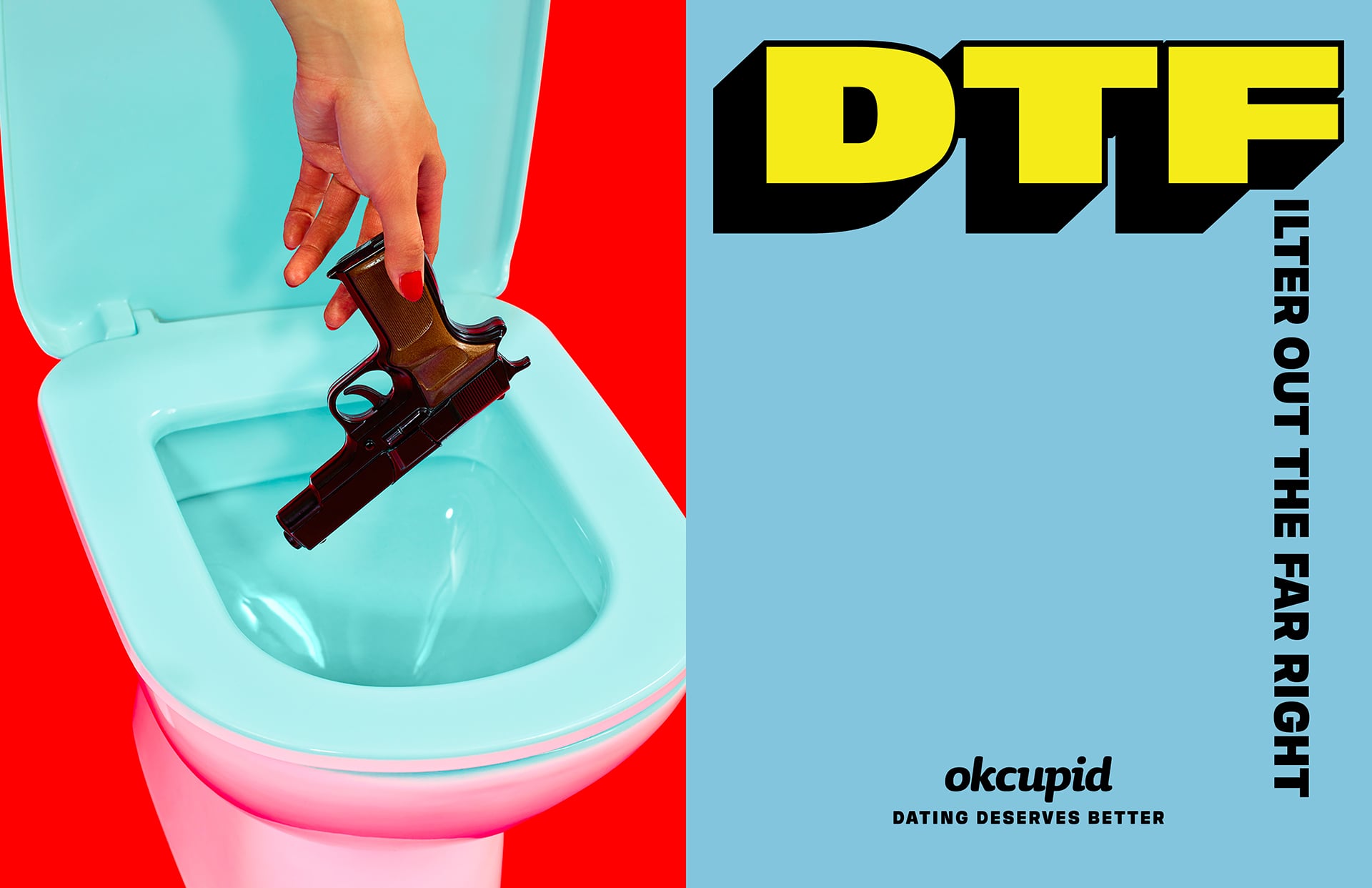 It's too soon to say whether or not this trend will be a lasting one for the dating universe, but you can sure as hell bet that there's no sea change coming between now and 2020. It's also worth noting that OkCupid says that of the four million users who answered a question regarding whether they'd rather have the same politics or good sex, a whopping 15 percent more millennials (over boomers and gen x-ers) chose "same politics." Yep, you read that correctly.
Below, you'll find a couple more eye-opening statistics from OkCupid's data team, all centered around how the platform's users are answering questions on the hot-button issues the news tackles each and every day. But once you've had time to let this all settle in, if you're single and looking to mingle, it might be time to consider opening your next date-related conversation with something political. Because hey, it certainly can't hurt.
Do you enjoy discussing politics?
"No" — 55 percent.
"Yes" — 45 percent.
Should the US build a wall between the US and Mexico?
"No" — 88 percent.
"Yes" — 12 percent.
Do you think the left wing is guilty of perpetrating "Fake News"?
"No" — 60 percent.
"Yes" — 40 percent.
Do you believe Russia hacked the US election?
"No" — 15 percent.
"Not Sure" — 45 percent.
"Yes" — 40 percent.
Would an immigration ban that targets Muslims make the country safer?
"No" — 93 percent.
"Yes" — 7 percent.
Does Trump's relationship with Russia concern you?
"No" — 16 percent.
"I Don't Care" — 27 percent.
"Yes" — 55 percent.