Facebook Stories Added to Messenger, Events, Groups, Pages
It's Now a Whole Lot Easier to Use Stories For Everything You Do on Facebook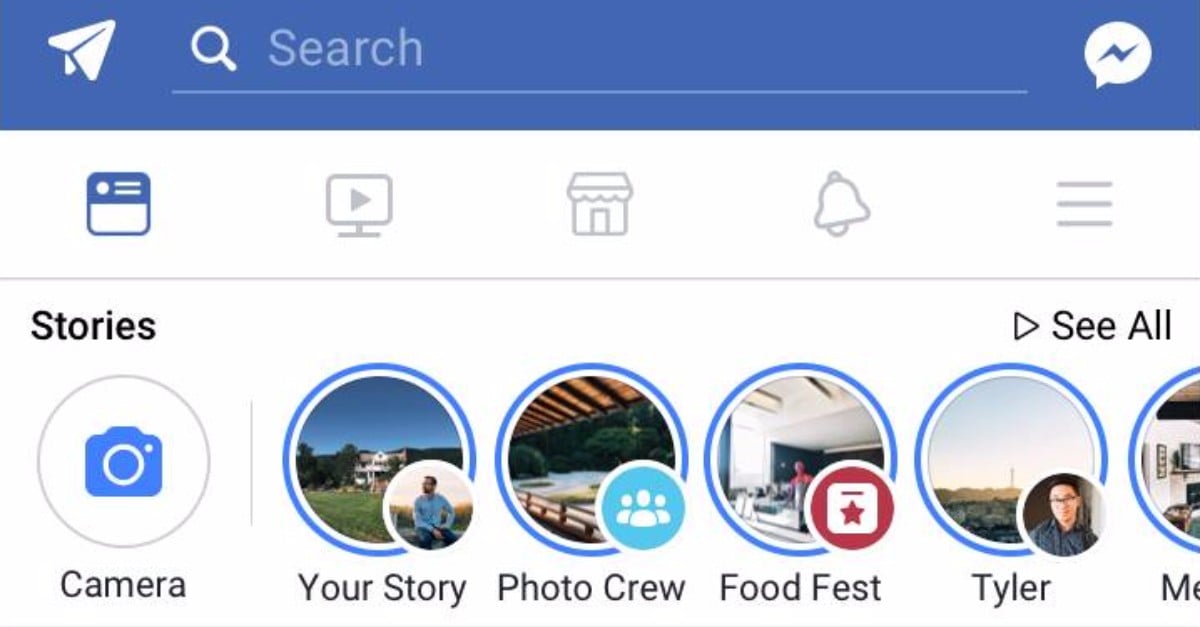 The Stories feature on Facebook just became a whole lot less complicated — and a whole lot more useful. Gone are the days of tediously reuploading your Story on each and every platform and app on your phone; you can now choose to upload your Story to both Facebook and Messenger at the very same time, or have your Instagram story instantly appear across all your feeds. Stories are now one experience across every Facebook-related product — and as a result, you can also say hello to some very helpful new features, namely the fact that Stories can now live in Events, Groups, and Pages and not just on your own personal profile — opening up a whole new world of possibilities.
In order to get a better sense of these changes, I spoke with Facebook Project Manager Connor Hayes and Messenger Project Manager Paulina Bozek, who walked me through what we can all expect when the new experience rolls out on Nov. 13.
"People just want an easier way to share across Facebook and Messenger, so that's why starting Monday, we're going to be connecting these two experiences. You'll be able to post a Story to either Messenger or Facebook and your Facebook friends and the people you chat with on Messenger will be able to see that Story. So it's going to be a connected experience," Bozek told me from the Messenger side, explaining that for those users who are overseas or away from home, Stories can be one of the main modes of communication with friends and family.
Instead of having to walk each and every person in your life through the same Story, you can blast it out to everyone who needs to know — and start the personal, one-to-one conversation after they've heard the news you're looking to share. By combining Messenger Day — the Story-sharing function of Messenger — with the old Facebook Stories feature to create a new feature, Stories, users will be able to respond directly to your story within the Messenger app.
But it's not like everyone on every list is going to see every piece of personal news you share on Facebook. Per the platform, "You control who you share your Stories with. All you have to do is select from one of these audience settings on either Facebook or Messenger, and any changes you make from your existing audience settings will update across the other." In other words: don't worry, your privacy will still be 100 percent at your discretion.
Hayes, who works on the Facebook side, reiterated that the changes were born out of user feedback and requests. "We've learned a lot since we launched Stories on Facebook in March," he said. "At the time that we launched, we knew a lot about the format itself — but what we didn't know was how people were going to use and accept it on Facebook and what was going to be valuable for them on the platform."
"People who use Facebook every day want Stories to be a format that works for them with the things that they're already doing and sharing on Facebook," Hayes continued. "For a lot of people, the most meaningful things that they do on Facebook on a daily basis are [centered] around a group they're in or an event they're attending or maybe even a page that they manage or follow. We're moving Stories to closer align to those connections that people have."
So what does this mean for us? Well, put quite simply: Stories are now a tool that can be used to share personal experiences with groups, events, or pages — and they allow friends, family, or individuals with similar interests to collaborate on a communal snapshot of what an event or day in the life looked like not just to one person but to many.
"Anyone who is a part of a Facebook group will be able to come together with multiple creators on one Story to tell the Story of what's going on with the group on a daily basis," Hayes told me. "If you are attending a party or going to a big concert with a lot of people, you want to see that event from multiple angles. Anyone who is interested in or attending that event will be able to contribute to the Story of what's going on with that event in real time."
Events like weddings or parties are also obviously a big win for Stories, as it allows people who aren't friends on Facebook or wouldn't normally have shared their photos and video with others to share with a select group of people who were involved in some way with the event — it's the natural evolution of the Instagram event hashtag, but without the complication of having to figure out exactly how that oh-so-witty pun is spelled.
What we can take away from all these changes, ultimately, is that Stories is being positioned as an integral part of the way that Facebook works. As a result, as the changes will roll out across the different parts of Facebook over the months, you can bet that Facebook will be keeping an ear to the ground for feedback on how to make the experience better — and I, for one, can't wait to see what it comes up with next.