Female Astronauts in History
The Fascinating, Little-Known Story of America's Women Astronauts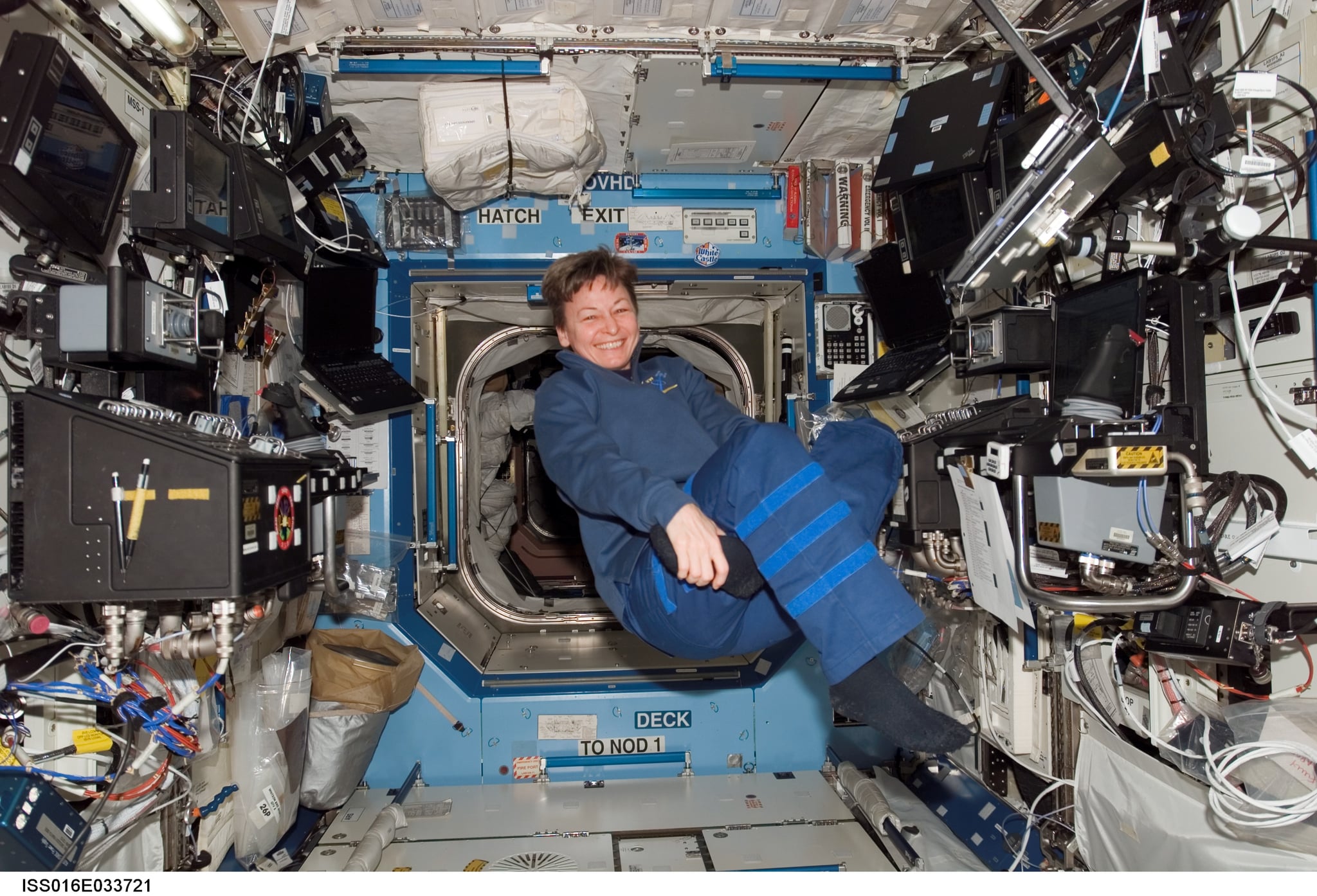 NASA astronaut Peggy Whitson floats in the Destiny laboratory of the International Space Station.
Image Source: Flickr user NASA Johnson
At this very moment, astronaut Peggy Whitson is living in outer space. Earlier this year, the biochemist grew and harvested cabbage aboard the International Space Station. Whitson, who sold chickens to pay for her private pilot's license, has now made her way beyond Earth's atmosphere three times and is the oldest woman to have done such a thing. Forty years ago, when Whitson was still a teenager, no American woman had yet been to space.
Right around this time of year in 1977, NASA was getting the word out: Astronauts Needed! Specifically, NASA wanted to expand the astronaut corps beyond its traditional cadre of white, male test pilots to include women and minorities. At the time, only one woman — the Soviet cosmonaut Valentina Tereshkova — had ever been to space, and it had been almost 14 years.
Sally Ride was finishing up her degree in astrophysics at Stanford University. According to Ride's biographer Lynn Sherr, the graduate student saw information about NASA's call in the campus newspaper. Ride read the requirements for mission specialist and figured she qualified. She submitted her application by the end of January 1977. By the deadline in June, 8,079 people had applied for the promise of space travel. This group of astronauts would be the first since the Apollo program and would fly the space shuttle, which, at the time, was not yet a space-worthy craft.
In January 1978, when current astronaut Whitson was finishing high school in Iowa, NASA announced its new astronaut group. Of the 35 selected, six were women: Sally Ride, Judith Resnik, Kathryn Sullivan, Anna Fisher, Rhea Seddon, and Shannon Lucid.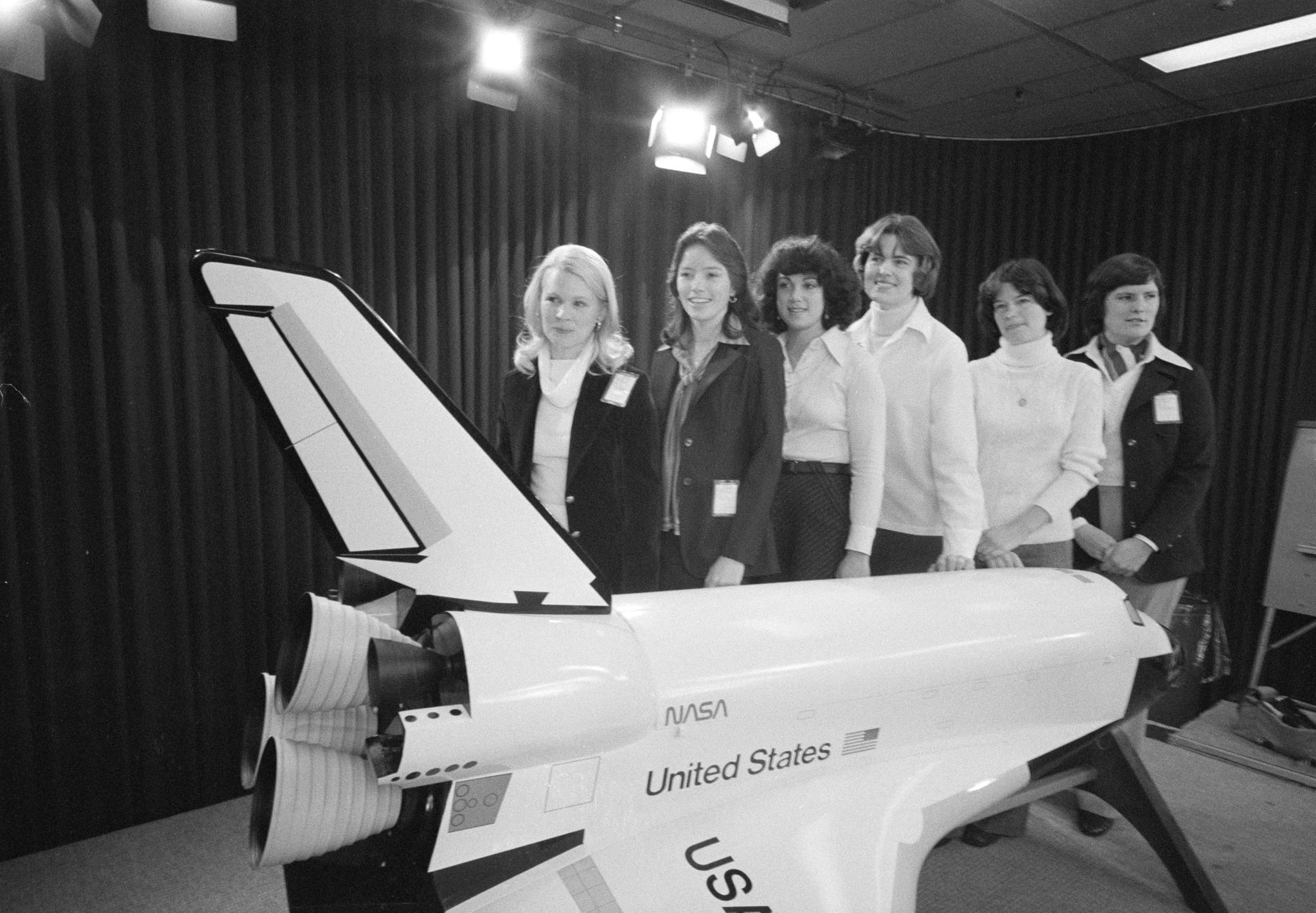 Pictured left to right, Rhea Seddon, Anna Fisher, Judith Resnik, Shannon Lucid, Sally Ride, and Kathryn Sullivan
Image Source: Flickr user NASA Johnson
At a time when the press wondered what makeup she'd take and engineers wondered how many tampons she'd need, Ride became the first space-faring American woman on June 18, 1983. Aboard the space shuttle Challenger, Ride operated the robotic arm as she helped to deploy and retrieve satellites. She flew again aboard Challenger the following year. She remains the youngest American to have traveled to space, at 32 years old.
Even before the shuttle's first flight, Judith Resnik was chided by Tom Brokaw during an interview on Today. He asked Resnik whether her career as an astronaut intimidated men and interfered with her dating life, and he wondered whether NASA was addressing the possibility of romantic relationships in space. A seemingly dumbfounded but patient Resnik explained that the women in the astronaut class were treated the same as the men, that they all treated each other as professionals, and that the only major accommodation NASA made was adding the extra-small size to the line of pressurized spacesuits. While Brokaw's questions for the electrical engineer are off the mark, especially with the launch pad over his shoulder, three of the six women in the class of 1978 did marry fellow astronauts.
Resnik's first spaceflight, in 1984, was only the second by an American woman and also space shuttle Discovery's first foray toward the stars. One month after Resnik landed, oceanographer Kathryn Sullivan became the third American woman in space in October 1984 and the first to make a spacewalk. Ride was also part of that crew aboard Challenger, making it the first space voyage that included two women.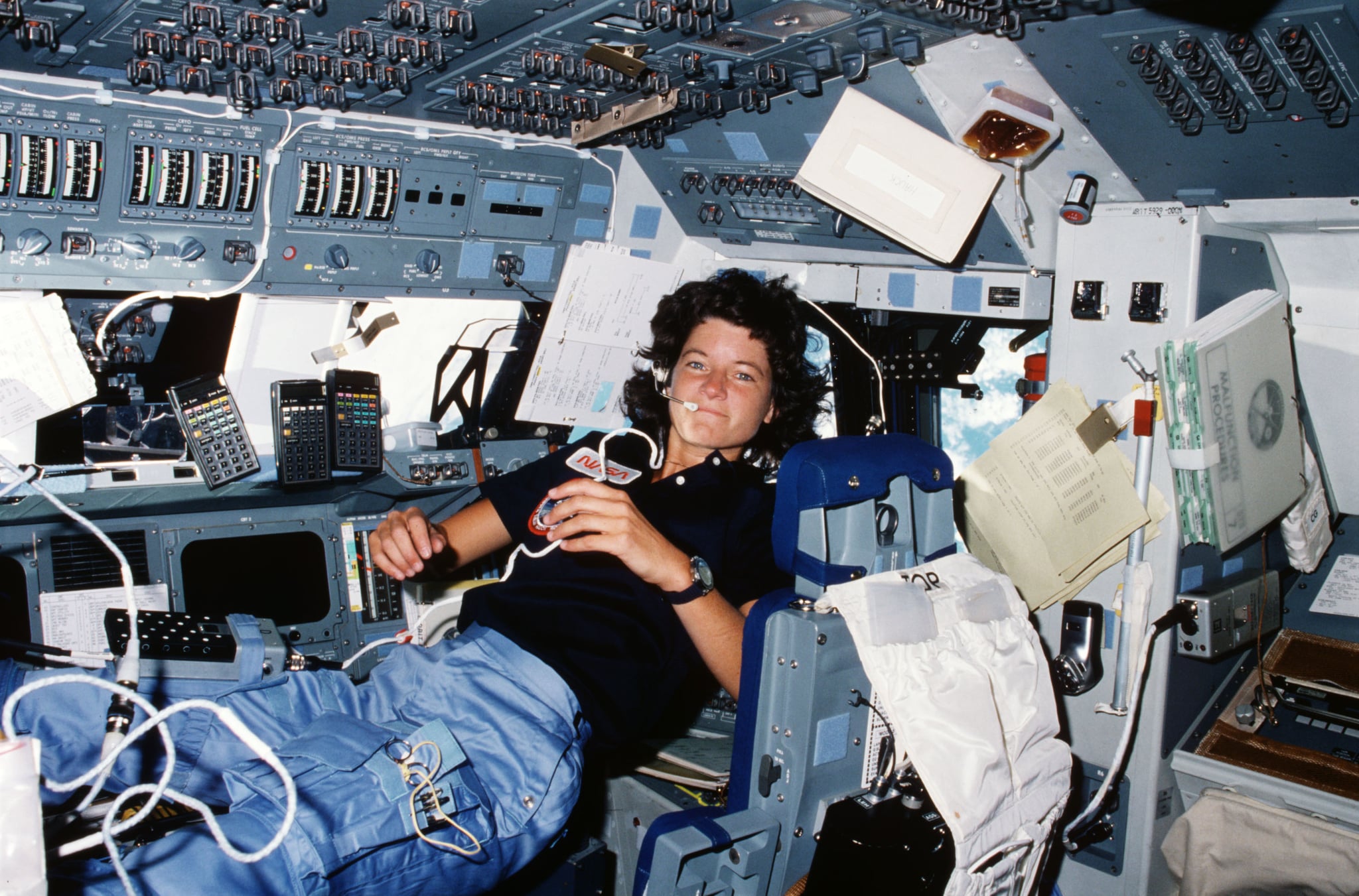 Sally Ride shown here floating in the Challenger flight deck.
Image Source: Flickr user NASA's Marshall Space Flight Center
Resnik's second mission included two women as well but ended in tragedy. She and schoolteacher Christa McAuliffe were aboard Challenger on a cold Florida morning in January 1986. Seventy-three seconds after liftoff, the space shuttle broke apart, and the crew perished. McAuliffe never made it to space.
Ride served on the commission that investigated the Challenger accident. In fact, she is the person who passed along a leaked report that got that commission looking closely at the shuttle booster's O-rings as the underlying mechanical cause of the catastrophe. Ride served again on the board that investigated the Columbia accident in 2003, after that shuttle broke apart over the Southwestern United States on its way to land in Florida. The day after that accident, she gave a speech to young girls at a science festival and, according to Sherr, turned "the preteen grief session into a rallying cry" for overcoming fear in the face of risk.
Though she died of pancreatic cancer in 2012, Ride's rallying cry lives on in Sally Ride Science, an organization at the University of California San Diego that promotes STEM — science, technology, engineering, math — education and publishes the Cool Careers in STEM book series. Tam O'Shaughnessy, Ride's partner of 27 years, heads up the project.
Aside from Ride and Resnick, the other four female astronauts in the class of 1978 continue to lead their now earthbound lives.
Sullivan was part of the mission in 1990 that deployed the Hubble Space Telescope, an instrument that has allowed us to see far into the universe. After she flew her last mission in 1992, Sullivan headed up the Center of Science and Industry (COSI) in Columbus, OH. More recently, she served as the National Oceanographic and Atmospheric Administration Administrator. Currently, she is on a 12-month fellowship at the National Air and Space Museum doing research for a book about the philosophy and practice of satellite servicing, a subject that she also knows well firsthand.
Anna Fisher took a break from space but is looking skyward again. In 1984, on her only spaceflight, Fisher became the first mother in space, leaving her 15-month-old daughter on this planet. Fisher, who had been an emergency-room physician, was assigned to that mission when pregnant and showed up for training three days after giving birth. She and the rest of the crew aboard Discovery deployed and released satellites, a common task for the space shuttle. After the Challenger accident put shuttle flights on hold in 1986 and after giving birth to another daughter, Fisher took a seven-year leave of absence from NASA to raise her family. She returned in 1996 and is now working on the Orion spacecraft designed for the trip to Mars. According to a recent interview, Fisher is convinced humans will get there. Though she admits, "It's just going take a while," she suggests that becoming a physician or a geologist is the way to prepare if you want to be selected in that future astronaut group.
When she was selected by NASA in 1978, Rhea Seddon, who stood 5' 2", was the smallest person to become an astronaut and struggled with ladders and spacesuits designed for more traditionally sized pilot types. When we met Seddon in 2010, she said that Columbia was her favorite orbiter because she saw its first and last launches and rode aboard that shuttle twice herself. Seddon's first mission, however, was aboard Discovery in April 1985, when she helped deploy satellites and showed students on Earth how simple children's toys worked in space. Before she got to space, she fell in love and married another member of that 1978 astronaut group, Hoot Gibson. They never flew to space together, but they've shared their lives here on Earth ever since.
In 1991, Seddon flew the first mission dedicated to biology and used her medical degree to study how the systems of the human body — using the bodies of her fellow crew members as test subjects — were affected by microgravity.
Biochemist Shannon Lucid flew the first of her five — that's right, five — space shuttle missions in 1985. She shares that women's record for most spaceflights with several others, and nine men have logged more launches and landings. In 1993, Seddon and Lucid flew a mission together and focused their efforts on understanding how humans adapt to space, research that is necessary if we are to forge further to Mars.
Lucid was also the only woman ever to serve aboard the Russian space station Mir, where she lived for 179 days in 1996. As a result, she received the Congressional Space Medal of Honor at the end of that year and held the record for the longest spaceflight by a woman until 2007, when Sunita Williams surpassed Lucid's mark. A former test pilot, Williams also holds the women's record for most spacewalks and most hours of extravehicular activity, but maybe not for long.
Dozens of American women have now soared to the not-too-distant heavens. Forty years after women first were taken seriously as potential astronauts, Whitson is the first woman to command the International Space Station for the second time, assuming command of Expedition 51 on April 9. Her first station command was back in 2007, after which she became the first woman to serve as chief of the astronaut office. But she stepped down from that management role to take the giant leap back to space. In January of this year, she tied Sunita Williams's record number of spacewalks for a woman and surpassed Williams's record for most time spent in space by a woman. She is extending that record every day right now. On April 24, because of a just-announced three-month extension of her time aboard the space station, Whitson will exceed the American record for time in space held by Jeff Williams, who beat Scott Kelly's record last year. Now, it's time for a woman to take the lead.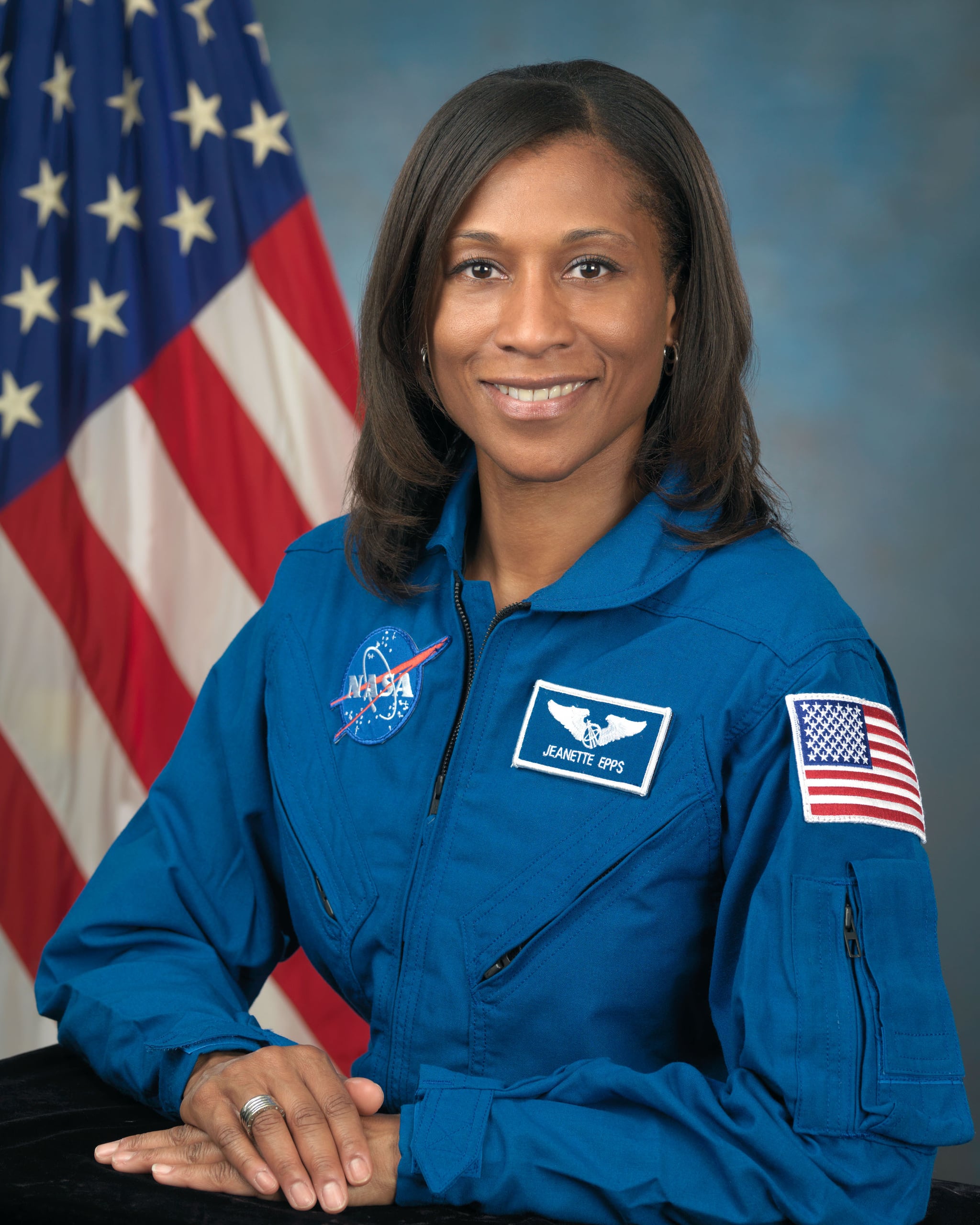 Image Source: Flickr user NASA Johnson
In 2018, Jeanette Epps is scheduled to become the first black woman on an expedition crew aboard the International Space Station. Three black women helped paved her road to space. After also serving in the Peace Corps, Mae Jemison was the first in 1992, aboard space shuttle Endeavour. After working at NASA's Jet Propulsion Laboratory in California, Stephanie Wilson became an astronaut and then flew three missions over four years. In 2007, she became the first black woman to board the space station. After working at Kennedy Space Center in other roles for several years, Joan Higginbotham flew one shuttle mission to the space station in 2006. She now heads up community relations for Lowe's.
To catch a glimpse of Whitson's sparkle this year and Epps's twinkle next year as the space station passes 200 miles above your head, check NASA's Spot the Station website.
Last February, NASA announced that it had received a record number of more than 18,300 applications for its next astronaut class, the most since 40 years ago when the agency first considered women for the job. Half of the most recent group of eight astronauts were women. Later this year, we'll find out how many women will be in the next class of 14 future spacefarers.
Anna Leahy and Douglas R. Dechow are the authors of Generation Space: A Love Story from Stillhouse Press. They have published in The Atlantic, Airplane Reading, Air & Space Magazine, Fifth Wednesday Journal, and Curator. Leahy is also the author of Aperture, a poetry collection just out from Shearsman Books. See more at Generation Space.