Female Lawmakers Who Support Gun Safety Laws
Gun Safety Is a Women's Issue — and These Congresswomen Are Fighting For It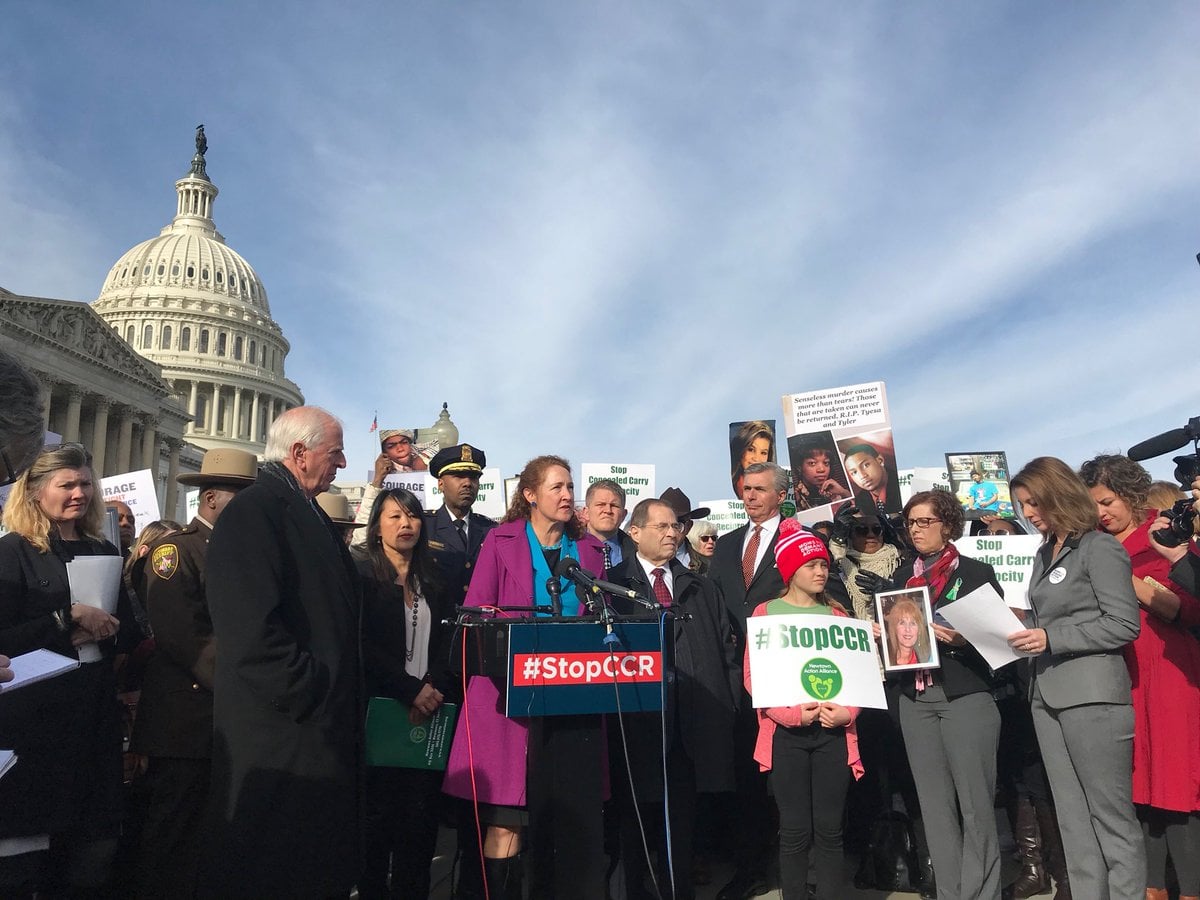 Shock. Profound sadness. Grief. Outrage. Calls for action. Silence. Inaction. It is a cycle that has become all too familiar on Capitol Hill in response to mass shootings. A cycle dozens of female lawmakers are fed up with.
With every passing day, there is a chorus of women warning of the heavy price being paid for Congress's inaction regarding the passage of what they call "common sense" gun legislation such as universal background checks and closing of the gun show loophole. When our daily news is dominated by the threat of nuclear war by North Korea, the investigation into whether President Donald Trump's campaign colluded with Russia, and sexual harassment and assault by members of Congress, their message on gun violence prevention struggles to be heard.
Gun control is a women's issue. All you have to do is look at the numbers to see why: the latest report from the CDC shows that 54 percent of women killed in homicides were killed by a gun, and in 55 percent of the cases they were murdered by their former intimate partner. Advocacy group Everytown for Gun Safety found that, when a woman's partner has a gun in a domestic violence situation, she is five times more likely to be shot and killed.
Democratic women have long been leading the way on gun control and championing legislation to address the issue. While Democratic women make up less than 17 percent of Congress, with 16 in the Senate and 62 in the House, they have the support of the majority of American women. A recent poll from Gallup shows 60 percent of American women believe we need stricter gun laws.

"This Is Where Women's Voices Matter"
Dec. 6 brought another setback for gun control advocates — and a win for the gun lobby — with the passing of the Concealed Carry Reciprocity bill in the US House of Representatives. Congresswoman Jackie Speier (CA-14) tells POPSUGAR the bill puts more women at risk by making it easier for domestic violence offenders to get guns: "It would allow domestic violence offenders and those convicted of violent misdemeanors in certain states to bring concealed weapons into California, including our school zones."
Congresswoman Speier is one of two current members of Congress who is a victim of gun violence. Congressman Steve Scalise from Louisiana is the other — he was shot this past July while playing softball with his colleagues. Congresswoman Speier was shot while traveling to investigate the Jonestown Massacre in 1978, with her former boss, Congressman Leo Ryan, who died in the shooting.
Many congresspeople pushing for more gun laws hoped the targeting of their colleagues this Summer on a softball field — notably, by a man previously accused of domestic violence — might be the trigger needed to invoke Republicans to make it harder for abusers to get guns. But instead, they have loosened restrictions with the Concealed Carry Reciprocity bill.
Coupled with the bill was a bipartisan measure called Fix NICS, which was introduced in response to the mass shooting at a Texas church in November and requires federal and state authorities to comply with current law and report accurate information to the National Instant Criminal Background Check System.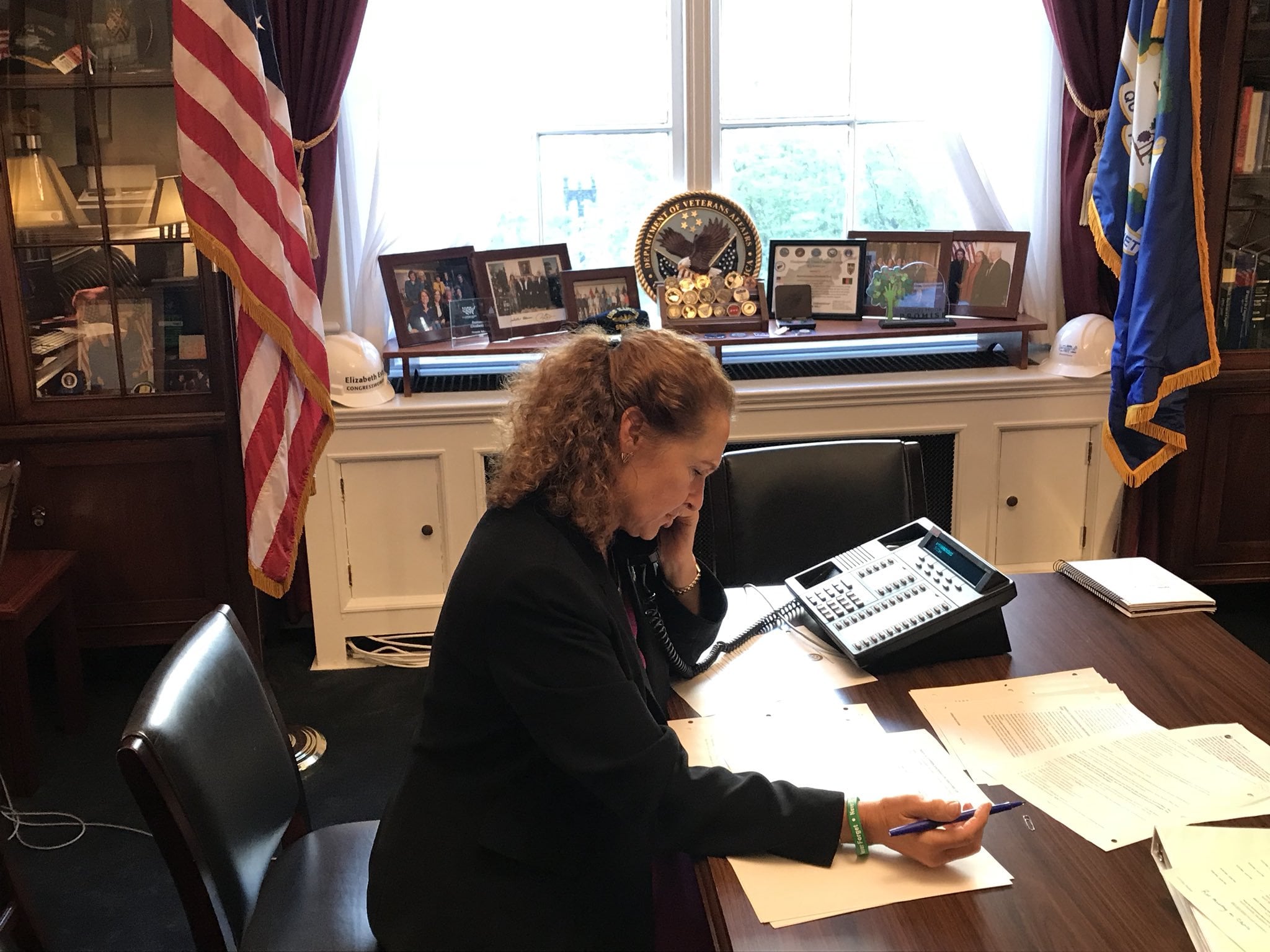 Rep. Elizabeth Esty in her office.
"The fact that the NRA is pushing to combine these two should make us all very wary, and this is where women's voices matter," said Congresswoman Elizabeth Esty, who was a cosponsor of Fix NICS. Congresswoman Esty said the NRA wanted to merge the bills because, with Fix NICS, they see that people do want to do something. "There's really no excuse for not fixing the way the systems work, but they combined it with something that is really terrible in the hopes that they can get some loosening in some very strong protections," Esty said.
The passing of the bill came mere days before the five-year anniversary of the shooting at Sandy Hook Elementary School in Newtown, CT, where Congresswoman Esty represents. The shooting has shaped her career as a congresswoman, she tells POPSUGAR, as she describes the green bracelet she has worn every day on her wrist since joining Congress.
"I've gone through three of these, it's a reminder, and looking around my office, the reminders are all here of why we fight," Congresswoman Esty said, as she referenced pictures of victims and family members hanging in her office. While there has been no real change on the issue since the shooting, she's more resilient in her fight than ever before, determined to see results for the families of the 26 people who were brutally killed.
"We need to all take responsibility to change hearts and minds," Esty said, "and to bring people in to help us actually address this and not make it a partisan battle."
While she's yet to see the hearts and minds of her GOP colleagues change on the issue, she has noticed some progress in the way of gun owners coming to the table and being a part of the conversation on change.
"We need to bring responsible, lawful gun owners in from the cold, who have sat back and allowed the gun lobby speak for them in pretty radical terms," Congresswoman Esty added. "It's not a partisan battle, it is a battle for a safer America, and we all have a stake in that." She is continuing to engage gun owners in the discussion, recently holding a press conference and day of advocacy with some, as well as reaching out to the younger generation and women, who she believes will be the change on the issue. "This is why we need more women in Congress, but we need them in all levels of government, we need a pipeline."
"The Club You Don't Want to Be In"
On Capitol Hill, they call it "the club you don't want to be in" — and US Representative Jacky Rosen, who represents parts of Las Vegas and is now running to unseat US Senator Dean Heller, has found herself in that club after the deadliest mass shooting in US history happened during a country concert in October.
"I supported gun safety measures before this mass shooting," Congresswoman Rosen told POPSUGAR, "but it was a stark and personal reminder of the cost of inaction in Washington."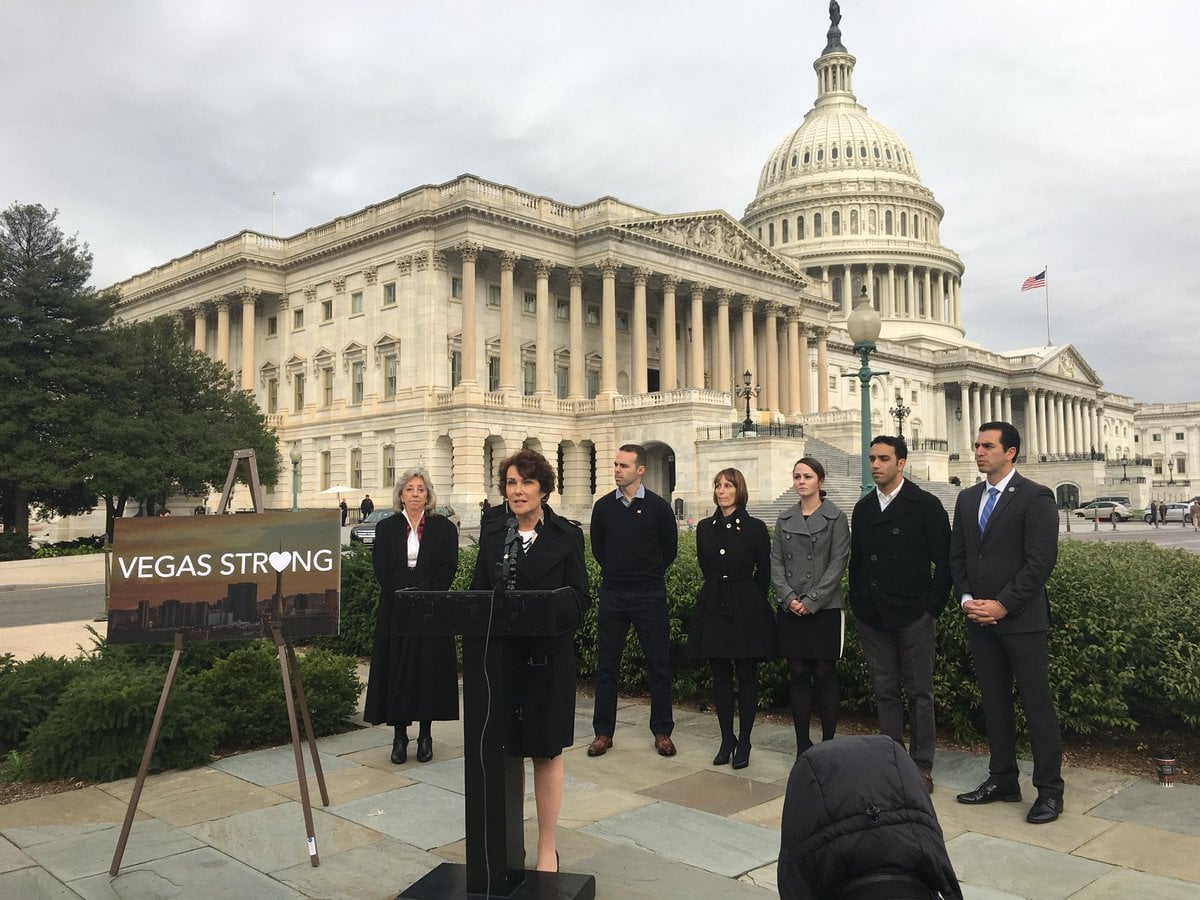 Congresswoman Rosen speaks about the Las Vegas Shooting on the Capitol steps.
"Struggling to Move Forward"
Following the Las Vegas shooting, there were loud calls to ban bump stocks, the device used to enhance the killer's gun. A bump stock is a device that you attach to a semi-automatic gun that will allow it to fire at the speed of an automatic rifle and can be bought for around $50. The device is what allowed the Las Vegas gunman to kill 58 people in a matter of minutes. Congresswoman Rosen cosponsored a bill to ban bump stocks that received bipartisan support, and even had the support of the NRA, but since its introduction, there's been no forward movement of the bill. It has yet to be introduced in committee.
"It's a shame that so many politicians in Washington keep putting special interests and lobbyists ahead of the safety of their constituents," Congresswoman Rosen said, "that's why we're struggling to move forward on even something as straightforward as banning bump stocks."
This is where women's voices can make an impact — whether it's by supporting candidates or running for office themselves, Rosen says she and her colleagues need more women to actively join them in the fight.
"We need to stand up against it and say in the face of all these mass shootings, in the daily shootings that happen, and the military suicides and the veterans suicides," she said. "We have to be able to do better as a country than this."
In the face of constant setbacks, failed legislation, and the tens of millions of dollars the gun lobby brings in every year, these women aren't slowing down — because the cost of not fighting is too high.
How to Join the Fight
Aside from running for office, there is much women can do to help be the change:
Support advocacy groups: Many groups, like Everytown for Gun Safety, The Brady Campaign, Americans for Responsible Solutions, The Coalition to Stop Gun Violence, Sandy Hook Promise, and others, are on the front line of this fight and need your support, whether it is volunteering or making a small donation to the cause.
VOTE! And know WHO you are voting for: Every election does matter, from your city council person to your senator. Pay attention to who is on the ballot and who supports this issues you support.
Call your member of Congress: Make your opinion on the issue known by calling your member of Congress or by tweeting and Facebooking at them. Click here your member of Congress.