Hillary Clinton Feminism Quotes at Girls Build LA 2017
Hillary Clinton's 1-Word Definition of Feminism Pretty Much Nails It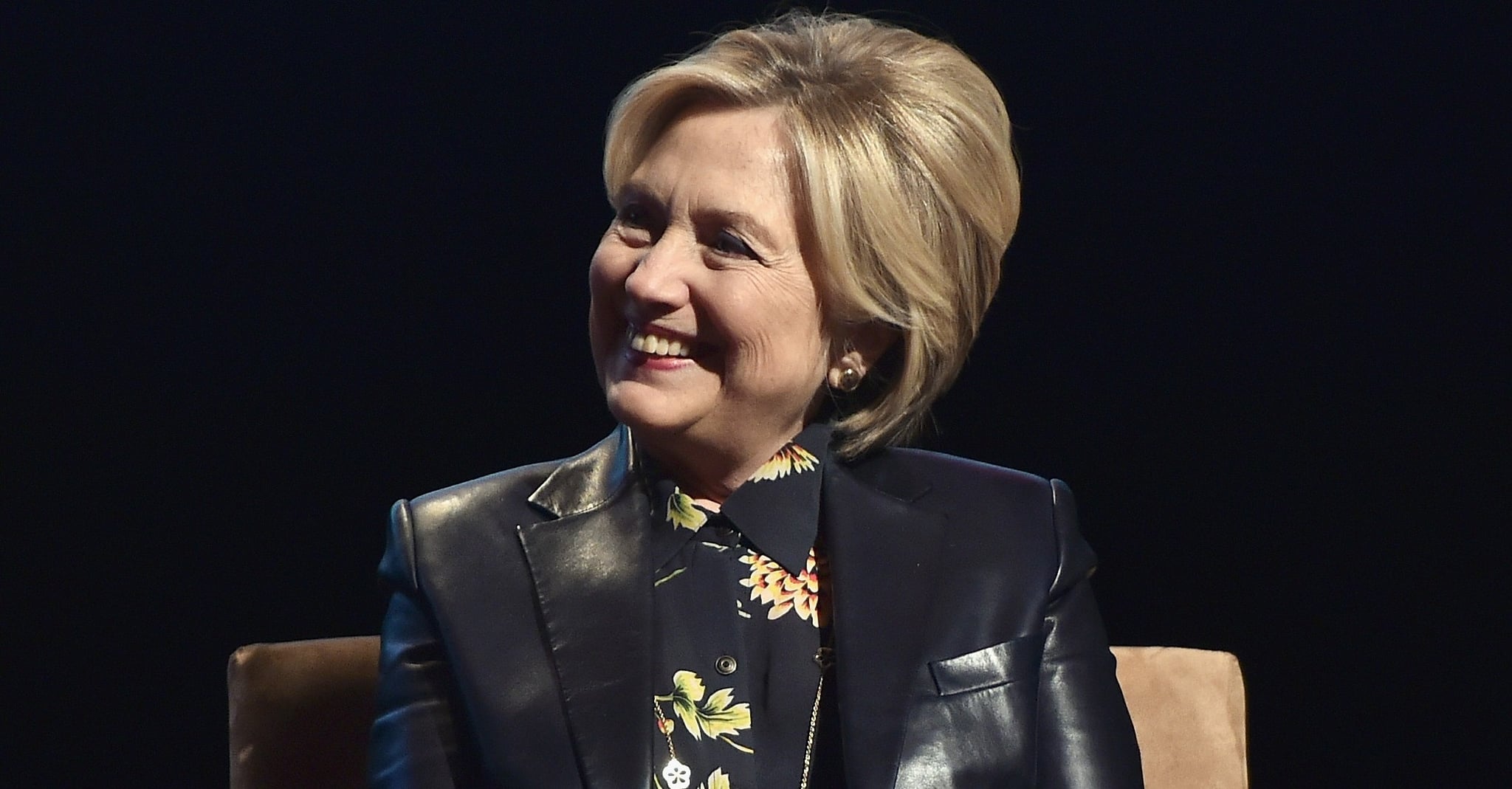 Comedian Jessica Williams of podcast 2 Dope Queens admitted she had some nerves about interviewing Former Secretary of State — and her "imaginary friend" — Hillary Clinton at the LA Promise Fund's Girls Build conference on Dec. 14. "This is going to be dope. I almost detangled my hair for this," she joked as she took the stage. "Just to show you how excited I am, I put on extra lotion today. I'm feeling great."
"I really believe that girls and women are the future . . . but we have to believe it about ourselves."
As Clinton joined her to the strains of Beyoncé's "Run the World (Girls)," the 10,000 girls in attendance at the Dec. 14 leadership summit in downtown LA jumped to their feet to capture the moment on Snapchat and Instagram. The soundtrack was fitting. In her chat with Williams, the former presidential candidate sent a clear message to the young women in the room: we need you, and we need each other.
"I am so excited, because I really believe that girls and women are the future," she told the crowd of girls. "I really do believe that, but we have to believe it about ourselves."
While Clinton shared some amusing anecdotes from her own high school days — including her stint lip-syncing in a production of "Bye, Bye Birdie" because the director forbade her from singing — she also tackled sexism head on. For example: how she's dealt with so often being "the only woman in the room" throughout her career. "Oftentimes, if you're one — or very few women — in the room, you'll present an idea, and no one will pay attention to it. And then a little while later, a man will say the same thing and everyone will say 'That's a great idea,'" Clinton said as a few boos floated up from the audience.
"Well, say: 'Forget it, I am me and I am more than enough!'"
"So here's what I've learned to do: when that happens, and then they say to the gentleman there, 'Well, that's a great idea,' say 'I'm so glad John likes that idea, because he and I could work together. I came up with that idea, too,'" Clinton instructed. "There are techniques to learn about being one of very few women in the room, but that's why we have to elect more women, so we don't have rooms with only one woman — we have rooms with lots and lots of women making decisions!"
Clinton also shared a hopeful message as she reflected on the change she's witnessed in her lifetime, but stayed clear-eyed about the change that has yet to be made. "I hope that every remaining barrier — every legal or attitudinal barrier that still exists, that tells a young girl, 'You can't do that because you're a girl,' or makes a girl think that — we tear down once and for all. Now, I think, the real barriers are inside people's heads," she said. "How women and girls are treated. Lots of times, young women start to feel self conscious, because they were energetic and really enthusiastic when they were girls. But now, they're 14, 15, 16, and all of a sudden the culture is telling them you're not pretty enough, you're not thin enough, you're not this enough or that enough. Well, say: 'Forget it, I am me and I am more than enough!'" The crowd erupted in applause.
The young women in the crowd also submitted questions for Clinton, a few of which she answered at the end of her conversation with Williams. Gisele, a 12th grader at a Hollywood high school, wanted to know, "Out of every possible word out there in the world, what is the word you would use to describe feminism and why?"
Clinton had a quick answer. "Equality. And I will say: feminism is the belief that men and women should be equal under the law, and in the economy, in our society. Not better. Not worse. Equal," she said. "And what I hope is that we will continue to move toward equality, because it still is the unfinished business in our country. And that's equality not only between men and women, but between races and ethnicities and all the divides that we are still struggling with."