How to Help Syrian Refugees
How These 20-Somethings Started an NGO and Brought New Hope to Syrian Refugees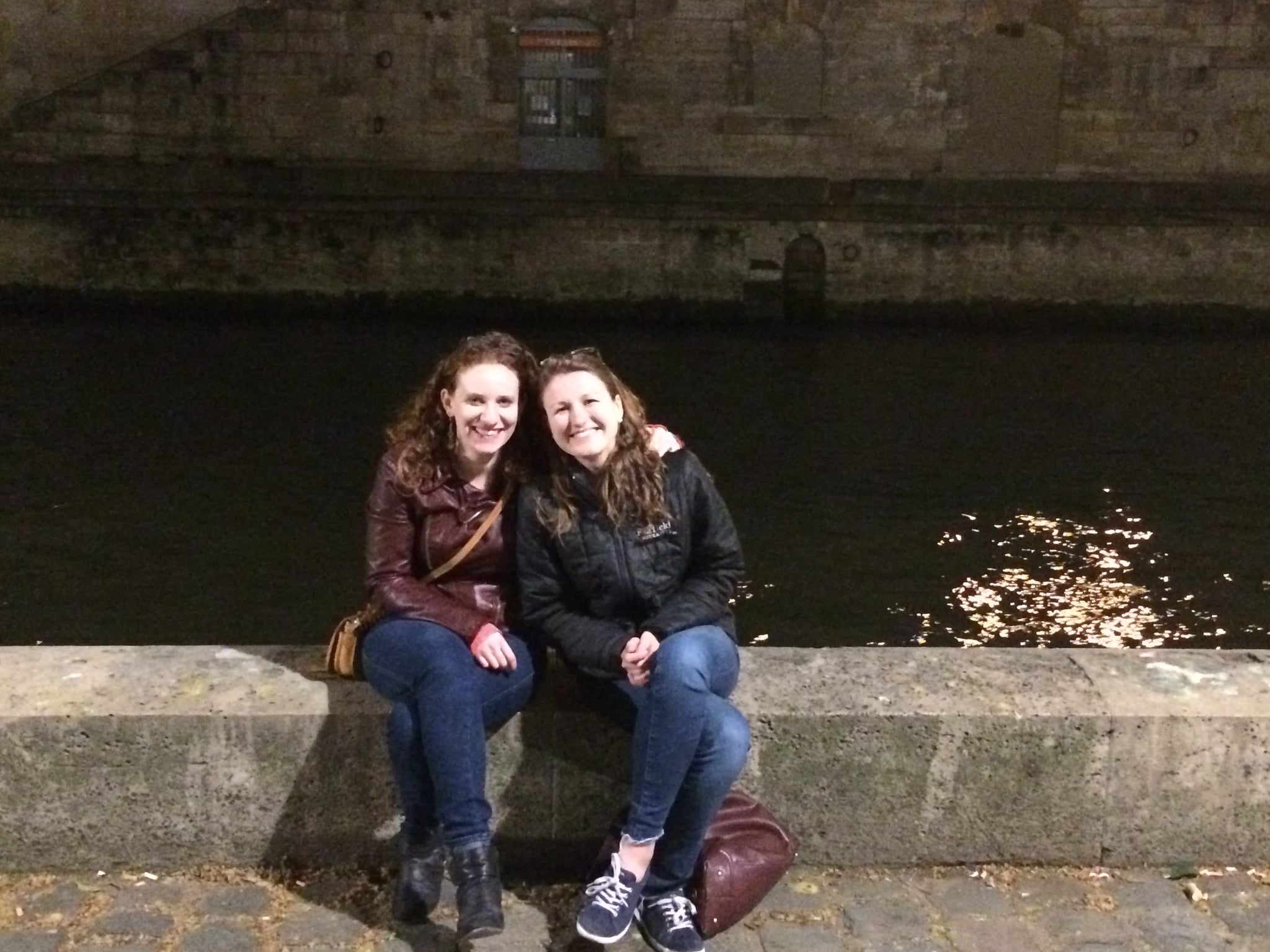 Maya Perlmann and Julianne Whittaker, from left to right
On a spring day in Baqa'a, a city of more than 100,000 Palestinian refugees just outside the Jordanian capital of Amman, I was teaching English to Salsabeel, a 12-year-old Palestinian girl. I was volunteering at a Saturday morning enrichment program for orphans run by my sister, Biff, and her friend Julie Whittaker.
Salsabeel and I were discussing blizzards. Her playful curiosity about American weather (it snows how often?) was rivaled only by her penchant for selfies — the universal language. Though enthusiastic during our lesson, she was coy when I asked if she would complete her homework that evening."In'shallah," she replied, deploying the flippant response I wish I'd known in my elementary school days.
Literal translation: God willing. Intended meaning: If I feel like it.
Coming up with excuses not to do your homework is yet another universal language, I discovered. I returned to the States certain that if more people were able to spend time with refugee communities in the Middle East — and experience their kindness and hospitality — the mistrust and hostility between our two cultures would be drastically diminished.
In the three years since my visit to the refugee camp, I'd never forgotten the kindness and intelligence of students and teachers alike. But the memory also brought feelings of guilt and self-loathing commingled with a sense of hopelessness. Since the escalation of the war in Syria, the refugee crisis in Jordan had become even more urgent. I wanted to help, but was unsure of how I could, a feeling I believe most people share.
So when Biff asked for my help, I found myself hosting a fundraising event for the The Amal Foundation one October evening last fall. A non-profit providing university scholarships for Syrian refugees living in Jordan, the NGO was founded in 2015 by Julie, then 25, and Maya Perlmann, 27. The scholarships support Syrian students living in Za'atari, a refugee camp established in 2012 east of the Jordanian city of Mafraq. Together, we hosted the first non-university-affiliated fundraiser for Amal, and the first to be hosted in New York City, at the Grey Lady on the Lower East Side.
The Barriers to Doing Good in Syria
The fundraising was an inspiring and frustrating experience, unearthing latent discrimination against Muslims that has lingered since 9/11, even amongst my educated, and largely liberal, peers.
"Why are we helping Syrians?" I was asked repeatedly. "Isn't that controversial?"
My argument that refugee aid is one of the least controversial causes fell on deaf ears.
I also encountered difficulties with payments. Venmo flagged ticket sales for suspicious activity, in compliance with U.S. Sanctions administered by the Office of Foreign Assets Control. The stated cause? "Your reference to Syria."
The payments were released after a waiting period.
I consulted Julie to see if she experienced similar frustrations, and she told me that she also felt occasionally disillusioned by the backlash against refugees in the United States.
When I encountered friends who were unenthusiastic or uneducated about the foundation's purpose, I found myself retelling the story of Salsabeel and other refugee families I met in Jordan, whose generosity and optimism was so inspiring to me. I reiterated that it all it took was $4,000 to send a Syrian refugee to university for one year.
Humanizing this cause is one of Amal's mission statements, says Julie:
"The numbers can be overwhelming and numbing. So it's important to remind yourself that these are real people, just like you and me."
Yasin's Story
One of the people affected by the conflict in Syria is Yasin Abu Samra, who was born in the Da'ara region, and fled his country at the age of 24 when civil war disrupted his life. Yasin arrived in Za'atari with his wife, his mother, brother, and sisters in 2013, leaving his father behind in Syria.
While I was fundraising in Manhattan, Yasin was beginning his first year at Zarqa University, in Jordan's second-largest city, as a recipient of an Jusoor-Amal foundation fellowship. The scholars are selected by the Amal committee for their academic record and dedication to rebuilding their communities in the Middle East. Yasin is an active member of Mark of Hope, a theatre company staging plays for — and by — children and young people with special needs, and We Love Reading, a non-profit which trains young adults to be storytellers for children in the camp. He was recently presented an award for reading stories to the largest number of children at Za'atari.
I communicated with Yasin through WhatsApp, where I discovered emojis to be another universal language. Maya served as our translator.
"My family lived a beautiful life in our hometown," Yasin told me, adding wistfully "We had 3,000 olive trees . . . Our life was simple, beautiful, and calm."
Leaving behind the stability and opportunity of his life as an engineering student in Damascus, Yasin was forced to adapt to another life where his options seemed limited.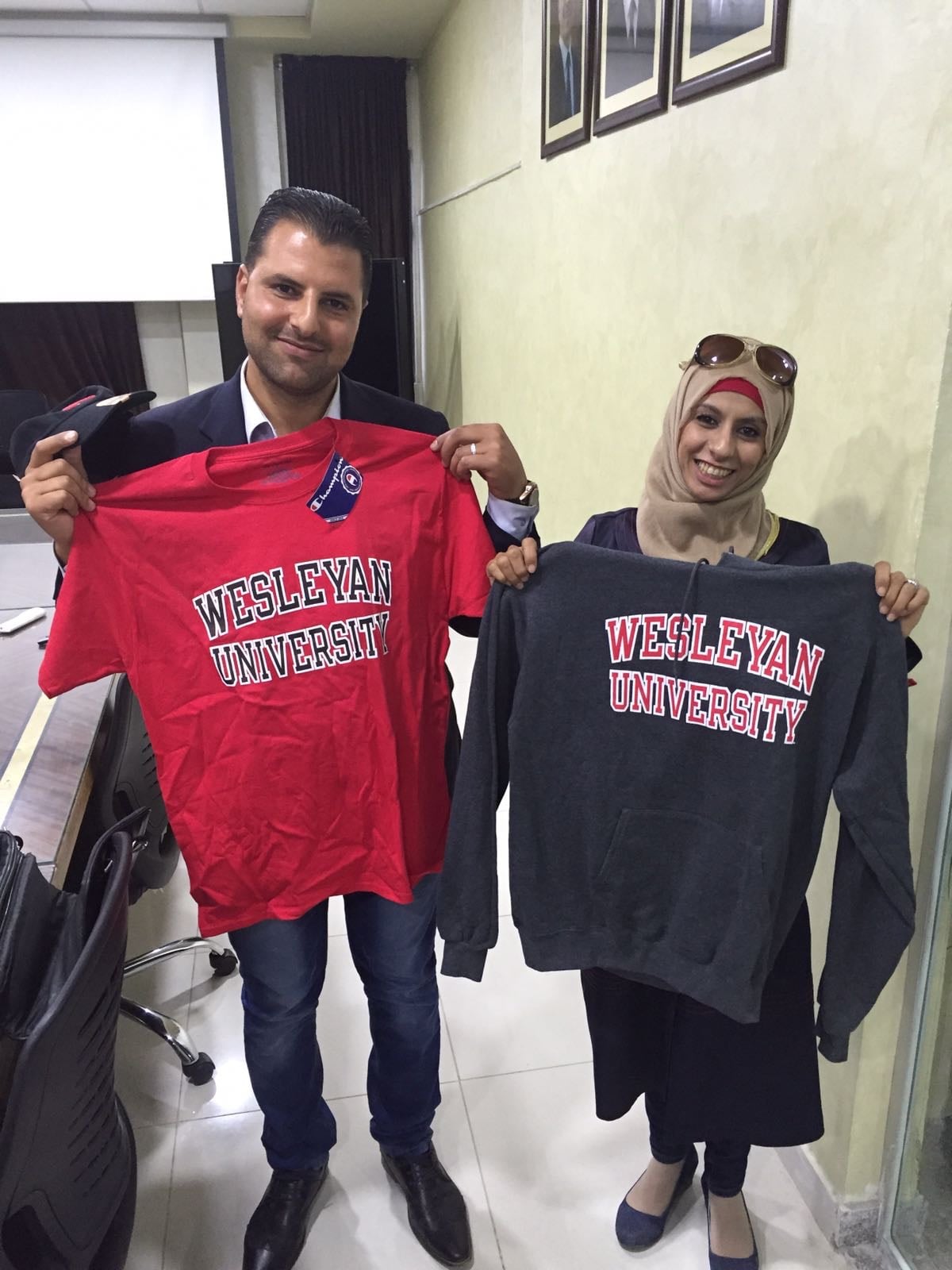 Yasin and Nawar with gifts from their student peers at Wesleyan
Amal means "hope" in Arabic, and there is not much hope for many of the young people living in these refugee camps today. More than one third of Syrian refugee youth in Jordan did not receive a formal education in 2015 — many schools require families to travel long distances, and often lack running water, electricity, and windows.
When Yasin arrived at Za'atari, he was just shy of completing his bachelor's degree and couldn't find work appropriate for his education level. When he was granted the scholarship, he had trepidations about his ability to succeed — at age 27, he would be older than other students, and was now the father of two young children.
"Naturally, I was hesitant about starting my university studies," said Yasin.
But the Amal Foundation prompted him to reconsider; now, Yasin reports, "students at the university envy the foundation's support for me."
At Zarqa, Yasin has built close relationships with both his professors and his peers: "I'm learning from the other students and exchanging my experiences with them as well."
"Syrians and Jordanians often don't have many opportunities to build relationships where they're on equal footing, which is why Yasin's experience is so unique and cool," said Maya. "This relationship-building is really important in terms of long-term social cohesion."
How American, Jordanian, and Syrian Students Are Building Cultural Bridges
Cultural exchange is a primary focus for Amal; not just between host and refugee communities in Jordan, but also between Syrian and American college students. Students at American universities (including Boston College, Hamilton, Princeton, Johns Hopkins SAIS, and Fairfield, among others) participate in a cultural exchange program in which they sponsor the tuition of Syrian refugee students and directly communicate with one another via Skype. This past year, Fairfield also hosted an exhibit of Syrian refugee artwork.
"This communication helps us understand our similarities, which strengthens our relationships with each other. And it also creates a spirit of discovery, as we learn about things that are different than our lived experiences," says Yasin. "It definitely helps to feel that there are people in many places around the world who feel for you and support you."
In an era in which President Trump pushed for a travel ban that would bar Syrian refugees from entering the United States and limit residents of five other Muslim-majority countries from setting foot on our soil — and in which The New York Times published an article headlined "Anne Frank Today is a Syrian Girl" — that message has been more important to Syrians and Americans alike.
"The future can only be brighter when we have these two groups of students connecting, learning from one another, and now working towards a shared future," said Julie.
The Amal fundraiser was ultimately a huge success. We tripled our goal, raising $11,000 for scholarships — nearly enough to pay for three years of tuition. But the most rewarding element was demonstrating solidarity for refugees like Yasin, who are most deserving of a better chance in life.
In his very first semester at Zarqa, Yasin was awarded for placing in first in his major, Management Information Sciences. He now has ambitions to graduate first in the whole university, and hopes to inspire others at Za'atari:
"I have started motivating many of my refugee brothers and sisters to enter university to change their futures."
His plans upon graduation? To give back — wherever in the world he may be. If he's still at Za'atari, he hopes to improve the camp via continuing his volunteer work.
And if he ever returns home?
"I'd work hard to be among those reconstructing Syria for the future, so that our children can live happy lives."
Image Source: Courtesy of Maya Perlmann and Julianne Whittaker