Marine Fighter Pilot Amy McGrath For Congress in Kentucky
The First Female Marine to Fly An F-18 in Combat Is Running For Congress in Kentucky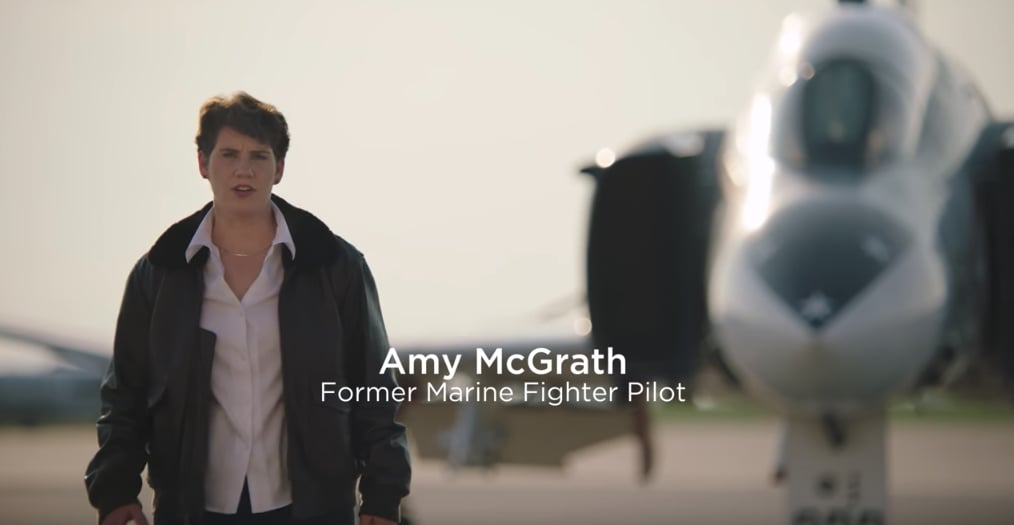 Lieutenant General Amy McGrath is a retired fighter pilot, and the first woman to fly an F-18 in combat. Now, she's running for Congress in Kentucky.
On August 1, a mere two months after retiring from a 20-year career in the Marines — during which she flew 89 combat missions, and bombed both al Qaeda and the Taliban — McGrath posted a YouTube video announcing her candidacy for the 2018 race in Kentucky's 6th district. While McGrath has always known that her dream job was to fly fighter jets, she's no stranger to the way that Congress works. In fact, her history with the governing body dates all the way back to the age of 13.
"When I was 13, my congressman told me I couldn't fly in combat. He said Congress thought women ought to be protected and not allowed to serve in combat," she says in the ad, while walking on a runway in front of a jet. "I never got a letter back from my senator, Mitch McConnell." McGrath goes on describe how she wrote letters to each and every member of the House and Senate Armed Services Committees asking them to change the rules, and while she may not have heard from the current House Majority Leader, she did in fact hear back from several who tried to tell her she couldn't do it — though the law changed when she was accepted into the Naval Academy.
It's this type of strength in the face of adversity that McGrath will bring to the race in Kentucky's 6th, where she will face off against two other Democratic challengers seeking to unseat Republican incumbent Rep. Andy Barr. Barr, a noted Trump supporter who has stood by all of the president's controversial policy decisions (and lack thereof) has been the subject of a lot of criticism from his constituency over the fact that he has taken stances on the issues that don't necessarily align with the values and beliefs of the people that he represents. The dissatisfaction came to a head this Spring when Barr held a Town Hall during the Congressional recess and was met with boos, interruptions, and angry words from those who attended the event, specifically about his continued support of a repeal and replace for Obamacare, as the program enabled Medicaid to expand in the state and now enables nearly half a million additional people to receive healthcare benefits.
These sentiments are not lost on McGrath, who is seeking to capitalize on Barr's shortcomings with a heavy focus on healthcare and the struggles of low-income families during her campaign. She joins a handful of other veterans who have already come forward as candidates for the 2018 election, looking to join the fight against President Trump.
And you can bet that we'll be closely watching her campaign in the coming months, because McGrath is one badass woman that we would love to see take a seat in 2018.