Moments From the Women's Marches
Saturday's Marches Showed the World What Women Have Always Known
They were complete strangers but still, they hugged. A few blocks away from the Women's March on Washington rally on Saturday, a woman with a "free Palestine" sign and an elderly woman in a pink pussyhat beanie stopped when they walked past one another and embraced. "We love each other," they said before walking in different directions.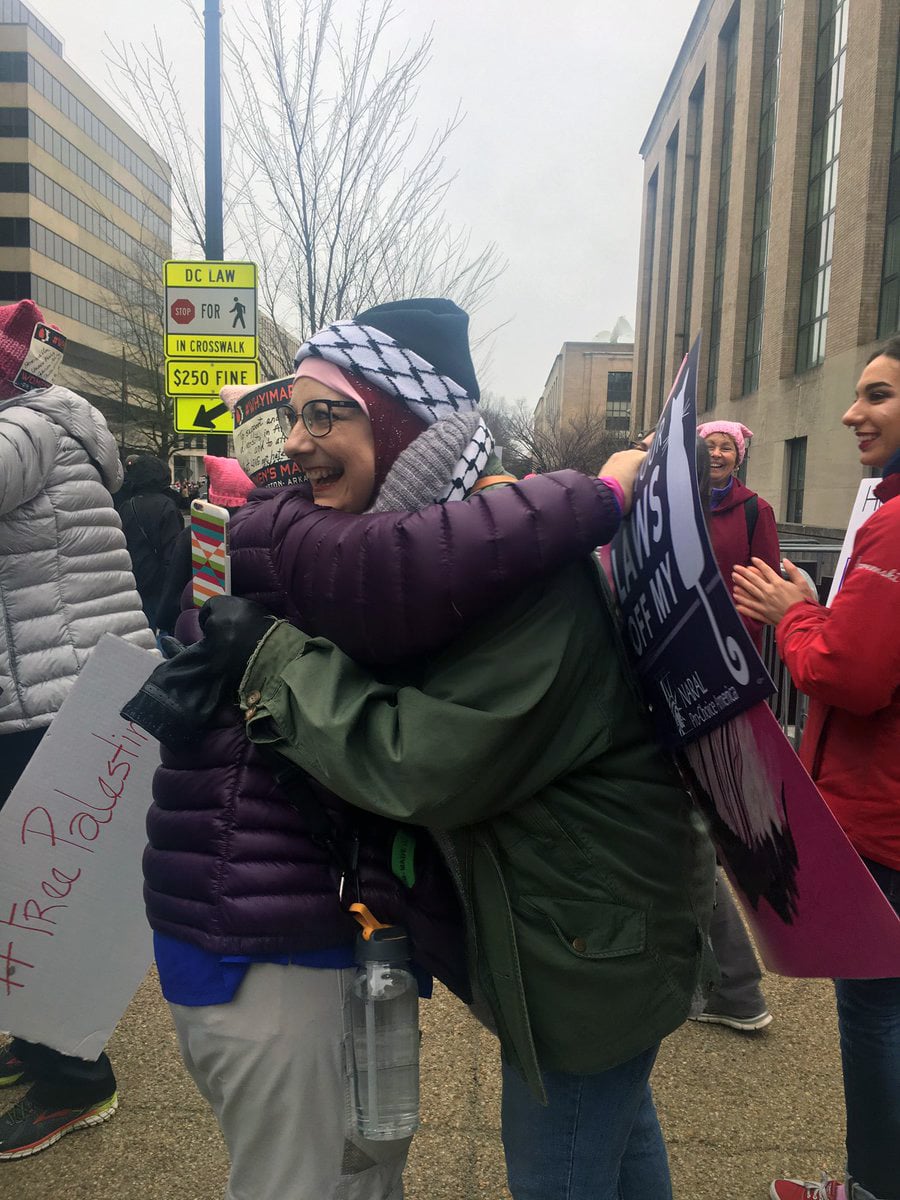 It was one of surely thousands of small moments that made the women's marches around the country so beautiful. Moments of kindness and resilience that women practice every day as mothers and daughters and sisters and wives and co-workers and friends.
Moments like when a woman in DC sat on a stoop amid the crowds to breastfeed her baby. Or when ladies in Seward, AL, marched in below-freezing temperatures during a snowstorm to join the movement. Times like when women approached officers and volunteers to thank them for their service. And when a paraplegic woman in a wheelchair brought her teen daughter to DC to lead by example.
Small moments made the marches so beautiful — moments of kindness and resilience that women practice every day.
Let's not forget the women who stayed up late making posters only to pass them out to other people. Women who texted each other "you go girl" at the start of the march and "we made history" once it was over. Women in places like Tel Aviv, Melbourne, London, Nairobi, Mexico City, and even a refugee camp in Athens who marched in solidarity with their American sisters.
Hillary Clinton didn't join the march, but she was watching and sent an inspiring message on Twitter. "Thanks for standing, speaking & marching for our values @womensmarch. Important as ever," she wrote. "I truly believe we're always Stronger Together."
The day before, she had graciously attended the inauguration of the man who said she should be thrown in jail and called her "nasty." She didn't have to go but she did, because, as her former campaign aide described it, that's how she's built. That's how many women are built.
Not a single person was arrested at the major marches in the US despite attracting millions. And while this may have to do with the idea that many marchers were white women — and police treat this demographic much differently than they treat people of color — it also shows that when women unify, the result is an organized effort filled with respect and peace.
In DC, someone nailed a sign to a tree that said, "Women are rising. Watch out." But we have always risen. We do it in our homes, in the workplace, and on the streets. It just took Saturday for the rest of the world to notice.