Obama Gives Biden Presidential Medal of Freedom
Watch Biden Cry as Obama Surprises Him With a Medal of Freedom and Prepare to Cry Too
Skip to minute 1:09:09 for the start of the ceremony.
President Obama hosted a surprise tribute to a teary-eyed Joe Biden on Thursday afternoon and he also surprised the vice president with another unexpected honor: the Presidential Medal of Freedom. Throughout his speech, Obama joked about his "bromance" with Biden — he even called out the internet's obession with their relationship.
The award is kind of a big deal, as Obama noted. "For the first time and only time in my presidency, I will bestow this medal with an additional level of veneration," he said about the distinction, "an honor my three most recent successors reserved for only three others."
Obama at surprise Biden send-off: "This also gives the Internet one last chance to talk about our bromance." https://t.co/i6jTLyM55f

— CNN (@CNN) January 12, 2017
Biden accepted the award and broke into tears. Thanking the president, Biden said, "This honor is well beyond what I deserve, but is a reflection of the generosity of your spirit." He also spoke about the significance of the administration, saying, "I'm indebted to you, I'm indebted to your friendship, I'm indebted to your family," and "I can say I was part of the journey of a remarkable man who did remarkable things for this country."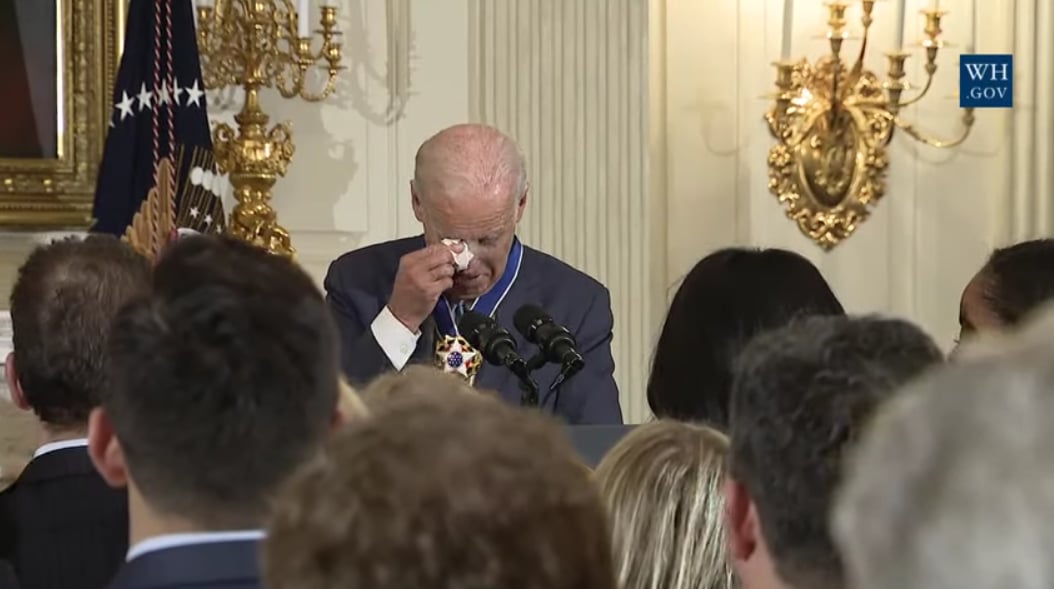 Obama's move was especially touching because while presidents' legacies are often remembered, vice presidents' are rarely acknowledged. On Biden's legacy, Obama said he was one of the greatest vice presidents in American history.