Photo of Trump Notes in Parkland Shooting Listening Session
The True Depths of Trump's Jaw-Dropping Lack of Empathy, Captured in 1 Telling Photo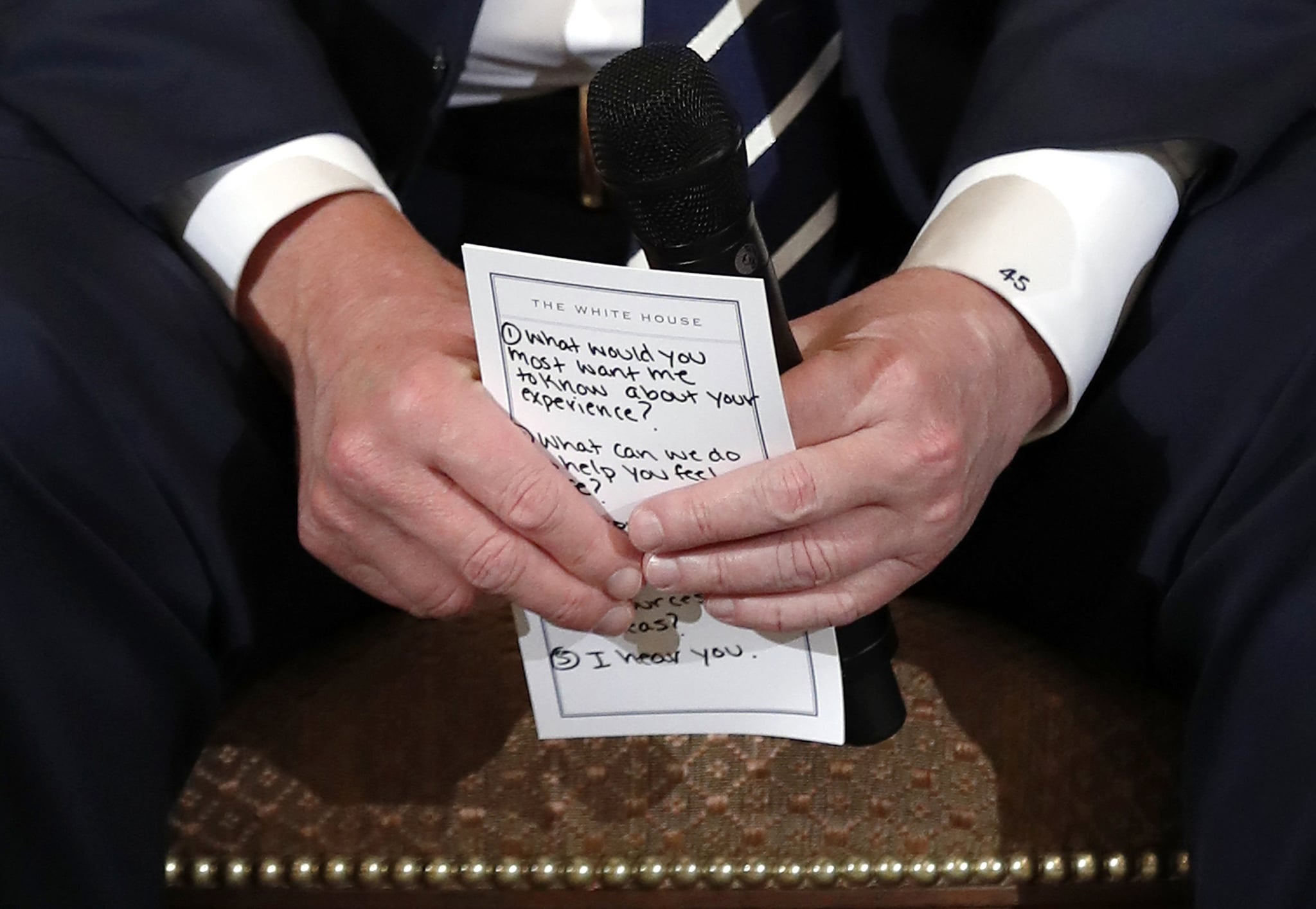 One week after a shooting at Marjory Stoneman Douglas High School led to the loss of 17 lives, President Donald Trump took the opportunity to hold a listening session at the White House with survivors and family members of those affected by the Parkland, FL, tragedy. Amid ongoing protests, walkouts, and calls to action across the country, Andrew Pollack — father of Meadow Pollack, one of those killed in the events that unfolded on Feb. 14 — pointedly said to Trump, "How many schools, how many children have to get shot? It stops here, with this administration and me."
It was a powerful moment, but one that was later made even more memorable by a photo that was published by the AP shortly after the session ended, one that depicted a cue card of notes for the meeting. The first visible bullet point seemed reasonable — prompting Trump to ask, "What would you want me to know about your experience?" — but it's the fifth point that really had our jaws on the floor: a reminder to say, "I hear you."
Yes, you read that correctly: the 45th sitting president of the United States (one who felt it necessary to get "45" stitched on his shirt cuff) needed to be reminded to feel empathy for those who just lived through an unimaginable tragedy, one that has driven hundreds of thousands of teenagers across the country to speak out against gun violence and countless others to renew cries for legislation and reform. And in that moment, it became very clear that the NRA-friendly "move" toward banning bump stocks was not a move toward creating a safer world for our children, not a decision that he felt strongly about, or quite possibly even understood.
It was a real reminder of the Trump that lurks below the surface: one who, for all intents and purposes, just does things to prove the other side wrong. And yes, there's a tweet for that:
Crooked Hillary said that I want guns brought into the school classroom. Wrong!

— Donald J. Trump (@realDonaldTrump) May 22, 2016
Shame on you, President Trump. Our students and families — American students and families — deserve better than a notecard filled with the things you are supposed to feel but don't.
Image Source: AP Photo/Carolyn Kaster