Pregnant Pro-Choice Activist
Pregnant, Pro-Choice and Leading the Resistance For Reproductive Freedom in Nevada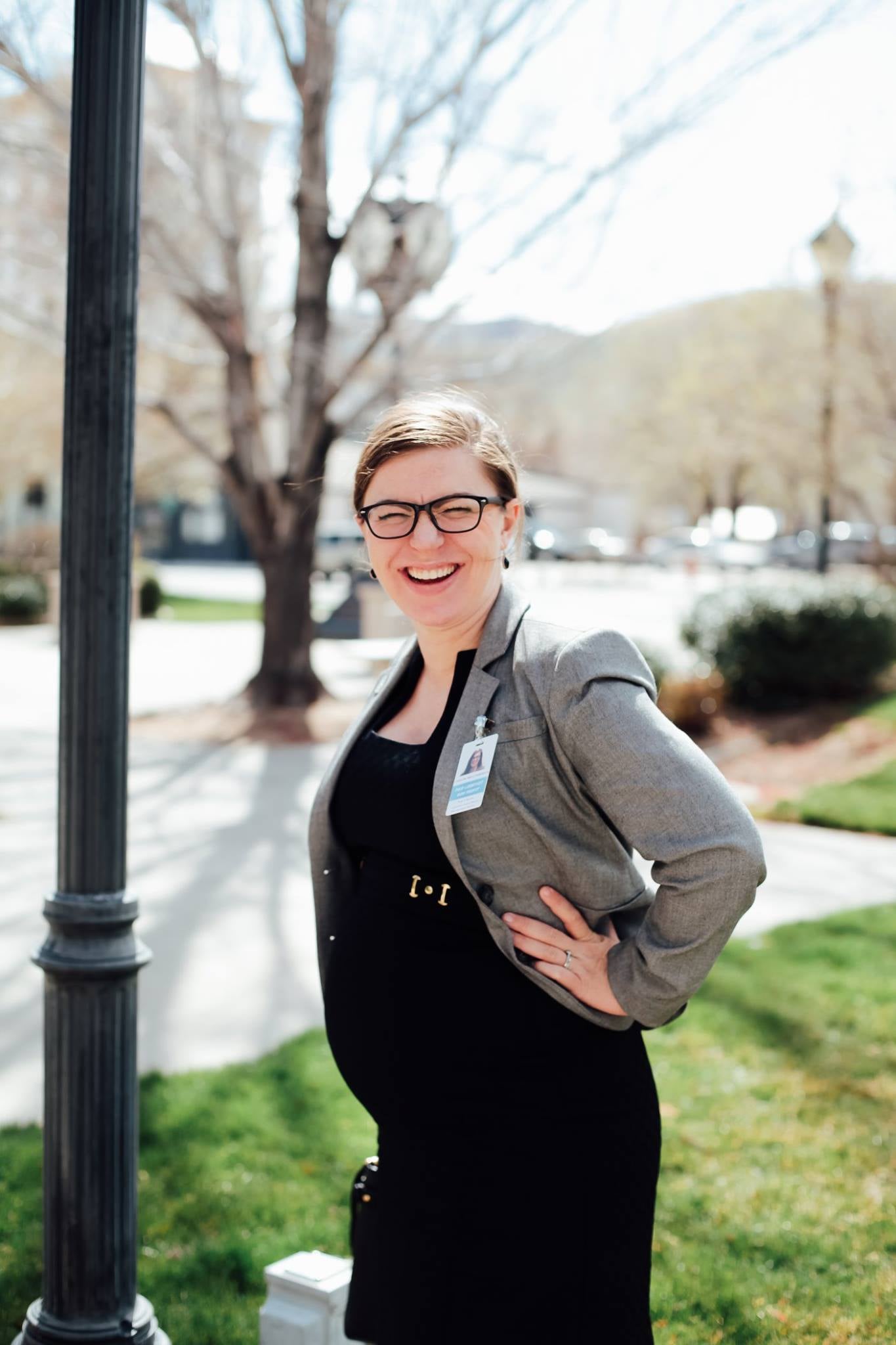 As a pregnant lady who — let's be honest — could give birth at any minute, I can give some people quite the shock when I show up outside their door or on the floor of the state house to advocate in support of expanding access to abortion and birth control. I've been told by some (male) legislators — usually with a slight, condescending chuckle — that it is "ironic" that I am pregnant and advocating for choice. The truth is that I've never felt more pro-choice in my life: I am very fortunate that I've had access to affordable birth control and was able to get pregnant for the first time on my own terms and with a supportive partner who can help me along. I've wanted this and planned for it, and it's still been a very involving, overwhelming process in a lot of ways.
I believe that every woman should have this same opportunity to decide if, when, and how to get pregnant on her own terms. I am proud to fight with my fellow Nevadans in support of reproductive freedom and against President Trump, who has made it clear that he and Congressional Republicans will work day and night to roll back our rights.
In Nevada, we're fighting back with legislation that will keep President Trump's hands off our birth control. The legislation we're working to pass would keep birth control affordable and accessible for Nevadans by requiring insurers to keep covering out-of-pocket costs for contraception, even if President Trump and Republicans in Congress manage to take health care away from 24 million people. It would also make it possible for a woman to receive 12 months of birth control at once.
This is the first time the Nevada State Legislature has passed legislation related to reproductive freedom since 1999. And it's been possible thanks the 19,000 Nevadans who have signed up in the last year to join NARAL Pro-Choice Nevada. With their support, we flipped both houses of the Nevada State Legislature from anti- to pro-choice and elected our nation's first Latina senator in November.
After the women's marches that swept the nation in January, members from across the state came to us not just wanting to sign petitions but also wanting to get personally involved in the fight to protect and expand reproductive freedom — so we set up a series of Feminist Road Trips to bring the voices of Nevadan women and families to the state capital. Because they are dedicated to fighting for reproductive freedom, our members made the nine-hour journey from Las Vegas, where most people in the state live, to Carson City, our state capital, to share their personal stories about the need for Nevada to protect affordable and accessible birth control. Because of the travel involved, it is rare that our state legislators hear from their constituents, and these conversations left a big impact.
The people who joined these trips truly represented all Nevadans — men, women, people of color — and their stories had a powerful impact. Some were young women who wanted the power to plan their pregnancies, while others had medical conditions that made bearing healthy children complicated or just couldn't afford birth control before the Affordable Care Act. Thanks to their voices, our legislation passed the Nevada State Assembly with solid bipartisan support — because anyone who is pro-family and pro-woman can understand why expanding access to birth control benefits everyone. This legislation continues to advance in the legislature. With the strong support we've already gained, we're hopeful Governor Sandoval will sign it into law this year.
What we are doing in Nevada is something that can and should be replicated across the country. You can join the fight to keep birth control accessible and affordable by throwing an action party to talk to your friends and neighbors about reproductive freedom, calling your state representatives in support of legislation to protect our reproductive freedom, and sharing your own story. In the fight against the out-of-touch agenda pushed by President Trump and his allies, every person's voice matters — even if it's to say I am a 33-year-old woman who was able to get pregnant when I wanted to, thanks to laws that respected and preserved my right to control my body and my destiny. I resist, not just for myself, but for my daughter who will soon enter this world and join the resistance right alongside her mom.
The hundreds of thousands of people who have marched, packed town halls, and flooded congressional phone calls are fueling the grassroots resistance to the Trump's attacks on healthcare access. And they're not just playing defense: they're also fighting to expand reproductive freedom in their own backyards and in spite of President Trump's anti-woman agenda.
Image Source: Courtesy of NARAL