Representative Jayapal Resolution on Trump, White Supremacy
This Congresswoman Is on a Mission to Truly Drain the Swamp — of White Supremacists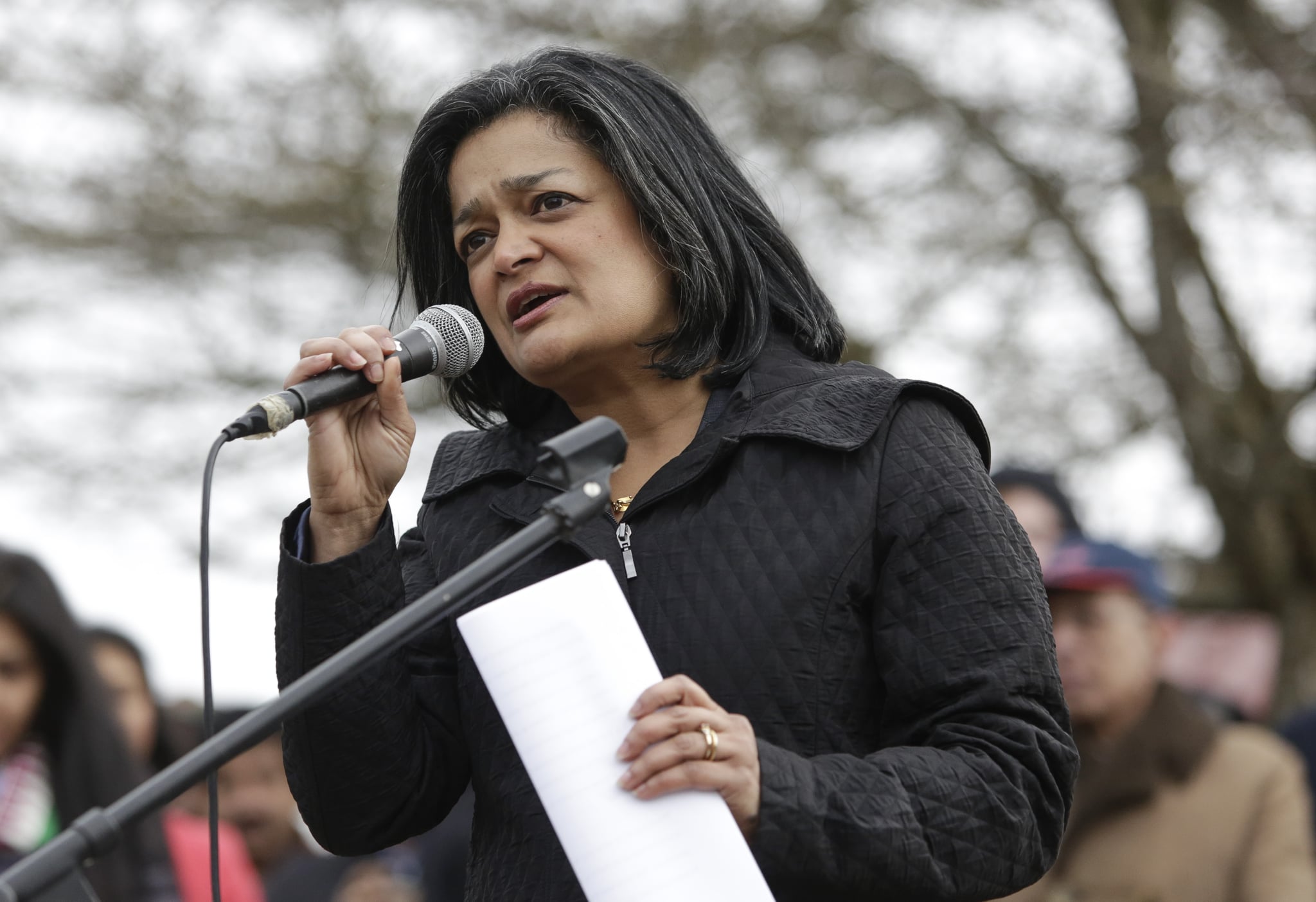 It took President Donald Trump three days to explicitly condemn the neo-Nazis and white supremacists who violently demonstrated in Charlottesville, VA. The clash between neo-Nazis and counterprotesters ended with three dead, including Heather Heyer, who was killed when a man drove his car into a crowd.
After those remarks, it then only took Trump one more day to blame the counterprotesters for the violence and to express that the press treated the protesters "unfairly" in a press conference he held on Aug. 15 — though he insisted he wasn't referencing neo-Nazis when a reporter pressed him on the issue. Before Trump's latest comment on the events in Charlottesville, however, Democratic Representative Pramila Jayapal introduced a resolution in Congress asking Trump to remove anyone in his administration who supports white supremacists.
The resolution, cosponsored by 31 other members of Congress, is largely symbolic but completely necessary. Despite Trump's condemnation of the bigotry displayed in Charlottesville, it's hard to view his latest comments as anything but a walk-back of that condemnation. Beyond that, Trump has several members in the administration — like Steve Bannon, Stephen Miller, and Sebastian Gorka — who have connections to white supremacists. His words do not match up with his actions or with those who are influencing him on policy.
In addition to the firing of these employees, the resolution also asks Trump to continue "denounc[ing] white supremacist, neo-Nazi, KKK, and other hate groups," as well as to share his condolences to the families of the three people who died. It also asks the president to "use all available resources . . . to address the growing prevalence of such hate groups domestically." In the Aug. 15 press conference, Trump admitted he had not yet reached out to the family of Heather Heyer.
The bottom line? Jayapal and the other 31 congresspeople who signed off on the resolution want Trump to do two simple things: continue to decry neo-Nazis and white supremacists and fire anyone in his administration who will not do the same. The choice is fairly easy, but Trump has shown once again that he believes there are two sides to blame . . . including those who are against these hate groups.